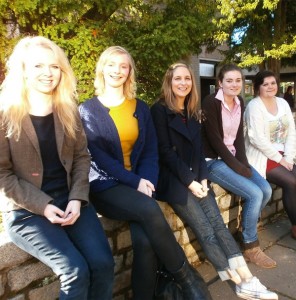 James Gillespie's High School is the latest school to benefit from Dundas & Wilson's strong commitment to legal education in schools.
Teachers at Gillespie's receive weekly citizenship materials thanks to sponsorship  from the firm and in October, a representative of the firm visited the school to provide senior students with an insight into the workings of a major commercial law firm.
Indeed when Esther Duncan, a Professional Support lawyer in the firm's Edinburgh office, walked through the school's front gate it felt like something of a homecoming because a few years previously, Esther was herself a Gillespie's pupil.
On this occasion, she took part in a Question & Answer session with the Advanced Higher Modern Studies class.  The questions covered her day to day work as well as various  aspects of the legal system.
Of course, the students also took the chance to grill Esther about her days at JGHS and were pleased to learn she had greatly enjoyed her time there.
Esther helps train Dundas & Wilson's young lawyers and also has an additional role working with students from the School of Law at Edinburgh University.
Speaking after the visit, Ms Halliday, Head of Modern Studies at James Gillespie's, warmly thanked Esther for taking the time to return, and for providing her students with such a valuable and enjoyable insight into how the law works in practice.
Esther said, "I was delighted to help and thoroughly enjoyed meeting the students.  I was very impressed both with their questions and with their warm hospitality."
Their hospitality included a guided tour of the school.  In the process, the students introduced Esther to some of her former teachers, so giving her the chance to thank them for the excellent academic grounding they helped to provide.
Esther's visit was organised by the Schools Law Web, a teacher-led initiative which helps school pupils understand the vital role law plays in the community.  Project Director, Patrick Gaffney commented, "We greatly appreciate the support of Dundas & Wilson as well as Esther's  readiness to put so much effort into helping the students at James Gillespie's."
Schools Law Web is run in association with The Law Society of Scotland.   Liz Campbell, Director of Education and Training at the Society added, "We are delighted James Gillespie's High School are involved in this programme and appreciate the help Dundas & Wilson were able to give to the school.   Legal education helps produce informed, active citizens, and school visits such as Esther's are a great way of making this happen."
Further information on the Schools Law Web is available on their website.