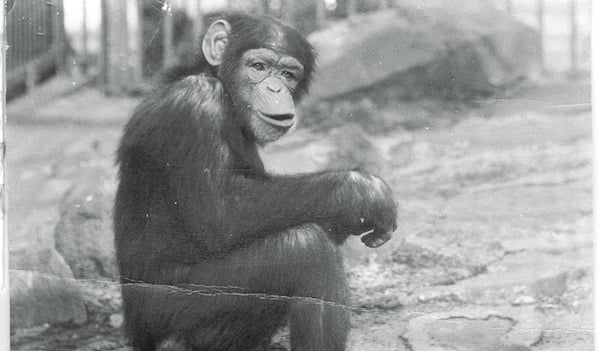 High flying chimpanzee Ricky was on top of the world earlier today as Edinburgh Zoo celebrated his 50th birthday.
Ricky can often be seen perched at the highest point of the Budongo Trail, Edinburgh's specially made chimpanzee home, looking out on a panoramic view of the capital.
Keepers prepared birthday-themed enrichment to celebrate Ricky's big day, including a gigantic birthday peanut butter flavoured banner and some special chimp-family presents packed with edible treats.
While records don't give Ricky's exact age, keepers estimate he has reached the big five-zero, making him the Zoo's oldest resident. Ricky shares a birthday with primate keeper Sarah Gregory who will turn 30 this Monday.
Head of animals Darren McGarry said:- "Ricky is a really important member of our chimp groups and all the primate staff are delighted to be celebrating his birthday.
All the keepers here at Edinburgh Zoo have a soft spot for Ricky and most importantly he has become an integral member of our chimpanzee group.
"He has a lot of character and is one of the most caring, peaceful of our chimpanzees. He is not a dominant male and has never shown much interest in chimp politics.  Instead he prefers to watch out for and play with the youngsters of the group.
"It is often very difficult for chimpanzees like Ricky who have been taken from their mothers at a young age and who have had little contact with other chimps due to illegal trading to be accepted by other chimpanzees, who naturally live in complex social hierarchies. Luckily Ricky's lovable and gentle personality has helped him find his place and he has been warmly accepted by the chimpanzee group here at Edinburgh Zoo."
While Ricky can seem like a big kid, this older chimp is a little set in his ways. Ricky is the only chimp to have claimed a permanent sleeping spot, in one of the warm spacious indoor pods at Budongo Trail, perched up high.  He is also a creature of habit when it comes to food, choosing to stick to old favourites like apples, orange bananas and porridge though he's also developed a taste for frozen fruit smoothies.
Ricky's life began in tragic circumstances as keepers at Edinburgh Zoo believe his parents were slaughtered in the illegal bush meat and pet trade, leaving Ricky a young scared orphan.  While the details of Ricky's early life are a little unclear, keepers know Ricky went on to become a mascot on a merchant navy ship.
Although Ricky was well cared for, the merchant navy realised they couldn't provide him with an ideal environment or the company of other chimps and began making arrangements to find Ricky a more permanent home.
On April 20th 1996, Ricky arrived at Edinburgh Zoo, joining chimps Liza and Bergie. Since arriving at Edinburgh Zoo Ricky has won a place in everyone's hearts, from the keepers to his fellow chimps.
The illegal trade in chimpanzees continues to have devastating consequences for chimps living wild in the rainforests of West and Central Africa.  For every baby chimpanzee traded illegally an estimated ten adult chimpanzees are killed.
Since arriving at Edinburgh Zoo in 1966 Ricky has witnessed a lot of changes, one of the biggest is the construction of Budongo Trail, the chimpanzee's state of the art home.  Budongo Trail encompasses a huge outdoor vegetation area where the chimps and can climb and forage as they would in the rainforest.  The facility also includes several spacious indoor rooms each offering different lighting, humidity and temperature so the chimps can choose their perfect spot.
While Ricky story has a happy ending, many chimpanzees continue to lose their natural habitat and family to the illegal pet and bush meat trade. You can help ensure the future of these fascinating animals by supporting the charitable conservation work of Edinburgh Zoo.