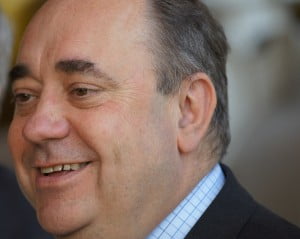 A raft of inward investment decisions to develop offshore renewable technology in Scotland over the last year is a sign of greater things to come for the country's growing clean-tech sector, First Minister Alex Salmond said on the eve of a major international conference directed at financing green energy and other low carbon sectors.
The FM will deliver the opening address to the second Scottish Low Carbon Investment Conference in Edinburgh tomorrow. Nobel Laureate and former US Vice-President Al Gore is the keynote speaker for the second day.
Borbely Karoly, Secretary of State for the Romanian Government's Ministry of Economy, is to address the conference dinner at the National Museum of Scotland on Tuesday night and more than 100 speakers, including a range of CEOs and senior executives of leading energy, finance and professional services companies, and senior representatives from organisations such as the European Investment Bank, Ofgem, the Crown Estate and the Carbon Trust, will address the two-day event.
Scotland's Deputy First Minister Nicola Sturgeon, Energy and Enterprise Minister Fergus Ewing and Lena Wilson, Chief Executive of Scottish Enterprise, will be taking part in day two.
The FM said:
"The return of the Scottish Low Carbon Investment Conference provides a great opportunity to take stock on the progress made since last year's inaugural event, as well as examining the challenges which remain in accessing finance across the range of global low carbon sectors – from renewable electricity generation and smarter energy management measures to greener transport and more efficient building design.
"In the area of low carbon energy generation, Scotland has secured a series of significant strategic decisions from major players in the power industry over the last 12 months which are bringing jobs and investment to Scotland, and underpinning our position as a location of choice for clean-tech development. I am confident that these very welcome developments are a sign of greater things to come, with much more investment and many thousands jobs expected to be created as we move towards our 2020 vision for renewables.
"We are operating in a mobile global market and the Scottish Government and our agencies are creating the optimum conditions for developers and investors to deliver a renewables revolution that ensures Scotland makes a significant contribution to tackling climate change – and brings economic benefits to communities across the country."
The SLCI conference is organised by Edinburgh Chamber of Commerce and backed by Scottish Enterprise.
Edinburgh Chamber Chief Executive Ron Hewitt commented: "Edinburgh Chamber is pleased to manage the Scottish Low Investment Conference with our partners Scottish Enterprise and Scottish Development International on behalf of the Scottish Government. We are using our extended global network and the Scottish Government's strong leadership in highlighting the vital role of Scotland in enabling Europe to reduce carbon emissions, to attract, from across the world, those business and political leaders best able to advise and inform the debate on the critical factors in carbon reduction.
"We will have speakers from three continents and twelve countries participating, including Al Gore, who has done more than any other to raise global comprehension of both the causes and dangers of climate change. Our 500 delegates look forward to hearing what he has to say, but I can confidently predict that at the Conference he will be reassured by the First Minister and others that the Scottish Government and its public and private sector partners are on the case. Scotland is well on its way to delivering its ambitious targets for carbon reduction by 2020, which remains one of the most demanding anywhere in the world."
Scottish Enterprise chief executive Lena Wilson added: "This year's event provides a platform to build on the significant progress we have made since the inaugural conference in 2010. With international representation from the energy and finance communities we have a golden opportunity to develop collaborative solutions that will strengthen our position as a leading low carbon economy."