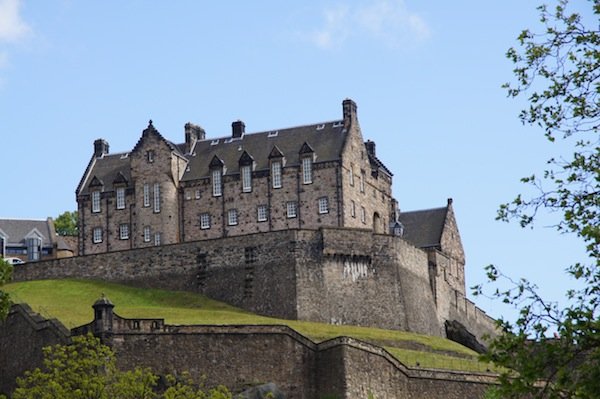 People are being asked to support Edinburgh Castle and vote for it to win the best UK Heritage Attraction.  The Castle has been named by the British Travel Awards as one of the shortlisted contenders for its 2011 awards.
Members of the public can register their support by visiting the official Edinburgh Castle website www.edinburghcastle.gov.uk and voting until 30th September.
Cabinet Secretary for Culture and External Affairs, Fiona Hyslop said:-
"I am delighted that Edinburgh Castle has been nominated for such a prestigious award.  Edinburgh Castle is Scotland's number one tourist attraction and had more than one million visitors last year. It is a global icon which captivates people from all around the world, and we want to ensure that visitors take away great memories of their experience."
The castle is home to the Scottish Crown Jewels, which are amongst the oldest regalia in Europe and the Stone of Destiny, however in recent years it has proved a fitting venue for events ranging from rock concerts through to firework displays and its hoped that this blend of old and new will appeal to voters.
Stephen Duncan, Director of Tourism and Commercial at Historic Scotland said:-
"Edinburgh Castle is the birthplace of Mary Queen of Scots. It houses the Scottish Crown Jewels, which are amongst the oldest regalia in Europe, as well as the renowned Stone of Destiny. The One O'Clock Gun, fired almost every day since 1861 is a global institution and St Margaret's Chapel, the oldest building in Edinburgh, is one of the most romantic places to get married.
"Edinburgh Castle has a year round events programme.  From costumed performers to rock concerts, the fabulous fireworks at the end of the Edinburgh Festival and New Year, there is something for everyone to enjoy."
"We really hope people will vote for Edinburgh Castle by visiting our website www.edinburghcastle.gov.uk."
BTA's chief executive Lorraine Barnes Burton said: "The British Travel Awards are widely considered to be the "Oscars" of the travel industry!  It's the largest awards programme in the UK created to reward travel companies and the winning accolade is the benchmark for excellence when it comes to finding out who really is the best in the business of travel for the UK consumer."
Companies were nominated by travel industry professionals and a selection of the previous year's consumer voters, and the shortlisted companies now go to the consumer voting stage. In 2010 over 120,000 votes were cast with the results scrutinized and audited by Deloitte LLP.  The winners of the 2011 British Travel Awards will be announced at a glittering ceremony on 2 November at the Battersea Evolution in Battersea Park, London.