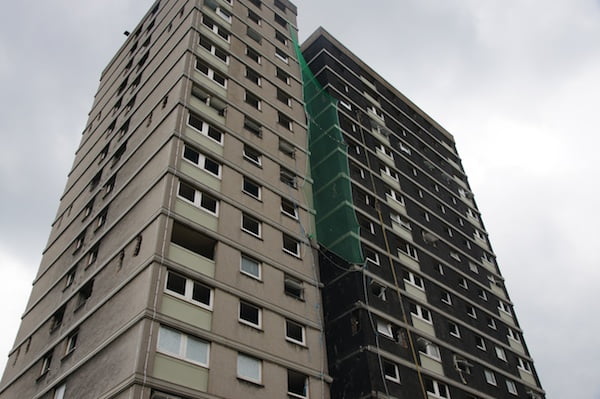 The skyline of North Sighthill in Edinburgh will be changed forever with the dramatic demolition of three tower blocks on Sunday 25 September 2011.
The three old multi-storey flats in Hermiston, Weir and Glenalmond Courts will come down next month as part of the City of Edinburgh Council's regeneration plans for the Capital.
The North Sighthill demolition is the finale of many years of hard work by local residents and Council staff who have worked closely to prepare for the flats coming down.
Mrs Christine Notman, 54, lived on the eighth floor of Glenalmond Court for 18 years and was one of the last residents to move out of the blocks. She said:- "I grew up in Sighthill so it's a mixture of gladness and feeling sorry that they are being taken down as there were lovely views and it was quiet. Our neighbours were all nice and you got to know the different people going up in the lifts. But I think it's a good thing the tower blocks are being taken down, especially for people with kids as they will now have more room. They were a bit of an eye-sore from the outside, but the flats were nicer inside and the sitting room was really big."
Edinburgh's Housing Leader, Councillor Paul Edie, said:- "This demolition heralds a new dawn for the regeneration of west Edinburgh with new council homes set to replace the old multi-storeys.
"This project marks a major shift in strategy that will boost the future of social housing in Edinburgh and create new properties fit for the 21st Century. We are aiming to build 1,300 homes across the Capital which will result in £150m worth of investment.
"Work is already well-advanced in the Gracemount area of the city with the first new Council homes for a generation set to be finished by the end of the year."
An exclusion zone will be set up on September 25 so the demolition can be carried out safely. A local rest centre will be set up for the residents who have to leave their nearby homes.
Some roads near the buildings will be closed, parking restrictions will be in place and there will be some disruption to local bus services.
The Council are also looking at ways of streaming the demolition live on the web. More specific details will be issued closer to the event itself.
Here is an artist's impression of what Sighthill may look like after the demolition:-