Mr Ken Dee is a drag queen with an immense amount of experience, who at the time of the review was hampered with an unfortunate set of circumstances. The one night all the other shows had a night off in the C-ECA, Ken was moved up to a 150 seat venue with a cavernous stage from his usual 50 seat room with a small stage. Added to this, there were only 5 people in the audience. We should add that this does not reflect on the normal quality of his show at all. So, in the tradition of theatre, the show went on.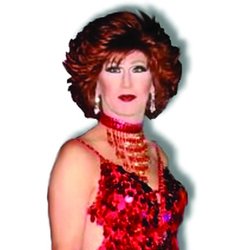 The cabaret show is a medley of comedy – adeptly tuned to the audience – and song – mimed and sung. He has some very good costumes, an impressive array of wigs and some of his impressions of the artists' mannerisms are scarily close to the real thing. The gay guys in the audience loved his show. He is an endearing, very funny person who does have his finger on the pulse of the audience, and with a larger crowd, the atmosphere would be very good. There are some short gaps in the show, where Ken has to go change into another costume. Music does fill in but there is an opportunity in future to maybe add some multimedia or pre-recorded audio material to entertain during these gaps.
Mr Ken Dee is a light, bubbly and slickly choreographed show, worth a look if you have a gap in your schedule. You can see Ken at the C-Venues ECA daily until 29 August.