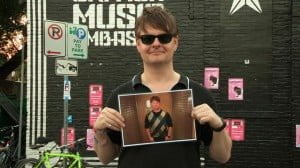 Several local bands will grace our screens tonight in an hour long BBC documentary about the South by Southwest Festival, which took place back in March in Austin, Texas.  Called Artworks: Scotland Rocks at SXSW, the programme sees DJ and presenter Vic Galloway follow the many Scottish acts picked to play at this year's event to see how they got on.
Fourteen Scottish artists were amongst the 2000 bands from across the world hoping to make their mark on the music industry's biggest festival, and the Creative Scotland website reports today that it worked for Glasgow based Admiral Fallow, who secured a deal with a US booking agent off the back of it.
Tonight's show includes interviews with familiar faces such as KT Tunstall and Franz Ferdinand, as well as clips of up and coming new Edinburgh artists Kid Canaveral (who not only played their own shows but doubled up as King Creosote's backing band, all the while blogging their experiences for The Skinny) and Withered Hand (whose visa difficulties meant he nearly didn't make the trip at all, inspiring hundreds of fans to sign an online petition to the US embassy).  It promises to give an insight into the trials and tribulations of getting from the point of being picked to play at a festival in America to actually arriving, not to mention an overview of some of the best music coming out of Scotland at the moment.
This show comes highly recommended for anyone who enjoyed the SXSW coverage on the Song By Toad or Peenko blogs; and for music fans in general.
Artworks: Scotland Rocks at SXSW airs tonight (July 5) at 9pm on BBC 2 Scotland.
Watch a taster of the programme on the BBC website.