If you are new to Edinburgh and its art culture (or are a long time resident yet to explore the many pieces on offer) then the summer of 2011 is the time to start your exploration.
The city boasts a large number of different galleries with a huge range of styles on offer.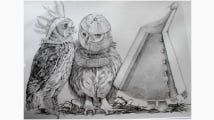 Dundas Street, situated just behind George Street, has a number of different art galleries and is the centre of Edinburgh's art collection. Axolotl Gallery, situated at 35 Dundas Street recently began an exhibition entitled "The secret Lives of Owls and Other Works", which features a number of brilliant drawings, sketches and paintings of the nocturnal bird, as well as the opportunity to discuss the works with its creator Allan Goodwillie. A chance that should not be passed up, this exhibition ends on the 4th of July.
Also to be found on Dundas Street is the DiRollo Gallery, which features an exhibition by the artists Albie Sinclair and Maryann Ryves, two extremely talented and diverse Scottish artists hailing from Perthshire. However the two will not be in Edinburgh for very long as their work is in demand across the whole of the UK, and their exhibition ends on the 25th of June.
Remaining on Dundas Street The Edinburgh Gallery is currently hosting its summer exhibition featuring such established artists as Kathleen Conboy, David Smith, Andrew Fitzpatrick and Josephine Graham. There is an international range of subject matter covered by these artists, with a distinctly Scottish feel to ensure there is something for everybody here. Be sure to check out their future exhibits which are to be held during the festival and which feature a whole host of different artists work.
Moving away from Dundas Street you can still find a number of great studios and galleries with amazing works on show. On Union Street you can find a wonderful exhibit currently being held in Edinburgh's Printmakers. The artist behind these contemporary masterpieces is Paul Furneaux. A renowned Scottish artist, Paul has embraced the Japanese woodblock printing technique to produce stunning 3D landscape based visuals. The art of Mokuhanga has never been so beautifully realised and really must be seen to be believed. Ending the 23rd of July, the gallery will also be hosting a talk with Mr Furneaux about his pieces on the 29th of June (6-8 pm) and giving a demonstration of Mokunhanga on the 9th of July.
For traditional art with a post-modern oeuvre, the Louise Kosman Gallery on Burgess Terrace provides a breathtaking exhibit on the masters of 20th century British Paintings. This will feature works by esteemed artists such as Bernard Meninsky and encapsulates the cream of last century's artistic genius in Britain. Louise and Vincent Kosman invite you to view their collection of watercolours, graphic work and drawings; an invitation only the most foolhardy would ignore.
For those seeking their art fix further afield than the city centre, the picturesque settings of Marchmont go hand in hand with the vibrant display of artistry on show at the Marchmont Gallery. Featuring work from eminent artists and up and comers, the Marchmont Gallery draws art admirers from across the city, and offers some real bargains on dazzling pieces.
Taking a leisurely walk up the road from Marchmont will bring you to Morningside, one of Edinburgh's most well known areas and host to one of the city's best loved art studios, Morningside Gallery. Like the Marchmont Gallery, Morningside features work by prominent Scottish artists as well as promising young artists from across the country.
One of the longest running and best established artistic bases in Edinburgh is The Scottish Gallery, which has been capturing the cream of Edinburgh's artistry and the essence of the city's cultural milieu since 1842. Cut to 2011 and the gallery is still going strong, with its exhibit from Ed Kluz certain to enrapture anyone with an interest in Scottish heritage. This beguiling show is made up from Ed's travels across Scotland to investigate, sketch and paint many of the country's great but lesser known landscapes and historical architecture.
Whatever you're looking for in an art gallery, Edinburgh has something to offer you with excellent contemporary works standing alongside historical works of art. There are established and well known artists but there can also be seen many of the city's vibrant young talents taking their first steps towards artistic infamy. The only real question you need to ask, reader, is which to visit first?
Check for opening times on each galleries website, and for contact information check the Living in Edinburgh section of our site.