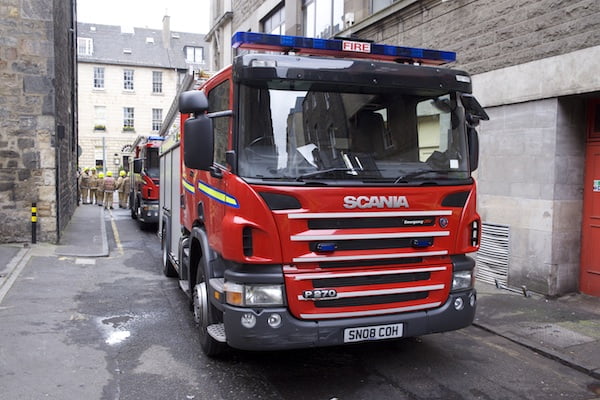 Six people including three children and an 18-month-old baby required medical attention after a kitchen fire in a flat in Broomhouse Gardens.
Fire crews from Sighthill and Tollcross station were called to the blaze in a first floor property just before 1am  today..
On arrival, 16 residents had self-evacuated to escape the smoke. Four firefighters using breathing apparatus and a high-pressure hose reel fought the blaze which took an hour to extinguish.
Fire service and ambulance personnel treated six casualties at the scene before two adult males aged 37 and 35 and two female children aged 18 months and seven years were taken to hospital by ambulance suffering from smoke inhalation.
A further two male casualties aged 14 and 10 did not require additional treatment at hospital.
A spokeswoman for Lothian and Borders Fire and Rescue Service said: "We believe the fire started in the kitchen. Fortunately, everyone affected in the block of flats was able to get out. Damage to the first floor flat was severe, the kitchen was gutted and the rest of the property was badly damaged by smoke and heat.
"A further property on the stair was also badly damaged by smoke. There was no smoke detector in the flat where the fire broke out. It's just a matter of luck that everyone got out of the building in time.
"We are keen to remind people that living somewhere without a working smoke alarm means you are putting yourself at increased risk of injury or death if a fire breaks out.
"Your local fire and rescue service will fit a smoke alarm for free so there is no reason not to have one. It gives vital early warning not just to you but also often to people living in neighbouring properties.
"Fire investigation officers will now carry out further enquiries to try and discover the cause of the blaze."
The other fires this week have destroyed a disused nursery in West Pilton Grove, which LBFRS believe was started deliberately, badly damaged a Coop supermarket in Livingston, damaged the offices of Shelter at Edinburgh's West End and damaged an electricity substation in Abbeyhill leaving many without power on Monday morning.
Speaking this morning, Director of Shelter Scotland, Graeme Brown, said he was overwhelmed by offers of alternative accommodation for the charity. He said:-"We have had fantastic support from the local business community and are off to look at four or five places today."