The third 'Brain Storm' event is set to take place on Saturday 7th May 2011 at Edinburgh's Sneaky Pete's, and will help raise money for Edinburgh's Sick Kids charity.
The event will be headlined by Bathgate alt-rock duo The Fire and I, with support from Edinburgh trio Scrap Brain and female fronted Glasgow pop-rockers Acrylic iQon.
The event is also the first announced fringe event of the official launch party for No Colour Too Strong to Paint, a charity compilation album of Edinburgh bands organised by Youngteam Records to raise money for The Sick Kids Friends Foundation and the Royal Hospital for Sick Children in Edinburgh. Scrap Brain have contributed their track 'I Want You, You Want the Devil' to the 21-track album.
'No Colour…' will be on sale at Brain Storm 3 at the same time as it is being launched just up the road at Maggies Chamber, where there will be live performances from other acts featured on the album including The OK Social Club, White Heath, Steve Heron and Frantic Chant, and the proceeds will be going to the same worthy cause.
The first 'Brain Storm' event took place on 9 Oct 2010 at Sneaky Pete's, headlined by Any Color Black, and the second on 17 Dec 2010 at Wee Red Bar featuring Curators. The event's title comes from the name of the organising band, Scrap Brain, who also perform at the shows.
The event is presented by edRock.net Events and is sponsored by Bainbridge Music and Great Junction Street Music Studios.
Doors open at 19.00.  Tickets are available for low price of £3 in advance from TicketWeb, Great Junction Street Music Studios, or from Scrap Brain.
Tickets will be £5 on the door.
The Fire and I
The Fire and I are an energetic alt-rock two-piece from Bathgate, Scotland. Gordon and Hooligan have moulded a very distinctive and powerful sound, often difficult to comprehend from their two members.
In 2009 The Fire And I have built up a loyal local following after the release of two EPs and supported the likes of Biffy Clyro and Amy Macdonald, and playing festivals such as T in The Park and Wickerman.
2010 has seen the release of debut album Stampede Finale, which is already receiving excellent reviews:
"The Fire And I are one of the best bands in Scotland right now." – Resound Scotland
"44 minutes of mind-bending, jaw-dropping musical addiction that's arguably the most sensational thing you've heard come out of the UK indie scene in years" – Dead Earnest
"This record is a sheer delight from beginning to end, combining the very best of unashamedly catchy punks and the depth of post-hardcore into one tidy package. A record not to be missed. (9/10)" – Soundshock.co.uk
http://www.facebook.com/thefireandi
http://www.myspace.com/thefireandi
Scrap Brain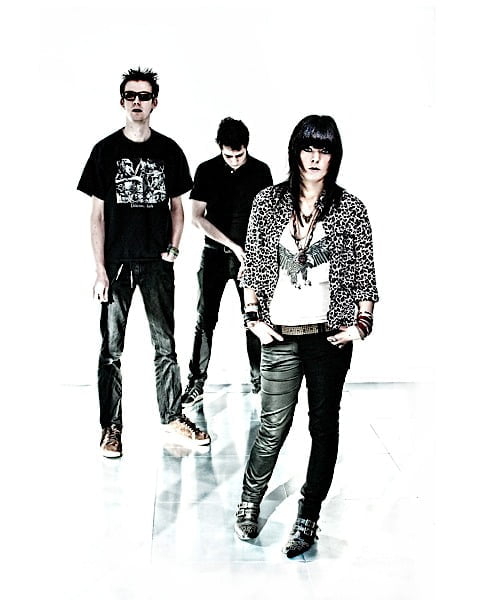 The noise-pop / grunge trio got together in February 2010 and make use of female lead vocals, synthesizer and distorted bass guitar. Their music is inspired by late 90s grunge bands like Garbage and The Vines, and hi-fi female fronted post-punk like The Kills and Yeah Yeah Yeahs.
The band have recently self-released their debut single 'Nal', and are currently touring in Scotland to promote the release.
Nal by scrapbrain
The band's successes to date include supporting f.o. Machete and Little Doses at Glasgow's legendary King Tut's Wah Wah Hut, and winning New Found Sound's 'Friday Night Live at Frankenstein's' contest. The band is building a reputation on their exuberant live show antics.
The band is made up of front woman and performer Angie Clarke, drummer Stewart McLachlan, and multi-instrumentalist Myke Hall, formerly of indie-punks The one day speakers.
"Scrap Brain have emerged fully-formed onto the local live scene, with armfuls of attitude and tunes that are classic examples of that loud quiet loud thing. Ones to watch out for, definitely." – Edinburgh Spotlight
"Scrap Brain are one of my favourite bands by far." – New Found Sound
"Scrap Brain fizz with New York cool, think The Kills and Jon Spencer's bastard love child." – Mark Little Doses
http://www.scrapbrain.net
Acrylic iQon
Acrylic iQon formed in their final year of school in Clydebank, Glasgow. They'd started the band as a school project and it progressed from there. They've been playing together since 2006 and are loving making some ludicrously infectious pop music, and looking good, not always in that particular order.
Although just into their twenties, they have already played all over Scotland with some amazing bands, supporting Golden Silvers, Stone Gods, Viva Machine, Zoey Van Goey, Drive by Argument, El Dog and The Features to name but a few. Signed to London's Kittiwake Records, late 2010, their debut release "Close Your Eyes" launched 2 April 2011.
"Their Pop epics, like "Living Up for the Letdown" and "Adventurous" have the habit of rushing into full-blown anthems …. a tangle of thumping drums and crunching guitars… like a ruck between Belinda Carlisle and The Ruts. Ace !" – Stephen Hughs, News of the World
"Now I'm not normally one for loud, thrashing guitar stuff, but correct me if I'm wrong, that is really very good indeed" – Amanda Milne, BBC Radio Scotland
No Colour Too Strong to Paint
'No Colour Too Strong to Paint' is a forthcoming compilation album release containing twenty-one tracks from Edinburgh based bands. All profi ts from the sale of the album will be donated to The Sick Kids Friends Foundation, a registered Scottish Charity. The album will be available to download from 7th May. A gig to coincide with the launch is also planned for the 7th of May and will feature live performances from eight of the bands appearing on the album. The album will be available to download from all the major online retailers for £6, A limited number of CDs will be available to buy at the launch.