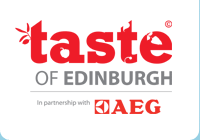 Taste of Edinburgh is back for a fifth year and is set to whet the appetite with a fantastic new venue, summertime date and mouth-watering line up for 2011.
As well as returning to its original venue in The Meadows, this year Taste of Edinburgh will also maximise the best Scottish summer produce and weather as it moves to a new, mid summer date of 1-3 July for the first time.
The event is set to showcase a star-studded line up of 15 award-winning restaurants, with Restaurant Martin Wishart, The Plumed Horse, Ondine and Cucina at Hotel Missoni, just some of Scotland's restaurants to sign up.  The event has established itself in Scotland's foodie calendar, and continues to attract thousands of visitors every year.
With support from The City of Edinburgh Council and new title sponsor, AEG, Taste of Edinburgh 2011 says it "will marry exceptional Scottish food and drink, outstanding chefs, terrific entertainment and the beautiful setting of Scotland's capital city."
Combining entertainment and interaction, ticket holders automatically have access to exclusive theatre demonstrations from leading guest chefs, a state of the art cookery school, hands-on workshops and the opportunity to sample delights from over 100 of Scotland's best food and drink producers.Taste of Edinburgh is expected to attract over 25,000 visitors this year, as Scotland's largest food and drink event, heralds a celebration of the country's finest culinary talent.
As part of the global Taste Festivals concept from Brand Events, Taste of Edinburgh has attracted national sponsors including AEG, Waitrose, San Pelegrino, Peugeot, O2, Laurent Perrier, and Tatler, and benefits from a national marketing campaign alongside Taste of London and Taste of Dublin.
Now, The Reporter attended the Taste of Dublin event, and considered it over-priced and slightly lacking in substance. So it is hoped that the Edinburgh event will be a lot better.