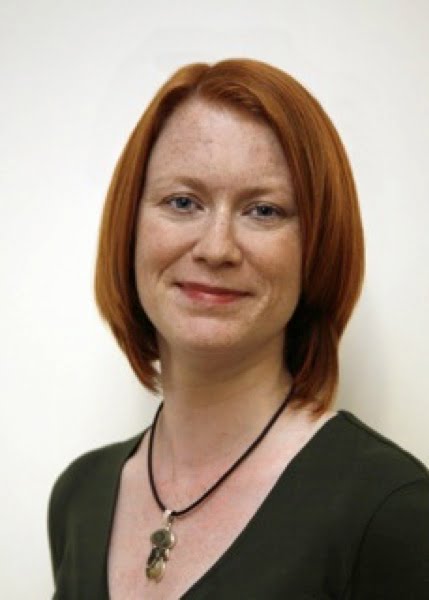 We meet on what is obviously a typically busy morning for the SNP MSP for the Lothians., but is standing for the constituency of Edinburgh North and Leith in 2011. Just after our chat Shirley-Anne is running round to the BBC studio to take part in the Politics show, which means we might have a bit of a rushed fifteen minutes or so.
She seems to thrive on this buzz, although admits it is quite difficult with two children under 5, and a husband who often commutes to London on business. This is the reason for moving house:- "The job is so unpredictable that I had to move to be near my mum. I need someone who can react quickly to demands for childcare when my day changes and I can't make it home in time to pick them up from nursery.  The sheer practicalities of it would not allow us to be anywhere except near Granny."
We discuss the fact that it is not long now until the elections and Somerville switches into professional politician mode immediately:-"My major campaigning themes in 2011 are going to be a number of things at both national and local level.
Locally, within the constituency, the two areas I suppose we have to pick up are the trams which continues to rumble on or not as the case may be, which is the first large local issue and the second is the Leith Biomass Plant.
I am very sceptical about the Biomass for a number of reasons – it is too big and it is in the wrong place. But large scale biomass in general I am very sceptical about its  green credentials. I haven't seen any evidence so far that proves that this is the type of energy that we want to move into on a large scale.
I was pleased with the last answer I got from the minister on this just last month in Parliament, which said that the goverment  is looking at small scale off the gas grid combined heat and power projects, rather than an enormously large power station in a city which has the possibility of the heat being used from it but absolutely nothing guaranteed so far."
She continued:-"People may be convinced to accept something like the Biomass plant in their area  if they felt this was the right way forward  for Leith and for Edinburgh, but in my view it is not the green alternative.
I think that local opinion is building, although it has been very hard for those of us who have been campaigning on it for a long time, as Forth Energy are under no obligation to actually inform people that it is going on.
That is something which the UK parliament need to look at as it is a reserved issue. There is something really wrong with the system if you can propose a power station and not have to tell people in the local area what you are doing!
The key issue always in these matters is openness and transparency. I said to CEO of Edinburgh Trams, Richard Jeffreys, a couple of years ago that he should compare the situation to the Scottish Parliament building! George Reid as the new presiding officer came in and told everyone how bad it was. I think you have to be open, particularly where the situation is a mess, and full and frank discussion is the very least we could hope for.
Other major local issues ties into the national campaign as to what will benefit people in Edinburgh  North and Leith, whether it is the continued freeze in council tax or the small business bonus scheme, all of which help many of my constituents with businesses in the area.
My  big achievements in the last Parliament were tabling two important changes to the world leading Climate Change Bill as it passed through the legislative process. I am really proud of introducing the changes to the Climate Change laws, and I am particularly pleased to be part of the Transport Infrastructure and Environment Committee, where I think the work done is very important.
Somerville spoke to Amendment 101 whilst the Climate Change Act was passing through the Committee stages, and this is what she said during the debate on 24 June 2009:-"Amendment 101 sets out an appropriate way of ensuring that the 2020 interim target is as demanding as possible while still being based on the expert analysis of how it can realistically be delivered. After all, such targets must be challenging but credible.
The bill will lose credibility with the public and, more important, the policies that any future Administration will need to put in place to achieve these targets will struggle to curry their favour if people pick up nothing from the coverage of today's debate other than an argument over numbers. That is why I am pleased not only to speak to amendment 101 but to support the Government's amendment 94A, which seeks to ensure that the only numbers that appear in the bill are those that have been mentioned by the UK Committee on Climate Change.
Amendment 101 would complement the Government's approach and ensure that the UK Committee on Climate Change is given its rightful place in advising on the interim target. This is about the experts advising the politicians on what Scotland can achieve and the politicians listening to and acting on that advice."
Aside from all of this The Reporter asked Somerville if she thought that she herself was a good example of someone who was truly green. She laughed and said that she tries very hard to be, but:-"I don't hold myself out as an example of someone who is doing all the recycling that I could do. We try very hard as a family but sometimes real life just gets in the way."
The second big achievement in the last Parliament she considers to be her Babies on Buses campaign:-"I have long been a supporter of the Babies on Buses group in their campaign for fairer access for all, after Lothian Buses banned unfolded prams and buggies from their fleet. Following this campaign a number of 'pink top' buses were trialled on the 22 route which have dedicated spaces for buggies and wheelchairs. I wrote to Lothian Buses for an up-date and I was pleased that as a result of positive customer feedback, the company has placed an order for five new buggy friendly single-deck buses and will reconfig- ure twelve double-deck buses. Matters have worked out well.    However, I will continue to press the company to carry on expanding their fleet of buggy-friendly vehicles."
She is full of praise for the organisations in her constituency such as Community councils and other residents associations such as Leith Links Residents, or the Save the Inverleith Park campaign, who all work very hard on their different causes. She said:-" It is tremendously difficult for people like community councillors, who all have day jobs, when they are constantly swamped by, for example, planning matters to consider. There is only so much they can do. They all work very hard and often for little reward. I have a great respect for them and the work that they do."
As for the Save Inverleith Park campaign, Somerville has been a great supporter of this and thinks that the land should be retained and turned into allotments which the city "is crying out for".
She finally told us:-"In the new parliament it would be good if we could do more about the need for apprenticeships. Edinburgh, and particularly the Port of Leith, could be the hub of jobs in the renewable energy sector. We announced twenty odd thousand apprenticeships last week which combines achieving our renewable energy targets with opportunities for young people. All of the renewable industries here whether they are offshore wind, wave or tidal offer real jobs in the future."