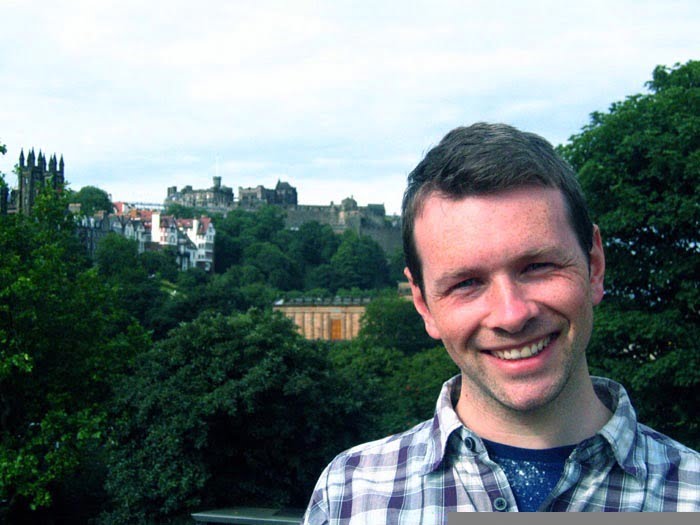 Michael MacLeod is the Beatblogger for the Guardian Edinburgh blog. You might think he is very young to have this position, but as soon as you have spoken to him for a while you realise he has a lot of experience under his belt already. The Guardian Edinburgh uses multimedia to tell the stories about Edinburgh which might otherwise not be told.
How did you get into your current position?
In brief I have national news experience and quite a lot of local news experience, not just from Edinburgh but from all over. I have always lived in Edinburgh and went to Telford when it was still down at Crewe Toll Campus, before they knocked it down. I  did an HND in practical journalism which lasted two years and included shorthand, media law, court law, newswriting  and all the other practical skills you need.
The course leader there was the founder of The Wee County News, a really small local newspaper in Clackmannanshire.  I went there on work experience, which was hard to find.  I commuted from Edinburgh to Alloa for the three years I worked there, whilst they were building the new Kincardine Bridge over the Forth, so not the best time to be doing that commute.
I knew this was something that I wanted to do. My dad is a writer, and I thought it would be a fun thing to do, to be my own boss. The Wee County News was a really good place to learn. Clackmannan is the smallest county in Scotland, and the police station, the court and the council  offices were all in the same street as the newspaper office.
I built up really good contacts while working at the paper, for example one of the opposition councillors at the time was Keith Brown from the SNP who was the recent Transport Minister. It is amazing over the years how these phone numbers just stay with you! It pays off to keep in touch with some people.
After that I then joined Deadline News Agency after that and spent two years there. Half of my time there was as the court reporter, covering the Sheriff Court in Edinburgh, again a good way to build up contacts with prosecutors, police and lawyers in the city. So all my experience and my contacts really led me straight into the job with The Guardian, which combined all the elements of what I had learned up till then. But one of the things I really like about it is that it is not just me who is writing the blog. When I first heard about the job, I thought it sounded quite a lot of work for one person, but it is really a community, collaborative journalism project where we try to engage with other people in the community who write guest blogs. So, one of the key elements of the Guardian Edinburgh is that it allows local people to have  a place or a platform to tell people what they are up to themselves.  It is not just me having to cover all the events which are taking place in the city, but we certainly try to link to as many things that are going on in the city as we can.
For example if I can't make it to something the chances are some other newspaper or online sites like yours or The Spurtle, or The Edinburgh Evening News or STV Local will have a report on it. We don't hide away from the competition. Instead we try to point people in the direction of where things are and what's going on.   I think that people now see that they can use it if they want to. I don't think there are so many places that people can have such easy access to a voice as this. Newspaper columns are harder to get into for example. It is rare that I have refused anyone the platform, unless it is complete PR puffery!
Apart from working what do you get up to?
I love spending time with my wonderful other half and also going to see live music in all of our city's wonderful venues, from the giant ones to the tiny pubs, but I have lost a few things that I was into just because this is such an engrossing job and you do have to spend a lot of time on it. There are loads of political issues that I am interested in anyway, and a lot of things that I would be going along to anyway, so now I get to cover that for my job.
I am pretty sporty I don't follow any of the Scottish football clubs now. I used to support Hibs but they have sold all my favourite players. I go to the rugby occasionally. I have a membership for a leisure centre but I find it hard to get there. It is really embarrassing! Work just stacks up and when people ask to put things on the blog I just find it hard to say no, and I feel obliged to publish as soon as I can.
How do you deal with your audience? How do you know what you are doing is what your audience want?
That is a really good question. Part of the job I am doing is to reply to all the questions whether on Twitter, or comments on the blog and either give them an answer, to keep the discussion going or point them in the direction of some more information. That is one of the best ways of monitoring our success with the blog. We do get hits and those are growing, but  the reward is when people have put up a guest blog and they come back to us to tell us that they have had some kind of response from it, and perhaps want to do another one.
In terms of face to face meetings, that is an element that is bigger now than before. I  have been involved with some social media surgeries with EdinBuzz this year.  I have been there as a surgeon helping people out who want to know how to use social media or set up blogs in any way. We have promoted these evenings on the blog too.
What do you think the importance of the hyperlocal is? Do you think it is growing  even more important in 2011?
Well I hope the Guardian hyperlocal keeps growing! I am not sure what hyperlocal means – is it hyper because of the  links on the internet or because of the local nature of the news? It is a difficult one to call. When we wrote about the council cuts, they were proposing getting rid of 14 bowling greens to save some money. I went into it in great detail but the BBC had five lines. It is a brilliant place to get into this kind of news.
What do you think the best stories have come from?
I really enjoyed the Blindcraft campaign which although it was distressing for the staff and their families it did have a conclusion at one point which we thought was a positive one. I think we published about 20 or 30 blog posts about the closure of the factory and what it would mean to the workers. That was really rewarding because it just felt that we were helping. People were genuinely fearful for their jobs. It was good to be able to stand up and ask the questions that needed to be asked.
As for other matters such as trams, the merger of the University and the Art College which had implications for both sides, the Waterfront development at Leith, which may yet become industrial rather than residential. I think that it is going to be a building site for about a decade, and I want to tell people about that!
Where is your favourite place in Edinburgh?
I love the tennis courts in the Meadows. I love to hang out there in the summer. I like the university too because they have allowed me to use their Informatics building to hot desk in. I like it there and the people that I meet there.
What is your least favourite thing about Edinburgh?
The weather is not always the best! And also even though the Forth is not the place to do it, I wish I had more time to go swimming and use my gym membership!