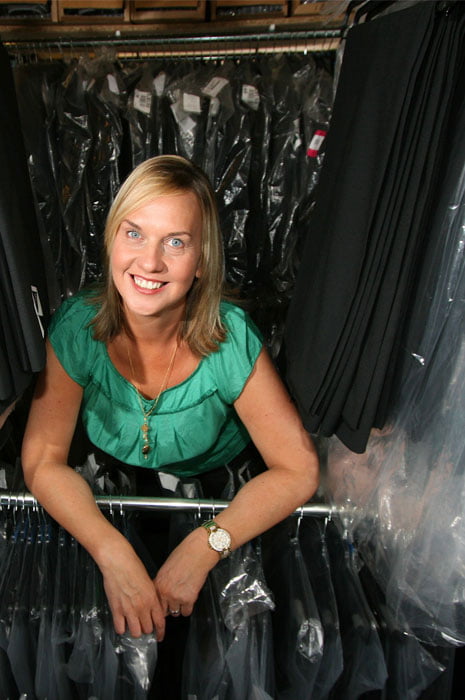 The Reporter met Gill Eastgate first of all at a business breakfast and realised quickly this was someone to be reckoned with.
We asked Gill how she got where she is now:-"Today I am Managing Director of NKD Clothing. How did I get here? Well,  I actually needed a job is the honest answer, as I was working for someone else who was running her own business. Her circumstances changed, and there was an opportunity for me to buy an existing business which I did.
I renamed the business NKD in December 2005. The previous company was KD after Kay Davidson, but she went off to Europe and so I called it New or Not KD.  I was always saying that on the phone, and it seemed appropriate!

From a practical point of view I knew that I wanted something easy to print or put on a woven label and applied to garments. I knew we needed a strong brand – and I like pink!"
What led you into the clothing market?
"I studied textiles at College in Galashiels. I always loved fashion and clothing, but I didn't want to get into fashion design –  or move to London!
When I left college I worked in retail for a year, which really wasn't for me!  I worked in John Lewis in their fabrics and haberdashery department so it was semi-related to what I had studied, but I didn't really enjoy that.
I went back to university to study business principally to learn how to use a computer. When I was at college all the drawing had to be done   by hand and dissertations typed on typewriters!
I have always been interested in fashion and garments, but I worked for a few years at a marketing company, and that is where I gained account management experience. I realised that I was pretty good at that and good at getting things done and projects delivered.
I was working with lots of technical people but had good communication skills. That allowed me to build up good relationships with customers. I worked quite happily there, and then by chance a job came up with a corporate clothing company based in Edinburgh. The company had just landed the contract with Bank of Scotland and so when I joined that company, within 12 months I had a team of 4 and was managing the Bank of Scotland account. We also managed the Royal Bank of Scotland account, so I ended up managing that too.
It was a real insight into what goes on in the clothing industry in Scotland. At that time it was all manufactured in the UK, and predominantly in Scotland. I had the opportunity to go out to visit the factories and meet the manufacturers, and actually see the process being done. It also allowed me to build up strong relationships with them, which has been a lifeline for this business.
We still use the manufacturers in Scotland that I used a good few years ago. Of course we also use overseas manufacturers but only for big contracts, where cost is a bigger factor than timescale. I like to support the UK manufacturers where we can."
What is your USP?
"I think the key thing that makes us different is that we don't have a brochure. We don't expect the clients to design their look, as they are not the experts at that, we are.
They come to us perhaps with a new venue or with a new brand and they want to look a bit different from everyone else. So we try to help them with that. Everyone is a bit fed up these days wearing the same things. There is a real niche and a real opportunity to get people at work wearing uniforms that they not only enjoy wearing, but which they are proud to wear.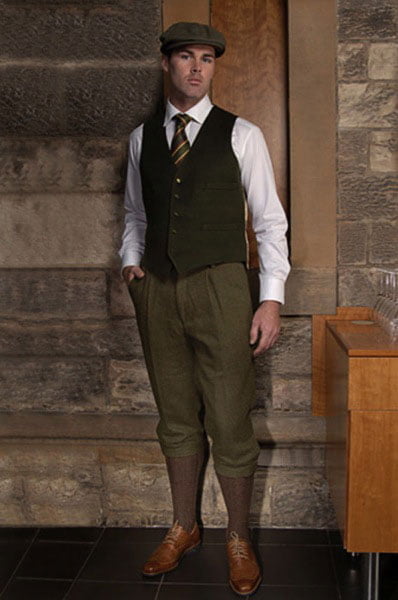 They are the face of the business they are the ambassador for that brand, and if you have happy staff then everybody's life is enriched by that. The customer experience is far better as well.
The thing that comes out at a restaurant, for example, is the service, not always the food. Like it or not we judge the people serving us on their appearance, so appearance is critical. You can do it in a cost-effective manner. You don't have to spend huge sums of money on making someone presentable and able to represent your brand appropriately.
This uniqueness is what NKD offer in that we can do that thinking for the customer.
This is not just off the shelf uniform selling. Each one of our customers has a bespoke element. It may be a fully bespoke uniform, but it all depends on the budget available.
There are some core garments which can be offered to all of our customers. For example a pair of trousers can be basic black which we know works well, and then the difference is in some element or another. But the basic trouser will be offered to all of our customers at a keen price since we buy so many of them. But a brand is as unique as the company using it. So it follows that they should not have the same uniform as the same kind of establishment down the street.
Uniforms should be something that the staff feel proud to wear. When I am talking to men they often despise the ties they are made to wear, for example. "
Do you have a business or personal mentor?
"Well, nobody famous. The person who made me who I am was my Dad. He really was my role model, although he died seven months after I had set up the business. I miss him so much as he would be very proud of what we are doing. He was a bit of a risk-taker in his time.
He died not long after retirement age. That alone made me challenge myself and say to myself that I need to get on with this and get to where I want to be in life, and then enjoy the rest of it after that!
I often think of Dad and wonder what he might have said. "
How have you progressed your career?
"I went back to university and did a Business Administration course. This helped me enormously. Firstly, I learned how to use a computer. I wish I could do another course now! I think I would be an A+ student! It was a good course, but I had to leave half way through as I got a job, so then I had to teach myself the second part of the course, and got through it that way. It covered a lot of things and when I look back on it, I perhaps wish I had listened to more of the advice given! When you are young you don't always realise the importance of some things."
What relationship do you have with your staff?

"I now employ six people, and we worked quite heavily with a coach last year. All the members of the team had various sessions with him and came back to the business to make suggestions about the tools and methodologies they had learned.
This is an open environment and I am prepared to listen to everybody, from the most junior member of staff right up the ladder.  It's a young team here, but everybody brings certain things to the table. I sometimes forget, so then I go up to the warehouse, and sit at the sewing machines.
It gives me the time to ask questions about how things are done or what problems they might have.
We don't actually make things here usually, but we do have the resources to make little samples for example.
At the moment we have a client down south for example and the samples were being made offshore and they have not arrived in time so not wanting to let the client down we have to get it made here so that we can deliver in time for the presentation. The bad weather at the end of last year was a huge problem for us with deliveries etc."
How has your business developed?
In 2005 I started the business. This year we have started off on a high note with the appointment of a non-executive director. That is going to be fabulous for us in terms of moving the business forward.  Last year was incredibly tough, and we, like many other businesses went into survival mode. We are coming out of that now and we have a lovely new contract which will roll out in June of this year. We are talking to different sectors now. But the addition of Rav is crucial to us – he brings a lot of financial knowledge to the table. I am an entrepreneur and creative but I am not the money man so having a person with this kind of knowledge, and contacts, will be great for our business. It will be good for me to have someone who challenges me and asks questions of me because as an MD all you do is answer everyone else's questions all the time.
It is going to be good for me having someone there to support me.
We are not there yet though! When we started up we had tremendous growth in the first three years. We hit the market at the right time when everyone was in spend, spend, spend mode.
Some of our clients in the hospitality industry were growing and taking over other businesses and brands and so our timing was great.
We tasted success and I like the good times. That is one of the things that keeps me driven.  I have had good times and I have to stay there.
Any little business tips for people starting out?
I think that when you first start out you have to listen. People make mistakes about the basics. Be passionate about what you are doing and what you are selling.  I have spoken to so many people over the last few years who said, "We were blown away by your passion." So talk to people and don't be shy!
Best networking organisation?
Winning Entrepreneurs has been great for me, which is an organisation started by Belinda Roberts.  I joined two years ago and I am now an Ambassador. I have met people from all different sizes of business. It is nice to know you can meet fellow business owners or people of about the same level."
If you have any business clothing needs you can contact Gill through NKD's  website, Facebook page or on Twitter.