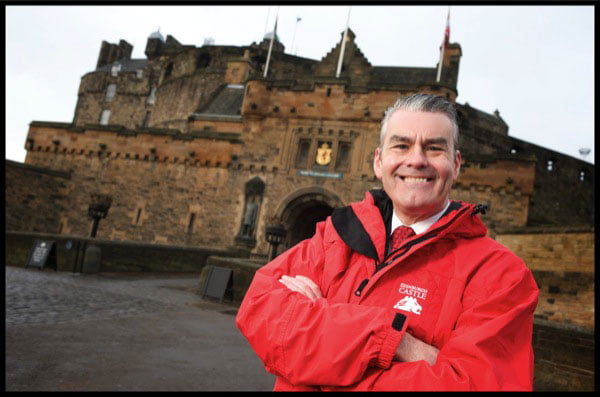 Nick Finnigan has been appointed as Executive Manager of Edinburgh Castle, taking over from Barbara Smith.
Nick has worked in Historic Scotland since 1989. His extensive experience within the organisation includes managing corporate hospitality, catering, membership and weddings. In his previous role, as Events and Filming Manager, Nick was responsible for the organisation of the packed events programme that entertains the millions of visitors to Historic Scotland's 345 sites each year. His days ranged from organising costumed performers to bring Scotland's history alive to overseeing filming arrangements for blockbusters Greyfriar's Bobby and Burke and Hare.
Ruth Parsons, Chief Executive of Historic Scotland said: "Nick has all the experience needed to take the helm at Edinburgh Castle. I am sure that he will continue to improve visitors' experience to Edinburgh Castle and see it build on its position as Scotland's number one paid for visitor attraction. Despite the challenging times Scotland's tourism industry is performing well. Edinburgh Castle is an internationally recognised Scottish icon with a vital role to play in bringing people to the country and I wish Nick all the best in showcasing it to our visitors."
Nick said: "It is an honour to work for Edinburgh Castle, a world-class attraction steeped in history and tradition. There are many exciting events at the Castle for everyone to enjoy from the world famous Edinburgh Tattoo to the outdoor summer concerts with internationally famous groups and singers.
"This year we are looking forward to a spectacular season of outdoor concerts including the Brit nominated group, Arcade Fire. I hope that these events will attract many more people to the castle which is one of the world's most breathtaking and atmospheric locations. My goal is to ensure that all visitors continue to have an enjoyable and unforgettable experience of Scotland's most famous castle and I look forward to building on the success of my predecessor."
Photo Rob McDougall