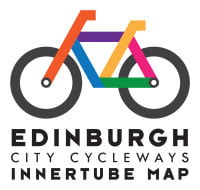 Cycling organisation, The Bike Station,  has today launched its new map of Edinburgh's principal off-road cycle paths.
The map, developed through the Bike Station's Climate Challenge Fund project A better way to work, shows Edinburgh's extensive off-road path network using the iconic style of the London Underground Map. It clearly displays for the first time the scale of the network, demonstrating that Edinburgh is fairly unique in Britain as no other town has such an extensive off-street system of paths going through major urban areas.
The map is a ground-breaking way of finding your way around Edinburgh's paths, and the Innertube Map shows each route in its own separate colour; all of the easily-cycled exits along each path; 'by road' connections between major paths; paths still under construction.
The map was conceived by Mark Sydenham of the Bike Station and designed by Martin Baillie of the Hillside Agency, a Leith-based design agency.
To develop the map further, the Bike Station and Edinburgh and Lothian Greenspace Trust have been awarded over £98,000 funding from the People's Postcode Lottery's Dream Fund for the next twelve months to carry out conservation work along the paths in the North of Edinburgh, as well as to improve the signage and other amenities, in conjunction with others including City of Edinburgh
Registered as Recycle to Cycle Ltd, a charitable company limited by guarantee.
An interactive map and website will demonstrate to cyclists and walkers alike the potential and extent of Edinburgh's paths as a means of moving about the city. This stage of the project will begin in April, and will provide volunteering opportunities to those interested in conservation and the promotion of Edinburgh's paths.
The launch takes place today at the Map Reading Room, part of the National Library of Scotland. Launching the map at the Map Reading Room, amongst historic maps of Edinburgh and elsewhere recognises Edinburgh's rich history of mapping, including the Bartholomew's cycle maps which go back over a century and the more recent Spokes cycle maps.