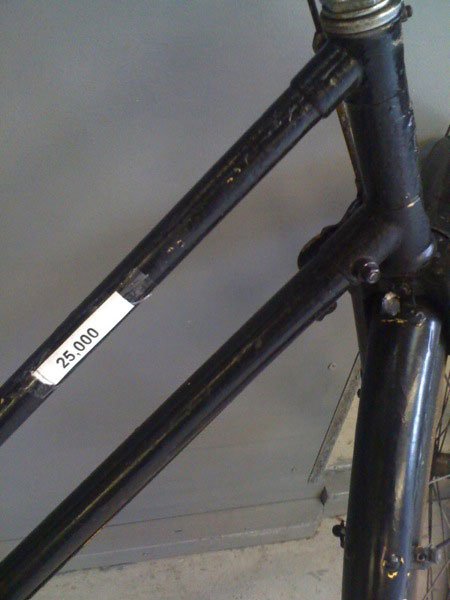 After six years of bicycle recycling, the Bike Station in Edinburgh has just welcomed its 25,000th bicycle!
Having taken in over 6,000 bikes in 2010, the total now stands at 25,000, or 375 tonnes of bike since 2004, that's 375 tonnes of waste taken out of the waste stream – the same weight as nearly seven Edinburgh trams.
Bicycle number 25,000 was a vintage British-built steel lady's bike from the 1950s, still in very good condition.
Of the 25,000 bikes received, 11,000 have been repaired and put back on the road.
Some weighty statistics:
1896 – the year of manufacture of the oldest bike donated, now fully restored
86% – the percentage of people who buy a reconditioned bike from the Bike Station who would not otherwise buy a bike.
15kg – the average weight of a bicycle
66 bikes to a tonne
170 – the number of people who come and use the Bike Station's Fix Your Own Bike workshop each month to repair and service their cycles
262 – tonnes of coal saved by metal recycling/re-use
11,000 – numbers of donated bicycles repaired and put back on the road by the Bike Station
150,000 – the approximate number of bicycles in Edinburgh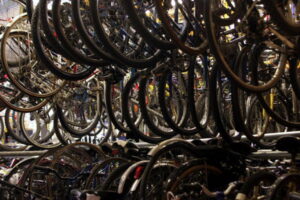 So just exactly what happens to an old bike?
Just over half the bikes donated are sold at Bike Station weekly bike sales, with all proceeds supporting the charity's work promoting cycling.
Not every bike can be repaired – many are either too damaged or rusty, or they are simply not worth repairing. Most of these bikes have at least some usable parts, which we take off – everything from bells to wheels, racks to light brackets. These we use to repair other bikes and to make available to cyclists as spare parts for their old bikes. The rest of the bike is then sent to a local metal recycling yard as scrap metal for recycling.
But if you have a bike that needs mending and can be fixed then they do not charge the earth for the service at only £7 for a puncture repair.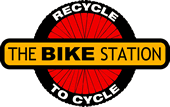 About the Bike Station:
The Bike Station is Edinburgh and Perth's bicycle recycling and cycling promotion charity. They repair unwanted bikes and put  them back on the road. They provide cycle training, bike maintenance training, and refurbished bikes to promote cycling as a healthy and sustainable means of transport across Edinburgh, the Lothians, Perth and Kinross and beyond.
They work to support cyclists start and keep cycling, working on location and at the Bike Station, and help other organisations promote cycling and bike maintenance skills.
The Bike Station takes all old, unused or discarded bicycles, no matter their age or condition, as well as bike parts and other bits. They are open at 250 Causewayside for bike donations Monday – Saturday 8am to 5pm (til 8pm on a Wednesday). They are also able to collect.