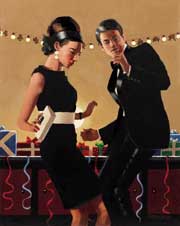 We try to be fairly green here at Reporter Towers and are not totally in favour of sending the paper version of Christmas cards for all the sustainable arguments  you can think of. However the 2010 Christmas card from First Minister Alex Salmond will feature an image created by Jack Vettriano and will benefit four Scottish charities. This is a very good result from a commendable twist on the usual charity Christmas card.
The Vettriano painting is called Let's Twist Again and it will be unveiled for the first time at an event at the National Gallery of Scotland in Edinburgh this evening.  The canvas features a festive image of a glamorous couple dancing at a Christmas party.
It has been donated by the artist and the proceeds from the auction of the work will be split between Bethany Christian Trust, Maggie's Cancer Caring Centres, Quarriers and Teenage Cancer Trust.
The charities will also each receive six signed limited edition prints of Let's Twist Again.
The sale of the original paintings and limited edition prints of the First Minister's previous three Christmas cards raised around £50,000 for good causes.
Mr Salmond said:-"I am a huge fan of Jack Vettriano. He is a self made Scottish success story and his work is recognised and celebrated around the world. Let's Twist Again is a fun festive image in Jack's trademark style I am delighted that it will feature on my Christmas card this year.
"The sale of the original work featured in my previous three Christmas cards along with signed limited edition prints has raised around £50,000 for good causes.
"This year's chosen charities – Bethany Christian Trust, Maggie's Cancer Caring Centres, Quarriers and Teenage Cancer Trust – work extremely hard to help others and are very worthwhile beneficiaries. Thanks to Jack's talent and reputation I am sure that they will all receive a generous donation from the sale of Let's Twist Again."
Jack Vettriano said:-"When the First Minister rang to ask me if I would create a painting to be used as his official Christmas card, I felt immensely proud and flattered by the request. He was kind enough to have attended and officially opened my exhibition, Days of Wine and Roses, when it premiered at the Kirkcaldy Museum in March this year, so how could I refuse? When we were chatting about ideas for the Christmas painting, I couldn't help but ask 'Are you sure about this?' and was relieved when he said 'yes, absolutely'.
"I did warn the First Minister not to expect a snowy landscape any time soon as I felt it important to stay true to myself and my style of work. We had barely said cheerio on the phone, when ideas started to brew for an image featuring a couple dressed up in their finery, dancing at a Christmas party. I wanted to show the fun side of the festive season – the presents, the excuse to dress up and the romance in the air at this time of year. I just crossed my fingers and hoped that he would like it.
"This is a tremendous honour and I'm delighted to have been given this opportunity. I do hope that we raise a lot of money for the four charities that have been nominated as the beneficiaries this year. They all do such fantastic work throughout the year, it's nice to be able to contribute something and to show our appreciation."
Iain Gordon, Bethany Chief Executive said:-"Support from the First Minister's Christmas card is a timely gesture that recognises the plight of homeless and vulnerable people during the harshest of seasons. More than this, it is also a very welcome investment into Bethany's vital winter work. Such support means that more of Scotland's homeless and vulnerable people can be offered hope, a future and the chance to move on to better things this Christmas."
Ruth McCabe, Maggie's Fife's Centre Head, said:-"Maggie's are honoured to be chosen as one of the beneficiaries of this year's First Minister's Christmas card. Jack Vettriano and the First Minister have visited Maggie's Fife and Highlands Centres respectively, with both very taken with Maggie's programme of support. The festive period can be a particularly difficult time for people facing the devastating consequences of cancer.
"At Maggie's Centres across Scotland, we will be working hard to offer people the space, the time, the skills and the support needed to understand and manage their experience of cancer. I hope people enjoy receiving such a beautiful card from the First Minister and we will look forward to receiving our limited edition prints, which I am sure will raise fantastic funds to directly support people living with cancer."
Carol Anne McMahon, Teenage Cancer Trust Regional Fundraising Manager – Appeals, Scotland and Northern Ireland said:-"I am delighted that Teenage Cancer Trust has been chosen as one of the benefiting charities of the First Minister's Christmas Card 2010. The money donated from the sale of the painting will go to our current fundraising appeal to fund a specialist unit for teenagers and young adults with cancer at the Western General Hospital in Edinburgh in 2011. It will take us one step closer to our goal that every teenager and young adult with cancer from the East of Scotland has access to a Teenage Cancer Trust unit and the services that we provide. The support of the First Minister is very much appreciated."
Paul Moore, chief executive of Quarriers, said:-"We are delighted that Quarriers has been selected as one of the charities benefiting from the proceeds of the First Minister's Christmas Card this year. Through our 125 services, supporting adults with disabilities, children and families, people with epilepsy and young adults, the money raised will help those greatest in need across Scotland. Continued generosity like this helps Quarriers to continue its work and change the lives of individuals and families across the country for the better."
Brian Taylor explains why this is a wee bit mischievous on the part of the First Minister on his blog.