Travelling along the A77 and M8 earlier today it was obvious to The Reporter that there had not been much gritting of roads, clearing of roads, police out there being generally helpful……even on one of Scotland's main motorways there was not even a cleared single carriageway in parts.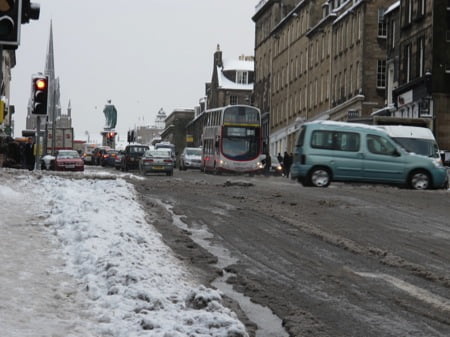 In Edinburgh city centre there are many cars moving about as normal, but there has been a lot of snow.  Apart from that though, and despite protests by The Scottish Government, the pavements are icy and in many areas have not been cleared or indeed gritted. The Council tell us that:-"The City of Edinburgh Council's fleet of gritters and mini-tractors have been working round the clock since Friday evening to keep the city's main roads open as the unprecedented snowfall continued.
As much as fourteen inches of snow are estimated to have fallen in Edinburgh since 8pm on Friday and more than 1,200 tons of salt have been used in response.
The Council's entire fleet of gritters and mini-tractors have been working around the clock since Friday evening to keep the city's principal routes (main bus routes and roads to hospitals, etc) open.
Seventy five roads staff are working, and additional staff have been mobilised from other duties such as street cleaning and parks. These additional staff are working to clear footpaths, particularly in shopping areas and sheltered housing schemes. Residential grit bins will be replenished as soon as possible.
Refuse collections have been disrupted as bin lorries are unable to operate safely due to road conditions. The situation will be assessed on a day by day basis. Any bins not collected today will be collected next week."
The Government Minister Stewart Stevenson said earlier today:-"The Scottish Government, councils and other key services across Scotland pulled together last year to deal successfully with the coldest winter since 1914.
"We are confident that we have planned well ahead with our operating companies and local councils to keep Scotland moving during this brace of cold weather.
"While there is no suggestion yet that we will face similar conditions to last winter, we have ensured lessons learned are already being put into practice as can be seen here at Leith today. With the arrival of this extra salt to supplement our existing stocks, over two months supply at heavy use, we are well placed to tackle winter head-on .
"The Scottish Government's Resilience Committee will be kept informed of developments over the next few days with a view to convening again if necessary."
The Minister was speaking from Leith Docks as he witnessed the delivery of almost 26,000 tonnes of treatment salt arriving in Scotland. While The Scottish Government claims to be doing all it can to keep Scotland moving, drivers and passengers are urged to play their part by making informed travel choices. Realtime journey planning information can be found on the Traffic Scotland and Traveline Scotland websites.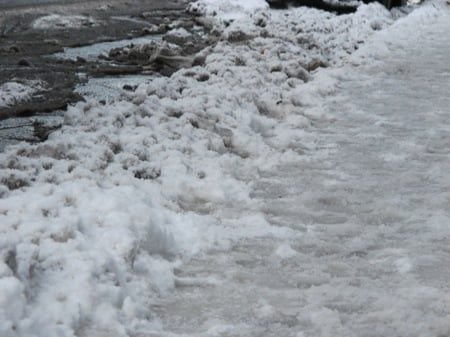 But even on a snowy day in Edinburgh there is the reassuring sight of the traffic warden ready to pounce on a malparked car – even though the double yellows were completely obliterated by snow.
When will The City of Edinburgh Council realise that it is not enough to have Parking Attendants who simply patrol the streets looking for malfeasants. Could it be one way of making cuts in the council budget that we ask for these well shod individuals to do a little more?
Would it be possible for instance that they are equipped with shovels to help clear the pavements?
Could we give them some authority to actually direct the traffic when there is a snarl-up at the West End?
Or is that simply too much to ask?  What do you think?