What's on and what's not?
We will update this as the day goes on – tell us what you are either doing or not doing! If you have photos then please add them to our  Edinburgh Reporter Flickr page.
This has just come in from Marchmont & Sciennes Community Council:-"The situation is that I received a call this morning from CEC saying that our outside event was cancelled.  However we feel we may still go ahead with the concert at the German Church.  Tomorrow – Wednesday – we will speak to the primary schools and JGHS and we will contact haddows.  With that information we'll make a decision tomorrow evening and let everyone know."
Finally The City of Edinburgh Council have updated their website! Here is the latest at 17,30pm
Some primary schools in Edinburgh are to re-open on Wednesday and 4th-6th year pupils at all secondary schools should attend. With colder temperatures and more snow expected, the situation remains changeable so parents are urged to continue checking the Council's website and Radio Forth for updates.
Councillor Robert Aldridge, Environment Leader, said: "I want to thank everyone for their patience. With such a lot of snow falling in such a short space of time, it's inevitably going to take some time to clear residential streets and restore other services to normal.  I also want to thank those people who have been good neighbours to vulnerable people and the Council staff who have been working flat out to keep the city moving."
Schools
All school staff should report to work tomorrow. If staff cannot report to their usual place of work then they should go to the nearest City of Edinburgh Council school.
All secondary schools will be open for 4th-6th year pupils tomorrow – all secondary pupils should bring a packed lunch. Pupils who get transport from Ratho, Kirknewton and Livingston to Balerno High School should not attend as transport is unavailable.
The following primary schools will re-open tomorrow:
Craigentinny
Broughton
James Gillespie's Primary School
Sciennes
Gylemuir (nursery closed)
Bruntsfield
The following nurseries will re-open tomorrow:
Cowgate
Calderglen
Tynecastle
All special schools with remain closed with the exception of the Panmure St Ann's service.
All City of Edinburgh Council community centres will re-open with the exception of Ratho, Rosebery Hall, Inch, Jack Kane, Bingham and Magdalene.
Anyone looking to attend external events normally hosted in schools, e.g. councillor surgeries or community groups, should check if they are going ahead.  Day and evening adult education classes are cancelled for the rest of the week.
All Child and Family centres will be open with a reduced service. Please contact the centres direct for information.
Roads
All 'category 1' and some 'category 2' priority routes were treated yesterday. Due to continued snowfall it was necessary to revert to category 1 routes. All category 1 routes have been treated today and work has begun on category 2. Staff are working round the clock to keep the city's main roads clear.
Extra staff have been allocated to work on snow clearing. However, workers are experiencing difficulties with the exceptional levels of snow on roads and pavements as well as obstacles such as abandoned cars. Mechanical plant i.e. JCBs are being used to excavate and remove snow to gain access to many of these routes.
The Council has used 1802 tonnes of salt between 25 – 29 November, 2803 since the start of winter maintenance. Supplies were standing at 5374 tonnes, as at this morning.
Waste collection
Bin lorries were unable to go out yesterday or today. However, refuse workers have been helping with snow clearing. Any bins not collected as scheduled will be picked up as soon as possible.
Weather forecast
Some more snow is expected but should be less than in recent days. However, temperatures are expected to drop significantly, with widespread frost and ice.
Health and care services
Council-owned or voluntary day centres will remain closed for the rest of the week. However, staff are reporting to work and are contacting all service users and families. Staff will be assessing whether vulnerable adults and older people require any additional assistance and are taking appropriate action.
All social work centres are open and despite access difficulties all Council care homes are receiving deliveries and are fully staffed. Home care and re-ablement staff are reprioritising case loads to ensure emergency cases are covered such as meals and personal care.
Anyone who is concerned about someone who they feel should be getting assistance can contact the social care direct team at the Council on 0131 200 2324, and staff there will arrange appropriate follow up. In the evenings and weekend contact can be made with the out of hours service at 0800 731 6969.
Pentland Rangers are driving social workers and home care workers in the Oxgangs area to individuals' homes in 4×4 vehicles to ensure support is provided.
In consultation with the event organisers, the council has taken the decision to cancel a number of Christmas lights "switch-ons" which have been made impractical in the ongoing severe weather. Event management arrangements such as putting up barriers, rigging up stages and PA systems and tree-dressing have all been compromised by the heavy snowfall. Underfoot conditions at each of the event sites could also pose a safety risk.
The current situation will be monitored over the coming days and the council will continue to liaise with the organisers to see if any of the ceremonies can be rescheduled.
The following switch-ons are affected:
*  Lauriston Place / Tollcross (30 Nov)
*  Kirkgate, Leith (2nd Dec)
*  Restalrig Road South (2nd Dec)
*  Queensferry (2nd Dec)
*  Morningside (2nd Dec)
*  Grassmarket (3rd Dec)
*  Davidson Mains (3rd Dec)
*  Marchmont Cres. (4th Dec)
*  Gorgie Farm ((5th Dec)
Further updates will be provided as soon as available via www.edinburgh.gov.uk/severeweather, @edinburgh_cc and @edintravel on Twitter.
Updates on the First Bus website here….
Planes appear to be landing at Edinburgh Airport this afternoon…..according to their live arrivals board.
Martin Wishart School of cooking event tomorrow 12pm to 2pm in Edinburgh – 3 tickets now available due to weather. Contact them on their website. You can watch a video of Martin here
Jewel & Esk to open tomorrow….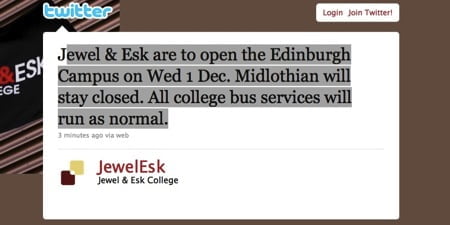 Apparently 10-15cm snow forecast for Tuesday night.
Lothian Buses have a great list on their homepage telling you what is running and what is not.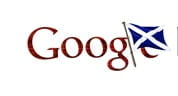 As an aside have you noticed the Saltire on the Google homepage for St Andrew's Day?
All schools in Midlothian closed again tomorrow. What about Edinburgh – do you know? Their website has no updates….
Writers of Edinburgh! LitSalon is still on, 6pm at The Wash. More details here.
@nicolamorgan has professional cupcakes going a begging – Here is her tweet…

SO if you know anyone who could sell these then either get in touch with her on Twitter or let us know!
As we told you yesterday the schools are closed. Whether they are to be closed tomorrow is not yet clear – their Twitter feed has not been updated since yesterday!
Students are protesting in Edinburgh and have blocked the doors of Holyrood according to all the latest tweets…..and there is a live blog on The Guardian. Michael MacLeod the local Guardian beatblogger has an explanation of what is going on here in Edinburgh which you can access here.
The penguins at Edinburgh Zoo are still skating about much to the delight of their new worldwide audience who are watching them on their webcam.
No mobile library, library link or housebound services will operate today. Tales of One City the libraries blog reminds you to phone the library before leaving the house today. The phone numbers are on the Council website here.
The Big Book Group Bash has been postponed. You can get more details here of what looks like a great event with Stuart Kelly, Alan Bissett, Laura Marney and Sue Peebles discussing their 'fantasy bookgroup' over a glass of wine and mince pies. Will be rescheduled.
Friday 3rd December 11 Gayfield Street, Edinburgh, EH1 3NR  the Society of Young Publishers are having a Christmas bash. They say:-"Come join us for some mince pies and mulled wine–and an opportunity to hear from acclaimed poet Ryan Van Winkle, Lara Moloney, Sales and Marketing whizz at The Skinny, and by Vanessa Robertson, owner of the gorgeous Edinburgh Bookshop and Fidra Books and to meet folks just like you who are interested in books and publishing."
If you have nothing better to do today then you might enter The Bupa Great Edinburgh Run when entries open at midnight tonight. You have a while to get ready – the race is taking place on 2 October next year rather than in May as usual.