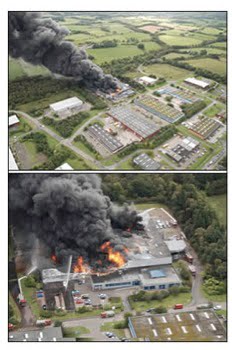 Around 70 firefighters and 12 fire appliances are at the scene of a major blaze at a printing factory in West Lothian.
Fire crews were called to Amcor Flexibles at Brucefield Industrial Park just before 12.00 midday on 16 September.
One person was taken to St John's hospital in Livingston where they were treated for suspected burns to their arm.
Local residents were advised to stay indoors and keep doors and windows closed because of fears over possible toxic fumes from the chemicals.
A spokesperson for Lothian and Borders Fire and Rescue Service said: "The property, a single storey, steel framed, modern building, contains a large amount of chemicals including printing inks, solvents and acetylene cylinders which can be highly volatile when involved in a fire.
"Our main priority is cooling those cylinders and we are using three height appliances as water towers to facilitate this. Residents should stay indoors and keep windows and doors closed to reduce contact with the smoke from the fire.
"We expect this will be a protracted incident and that fire crews will remain at the scene for several hours. We are working with other agencies, including the Police on the implications for nearby residents and also SEPA to address environmental issues."
Plumes of thick, black smoke can be seen for miles around.
Neighbouring businesses on the Brucefield Industrial estate were evacuated.
Local train services between Kirknewton and Shotts were affected after a stop was put on the line due to concerns about the smoke.