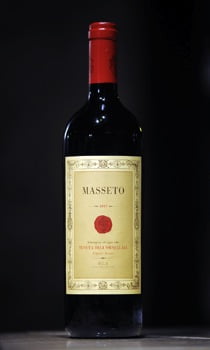 A new bar is rolling out the barrels – by stocking the most expensive bottle of Italian wine to be sold in Scotland.
Divino Enoteca is selling the rare and exclusive 1997 vintage Toscana Masetto at a cost of £850 a bottle – which works out at around £146 for a standard 125ml glass.
Produced in the Italian wine growing region of Tuscany by the Tenuta dell' Ornellaia winery, the 100% Merlot wine is famed for its full body and tannic structure, according to Divino Enoteca.
A limited production level and a rigorous selection process that upholds to a philosophy of excellence, has meant that the 1997 vintage has become one of the world's most sought after wines.
Head Sommelier Sebastiano Ingaliso, spent several months sourcing the wine from his contacts to form the centrepiece of Divino Enoteca's comprehensive wine list, which offers some of the highest quality Italian vintages to be found in Scotland.
He said: "We are delighted to be able to offer the chance for wine lovers to buy and enjoy this rare vintage.
"It is a fantastic wine with great structure and longevity. The Tenuta dell'Ornellaia winery is renowned for producing some of the world's finest and most sought after vintages and is the only place in the world to produce a Masseto of this quality.
"What makes the wine so rare and also so expensive is the fact there are so few bottles produced. As a quick comparison, a winery might produce 10,000 cases of house wine compared to just 1,000 cases of Masseto – making sourcing a bottle extremely difficult.
"The exclusivity and rarity of the Masseto has lead to it's nickname the 'Italian Petrus' placing it's quality on the same level as one of the world's most luxurious fine wines."
Sebastiano points out that whilst £850 may seem like a lot of money to spend on one bottle of wine, it compares favourably with the highest price of £1,400 for the same vintage sold at other UK venues. The rarity of the wine also means it will only be available to buy by the bottle.
Sebastiano added: "Our philosophy at Divino Enoteca is all about sharing our passion for wine and making fine Italian wine accessible to everyone.
"It is an absolute pleasure to be able to offer our customers the chance to buy and enjoy what is truly one of the best wines in the world."
As well as Scotland's most expensive bottle of Italian wine, Divino Enoteca also boasts an extensive selection of vintages, all of which have been painstakingly researched and sourced by Sebastiano himself. The wine list features renowned names such as; Toscana Tiganello, Marche Passetto and Bolgheri Sassicaia, which can be bought by the glass or bottle.
The venue is also the first in Scotland to use state of the art Enomatic wine dispensing technology which uses inert nitrogen gas to preserve the flavour and body of the wine; ensuring customers get the perfect serve each time.
Sebastiano will head a 12 strong team of staff selected for their passion and knowledge of wine. Each has undergone an extensive training schedule, which will hopefully ensure that they know about the full selection of wines from grape to glass.
To heighten the sensory experience further, Divino Enoteca will offer customers a selection of fine Italian food, such as cheeses, marinated vegetables, olives, salamis and cured meats – designed to complement the wines available.
The venue also includes a 14-seat private room which will provide space for wine classes as well as being able to host private parties, wine tasting sessions and corporate events.
Divino Enoteca is located on Merchant Street just off Candlemaker Row in the city's Old Town and can also be accessed via Vittoria on the Bridge. Information and requests can be made on 0131 225 1770 or by visiting www.divinoedinburgh.com