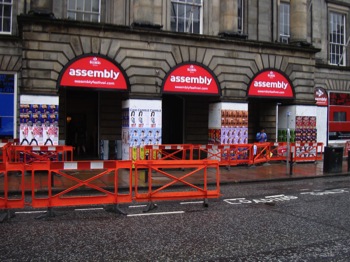 It seems that everywhere The Reporter goes there are barriers on the street. But why oh why have the organisers decided to put them on the pavement outside The Assembly Rooms? The best thing about the venue is the open pavement for milling about before joining a queue and for debriefing after the show….. So why has someone thought this was a good idea?
Just to keep you up to speed – here is what festival is on where…
Edinburgh Art Festival – 29 July – 5 September 2010
Edinburgh Festival Fringe – 6 – 30 August 2010
Edinburgh International Book Festival – 14 – 30 August 2010
Edinburgh International Festival – 13 August – 15 September 2010
Edinburgh Jazz & Blues Festival – 30 July – 8 August 2010
Edinburgh Mela – 6 – 8 August 2010
Royal Edinburgh Military Tattoo – 6 – 28 August 2010
Scottish rugby player Max Evans appeared at Edinburgh Sheriff Court on Monday charged with possessing a glass in a public place and also assaulting a man with it. He pleaded not guilty and was released on bail. Evans had been in Lulu nightclub in George Street on Sunday. His case will be heard in January 2011.
Billed as a great photographic exhibition this has just opened at The Scottish Parliament. It is a display of photo-journalism, featuring photos from all over the world.  The World Press Photo exhibition now in its fifth year at Holyrood, will remain in place till the end of August 2010.
The Edinburgh Chamber of Commerce is looking for new council members.
Downing Street has released figures for its website traffic. In July there were 941,325 page views, with 342,440 visits from 246,274 unique users – we need figures like that!
Tell us what you like, what you don't like and what you would like! – oh and tell your friends…..Follow us on Twitter, Facebook and Flickr