Urban spaces in Edinburgh are being covered with Wee Forests the size of tennis courts in an initiative which has begun over the last few months.
The council has teamed up with Earthwatch Europe, NatureScot and Edinburgh and Lothians Greenspace Trust to plant densely packed native forests with support from Blackrock Charitable Trust, OVO Foundation and The Scottish Government.
Three Wee Forests have been planted at East Pilton Park, West Pilton Park and Mount Vernon. It is hoped the areas will be attractive to wildlife as well as people, and help in the fight against climate change.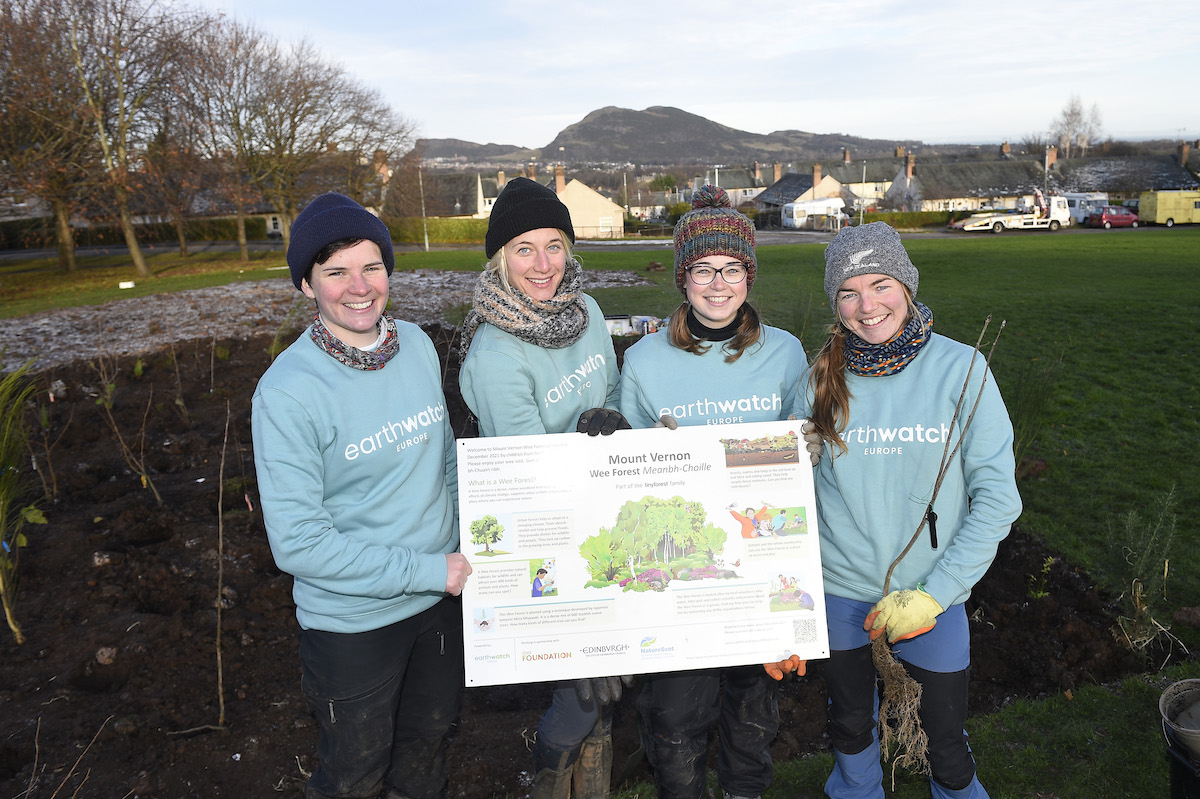 Culture and Communities Convener, Cllr Donald Wilson, said: "These new Wee Forests will allow residents to be directly involved in tackling the nature and climate crises by being involved in the planting, maintaining and development of the forests in their own community. The Wee Forests will also help us work towards our goal of being a Million Tree City by 2030 and contribute towards the Queen's Green Canopy in celebration of The Queen's Platinum Jubilee next year.
"For each Wee Forest, we look to engage a core group of volunteers called Tree Keepers to act as ambassadors for their local forest. Volunteering as a Tree Keeper is a great chance to get more involved in your Wee Forest's development and track the amazing environmental impact of the site and I would encourage everyone to find out more by contacting Earthwatch."
Culture and Communities Vice Convener, Cllr Amy McNeese-Mechan said: "Our green spaces are a hugely important part of our city and I'm delighted that we now have our first Wee Forests and are creating new spaces for people and wildlife. A Wee Forest brings the benefits of a forest – connecting people with nature, raising awareness of the environment, helping to mitigate the impacts of climate change, and supporting urban wildlife – right in the heart of our community within urban spaces in the city. I'm delighted that more Wee Forests are planned and encourage our communities to get involved."
Louise Hartley, Senior Programme Manager said: "Wee (Tiny) Forests provide rich opportunities for connecting young people with the environment and sustainability. It's vital that we give people the knowledge and skills to protect our natural world and inspire them to take positive action from a young age. We are delighted to be working with Edinburgh City Council, the BlackRock Charitable Trust, OVO Foundation and NatureScot to bring these inspiring spaces to Edinburgh and other communities across the UK."
Gemma Gooch, Co-Head Global Social Impact at BlackRock said: "As more and more people live in urban areas, Wee (Tiny) Forests have the potential to help capture carbon emissions, increase biodiversity and contribute to a more climate resilient society. We are very proud to support Earthwatch Europe with this initiative, reminding us that there are ways we can help fight climate change in our own local communities."
Gaby Sethi, Head of OVO Foundation, said: "We're passionate about educating the younger generation on how to reduce their carbon footprint, protect the physical environment, and limit their impact on the planet. Tiny Forests help children learn about the environment and sustainability in a really accessible way. By planting Tiny Forests in urban communities across the UK with Earthwatch, we will help connect children with their local green spaces and show them how they can protect it for future generations."
NatureScot Chief Executive Francesca Osowska said: "The Covid-19 pandemic has shown us just how important it is for people's health and well-being to have opportunities to connect with nature close to where they live. These Wee Forests are not only a great way to make space for nature in our towns and cities, but they'll also help communities become more resilient to the impacts of climate change, which is particularly important as we look ahead to COP26 and the huge challenges and opportunities facing us."
Charlie Cumming, Chief Executive, Edinburgh & Lothians Greenspace Trust said: "We are delighted to be a local delivery partner for the Wee Forest project. The creation of the Wee Forest is very important for people and wildlife, particularly with it being in an urban environment. It will provide the local community and schools with the opportunity to help tackle nature loss and the current climate emergency as well as contributing to Scotland's tree planting targets. It will enable people to engage with nature on their doorstep and inspire young people to take an active interest in their local environment."
Wee Forests in Scotland are part of the global family of "Miyawaki Forests" or "Tiny Forests". Following the method – with its emphasis on community engagement, co-design and careful soil preparation – means that Wee Forests meet a consistent global standard so their benefits can be measured and shared.
A Wee Forest is made up of 600 densely packed native trees in a space the size of a tennis court and is capable of attracting over 500 animal and plant species within the first three years. It also provides rich opportunities for engaging young and old alike with the environment and sustainability.