One of the world's top jazz singers, Kurt Elling joins internationally acclaimed saxophonist Tommy Smith and the Scottish National Jazz Orchestra for a tour which opens at the Queen's Hall on Thursday 18 November.
Chicago-born Elling, who has won two Grammy awards and been nominated for a further fifteen, has been described by the New York Times as "the stand-out male singer of our time." He has also topped the prestigious Downbeat magazine critics and readers polls for fourteen consecutive years.
Tommy Smith, the SNJO's founder and artistic director, said: "Few singers in the world bring to bear the unique combination of artistic depth, intellectual breadth and soulful delivery that our friend Kurt Elling does."
Elling and the SNJO first worked together in 2011 and have since toured Scotland four times as well as appearing at London Jazz Festival and the leading European festival, Jazz sous les Pommiers, in France. As a result, they have developed a strong partnership. Together they have brought audiences to their feet with a repertoire ranging from swinging Frank Sinatra classics to interpretations of more contemporary material and items from the praise song canon.
On this latest project, entitled Apparition Bridge, they will perform freshly-conceived arrangements and recently composed lyrics to the works of some of Europe's most exciting jazz composers. Music by Norwegian saxophonist Jan Garbarek, Danish bassist Anne Mette Iversen, France-based Ivorian drummer Anna Pacéo, and the late Swedish pianist and leader of the popular, trailblazing EST group, Esbjörn Svensson will feature.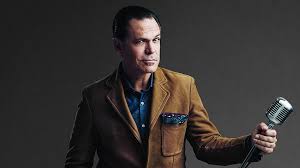 Elling attended concerts at the Queen's Hall while studying divinity at Edinburgh University on secondment from the University of Chicago in the late 1980s and is looking forward to revisiting his old haunt.
He said: "This project promises to reconnect us all through music as we span the chasms between the ancient and the future, between sorrow and joy, and between time and timelessness. The combination of talents at work, including the searching eloquence of saxophone master Tommy Smith and the superb SNJO provides the makings of a powerful and unique musical regrouping."