Looking for good news stories during lockdown we kept bumping into Farr Out Deliveries, the bicycle courier service, whether in the street or online.
Farr Out is worker-owned and run, and they will deliver almost anything for you on their cargo bikes.
The business started with three friends, Alex Fitzhowle (25), David Squire (30) and Frazer Martin (31), all looking for something useful during the pandemic that would also bring in a wage.
All three have links to the capital and have lived here for a while. Now they have set up in business together.
We spoke to Alex who was looking quite energetic even though it was at the end of a long day. He said: "It's good to be busy. Before this I was working in food events and was planning a food festival. Suddenly, I had to let everybody know it wasn't taking place and so running this business has been a really rewarding way of staying in touch with people in that business, but being useful too."
Each rider probably covers between 30 and 60 miles a day, although clearly some of their days are longer than others. (Frazer apparently claims to be in the best physical shape he has ever been in.)
Farr Out have had discussions with other cargo bike related businesses in the UK like Pedal Me, and were given some really useful advice by those already in the know. These businesses are based in cities such as York, Oxford, Bristol, Bath and London. Alex explained the thing they all have in common is that they are based in historical cities with small footprints, and condensed city centres, not all of which are easily adapted to vehicular traffic. Of course in Edinburgh the big difference is that we have hills.
Alex explained the business model. He said: "For us the biggest thing is that we are not selling something as such – but we like to suggest to everyone that they use the small independents who employ us. We will also have a directory on our new website showcasing all the businesses who support us by employing us to deliver their goods.
"We work with breweries, bakers, bookshops, coffee roasters, picklers, gift shops and clothing shops. It is a nice list of independent Edinburgh businesses. As well as our business customers however, members of the public are now in touch more and more often to get single items delivered. Two things we are most often asked however –
"Can we beat Deliveroo? Are we hiring? The answer to both of those is no – not at the moment." It seems it may not be long before they do need more riders though as demand is building for environmentally friendly service of these 'Cargo Slinging' Bad Boys'.
Alex explained the business was born out of lockdown. The trio were working in different industries at the beginning of the year. Alex and Frazer were involved in the events industry. David was a bike mechanic and bike frame builder. He is literally a really useful cog in the wheel.
The three were friends first of all, and had discussed their joint need to generate an income while they were out of work. Some of their colleagues in the food and drinks sector had set up food and drinks deliveries for the first time. Alex, David and Frazer had all worked with cargo bikes before, as they helped trial a sustainable freight pilot scheme during the Fringe, using the bikes from the Bike Library at Sustrans. The rest as they say is now history. During early lockdown was their busiest period with the sudden swell of people changing the way they shopped. At that point they had around ten people riding and about six bikes. Since lockdown has eased, their workforce has shrunk a bit, but business has remained steady.
During the Fringe they moved equipment between venues, and they quickly realised this was something they could turn their hands to while unable to do their usual jobs. Alex said: "We just loved the cargo bikes, so at the start of lockdown we got in touch with Sustrans to see if we could borrow some bikes to help our friends in their food and drinks businesses with their deliveries."
They have kept almost all of their clients since the beginning, including Twelve Triangles, Barneys Beer, who used them initially for local deliveries and now for wholesale deliveries too.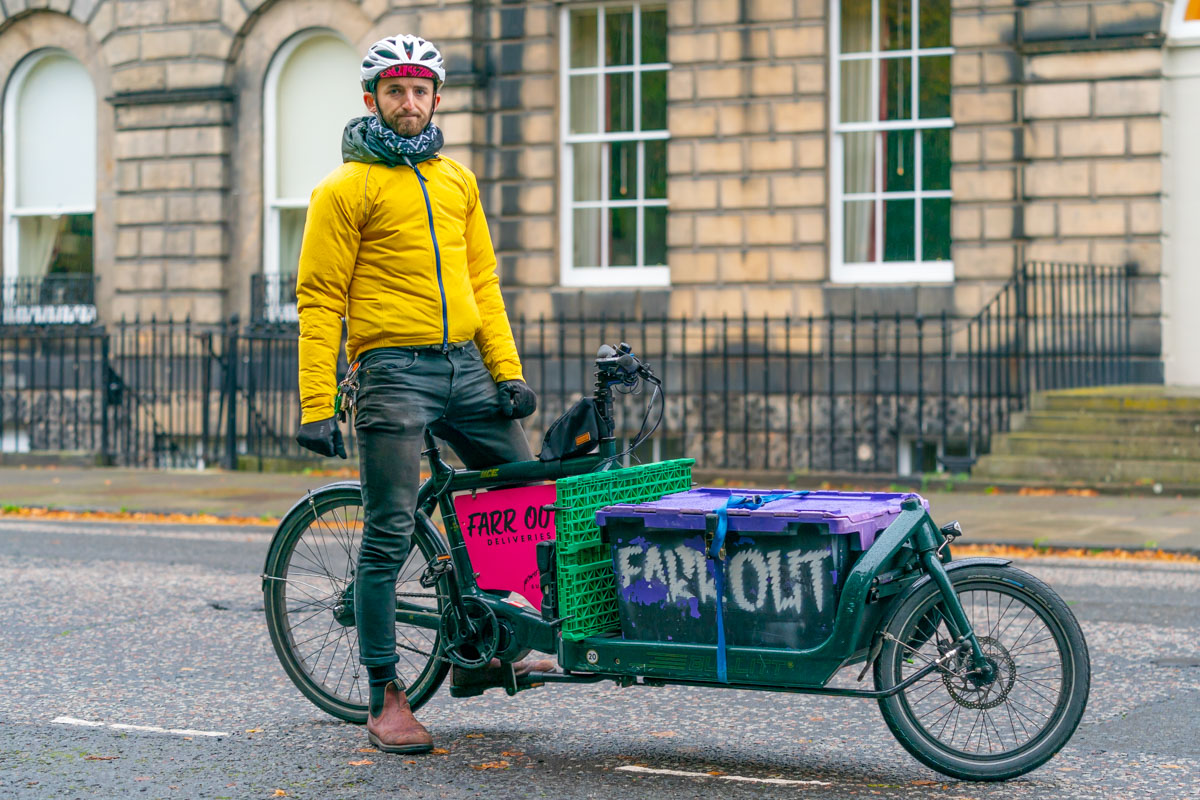 What kind of bikes do they use?
Alex replied: "This one that I am riding is the workhorse – it's called a Harry v Larry Bullitt – it is the most nimble and reliable and it can carry up to 150kg. All the bikes are pedal assist, meaning you get help up to 15mph but you're on your own after that.
"Frazer likes to say it makes Edinburgh as flat as the Netherlands. But when you have two beer kegs on board it makes it much easier."
The business is still using loan bikes – these trusty steeds cost around £6,000 each so Farr Out will investigate buying their own next year when they become eligible for government funded assistance.
There is a healthy system of bike lending in the city. Alex said: "We have been very lucky to have been supported by David at Laid Back Bikes who supplies the Urban Arrow, Sustrans, the Cargo Bike Movement run by Lee Craigie, the Active Nation Commissioner for Scotland, and also Kim Harding at the Edinburgh Festival of Cycling.
David said their bikes cause a bit of a stir. He said: "People stop us in the street to ask about our bikes. They are very interested in them."
The business model is working towards a cooperative eventually. Although at the moment they are officially a partnership, their pay scale for other riders is based on the average earn of the business on an hourly rate.
The most unusual thing Alex has carried on his bike is a three seater sofa which he said he easily managed to balance across the front cargo area. He had also just moved a piano with a stand when we met. So there is very little which is impossible for these young entrepreneurs.
And of course there is house removals. Alex said: "When David moved house it took two bikes and three trips to move his gear to his new pad – we moved everything but the sofa that time."
The pricing structure is on a grid on their website – and the eventual price depends on size and distance, urgency of delivery.
But Alex admits their website needs a bit of attention so the best way to get in touch with them is by email, Twitter or Instagram. They will have a booking interface soon.