Police officers throughout the country have been busy educating the public on the problem of what is called 'County Lines'.  Police Scotland has also targeted drug dealers who exploit vulnerable people during a national week of action in September.
County Lines means that drug dealers usually from large cities expand their operations into smaller towns while trying to exploit young and vulnerable people to sell drugs, carry cash and weapons, bringing violence, coercion and abuse. They may also take over a vulnerable person's house which is known as 'cuckooing.' The term County Lines also refers to the use of a single telephone number to order illegal drugs, operated from outside the local area.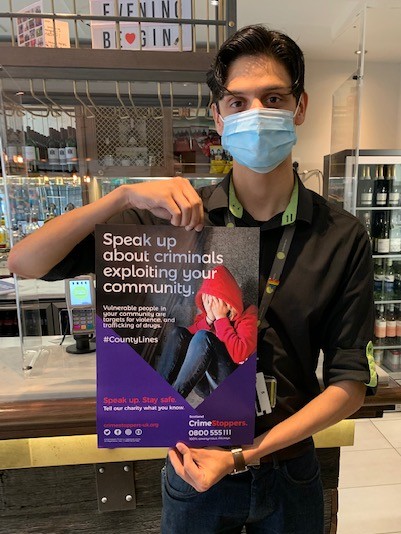 Local officers, special constables and national resources, including Road Policing and Dog Unit officers, as well as British Transport Police, have all taken part in the month long campaign.
Dozens of vulnerable people were identified, 'cuckooing' addresses were visited, a number drugs search warrants executed and several people were arrested.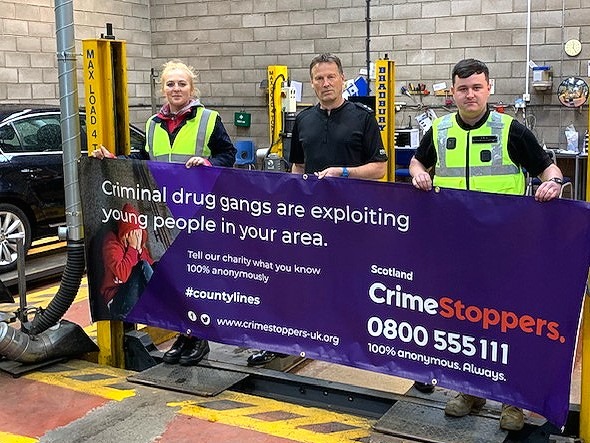 A large quantity of controlled drugs, including heroin, cocaine, amphetamine and cannabis was seized along with tens of thousands of pounds in cash and weapons, including a Samurai sword.
In Edinburgh 11 people were 'safeguarded' and officers executed four warrants. Two people were arrested and £1,500 of drugs and over £2,000 in cash was seized.
In addition to the proactive work, officers from the Licensing Dept & CAB Office alerted taxi and private hire vehicle drivers who have a vital role to play whilst officers from the Prevention, Intervention and Partnerships Department held prevention events across the city to raise awareness of the risks and harm caused by County Lines drug gangs.
Other officers worked closely with the city's hotel and accommodation industry to raise awareness of County Lines, and explained how by working together youngsters can be protected from the risks and harm that exploitation brings.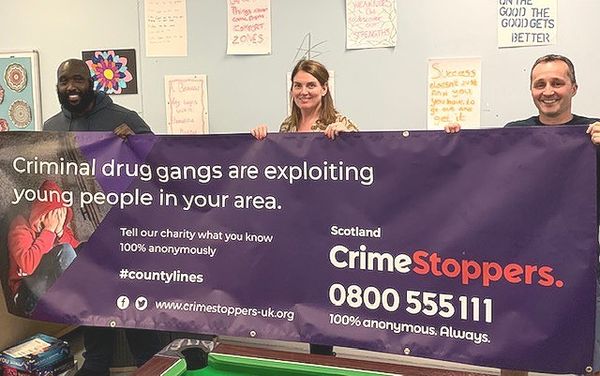 Tackling serious organised crime relies on strong and effective local relationships and good information sharing between various partners, and dedicated officers also took part in a Zoom training session with Lothian Association of Youth Clubs including 6VT, Edinburgh City Youth Cafe (Edinburgh), Y2K (Midlothian), Recharge (East Lothian), and West Lothian Youth Action Project (West Lothian).
The sessions were recorded and shared with youth clubs across those areas, providing staff with information and awareness of what to look out for and how to report any young person they feel is being used and exploited by drug gangs.
Police Scotland's Assistant Chief Constable Angela McLaren said: "County Line gangs groom and exploit the most vulnerable people in our communities including children and young people to store and sell drugs. They are intimated, coerced, threatened and often subject to violence.
"These gangs are not welcome in Scotland. As ever, I would urge anyone with concerns to report them to Police Scotland or alternatively to Crimestoppers anonymously."
Angela Parker, Scotland National Manager for the independent charity Crimestoppers, said: "County Lines isn't necessarily a term people are familiar with, but as a charity it's important we raise awareness of this issue and help tackle it.
"Gangs coming into our communities here in Scotland, are not welcome. We want to ensure that if they do decide to set-up their operation here, that your information can help get them removed and keep our communities safe.
"When you contact us, we won't judge or ask any personal details. All we want to know is what you know. We guarantee you'll remain 100% anonymous. Always.
"If you have any information about people who have recently moved into Scottish communities to sell drugs, please contact Crimestoppers 100% anonymously on 0800 555 111 or use the simple and secure anonymous online form at Crimestoppers-uk.org."