The book festival will give Charlotte Square a rest this year, but it will go ahead online.
The good news is that all events are free and accessible to all. No queues for tickets, no waiting for returns and no sloshing through puddles.
The team at the book festival has even worked out a way of getting your book signed. If you are one of the lucky ones you will get a slot to meet the author and watch them put your dedication in the book.
Festival Director Nick Barley recorded a podcast with us to give us a flavour of how it will all work. There will be two studios in the city centre where some talks will be recorded. This will allow for social distancing but will keep the flavour of the festival intact for everyone viewing online.
The festival is titled Keep the Conversation Going and there will be over 140 online events from 15 to 31 August. These will be live conversations, discussions and readings from 200 authors and illustrators from 30 countries around the world.
There is a photo call on Friday and we will bring you the new photos when we get them. Meantime have a photo of Nick Barley from last year's programme launch.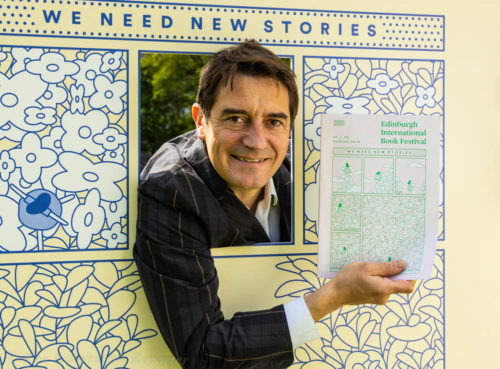 Nick Barley, Director of the Edinburgh International Book Festival, said: "It's been a leap of faith for everyone involved, but in these extraordinary few months we've managed to transform the way we deliver our Festival, bringing writers and readers together in a new online space for discussion and imagination. Despite the challenges I've been inspired by authors' enthusiasm to try out this new approach, joining us in Edinburgh from all over the world without having to leave their homes. As society searches for ways to make sense of the new reality, it's clearer than ever that books and writers offer a framework for constructive dialogue and for sharing bold new ideas.
"Thanks to the continued and generous support of so many of our funding partners and sponsors, including the Scottish Government, Creative Scotland, City of Edinburgh Council, Baillie Gifford and players of People's Postcode Lottery, and of course our loyal and adventurous audience, we are able to Keep the Conversation Going in August."
From Scotland the irrepressible Val McDermid has the third book in her series about Karen Pirie talking to Joan Bakewell, Alexander McCall Smith will speak with Edinburgh Central MSP, Ruth Davidson, and Douglas Stuart will speak about his debut novel Shuggie Bain which is a love letter to 1980s Glasgow.
Citizen
The Book Festival's Citizen project, which has been hearing from residents of the City's North and Musselburgh areas, is represented with a series of events including Healing the Digital Divide looking at the inequality of online access and Power to the People exploring how the Covid Pandemic has affected communities across the UK. Stories and Scran brings people together in an online forum to enjoy readings from participants in the Citizen project and a free meal provided by the Scran Academy (this can be ordered in advance and delivered to houses within the EH postcode.) Citizen is supported by Players of People's Postcode Lottery and PLACE (Platforms for Creative Excellence).
Stephanie Kerr, programmes advisor at People's Postcode Lottery, said: "Edinburgh International Book Festival is such a key event in the cultural calendar and it's incredible that this year will be no different with the line-up of events planned – despite being fully online. I'm so pleased that funding raised by our players is able to continue supporting the Citizen project to ensure that local voices are included in the conversation, now taking place at a global level."
Councillor Donald Wilson, Culture and Communities Convener for the City of Edinburgh Council, said: "We are proud to support the Edinburgh International Book Festival and that we'll be able to Keep the Conversation Going during the current extraordinary circumstances. The endurance of the Festivals is essential to a successful future for the city and I am delighted that over 140 online events, including live conversations, discussions and readings for all ages, will take place. More than ever at this time, I believe that books and stories play an extremely important role in providing many of us with escapism and comfort as well as a sense of connection. I look forward to seeing the festival atmosphere being recreated online."
The highlights also include
Hilary Mantel, the Booker Prize winner, who brings here final novel in her trilogy on Thomas Cromwell.
Executive Vice President of the European Commission will speak to Gordon Brown about the European Green Deal
Arundhati Roy reflects on the implications of the global pandemic in Azadi
David Mitchell explores the musical inspiration behind Utopia Avenue
2019 Booker Prize Winner Bernardine Evaristo joins Scotland's First Minister Nicola Sturgeon
Historian William Dalrymple discusses the East India Company with Fergal Keane
Turkish author Elif Shafak launches her new polemic How to Stay Sane in an Age of Division
Irish author Marian Keyes brings her latest bestseller Grown Ups
Culture Secretary Fiona Hyslop said: "The Edinburgh International Book Festival has long been a highlight of the Edinburgh Festivals' calendar, bringing together some of the world's finest authors and the best of contemporary Scottish talent. I am pleased it is able to continue to Keep the Conversation Going in 2020, bringing writers and audiences together online to stimulate debate and raise Scotland's cultural profile on the international stage. The Scottish Government has been continuing its support for the festival, and since 2008 has provided over £1.3 m of funding through its Festivals EXPO fund."
All six authors shortlisted for the 2020 International Booker Prize appear in conversation with their translators (with one exception who wishes to remain anonymous) and the Festival hosts the first interview with the winning author announced on 26 August. The winners of the University of Edinburgh's James Tait Black Prizes are revealed as is the winner of the biennial Edwin Morgan Poetry Prize. This year marks the centenary of Edwin Morgan's birth, and an additional celebratory event includes voices from a wide range of Scottish writers and poets.
In the second year of a partnership with the New York Times, the Book Festival presents five events spanning the long shadow of slavery, the evolving place and rise of women in politics, a special edition of The New York Times Book Review, an interactive session with The Times Crosswords team and capitalism and climate change in the era of Covid-19.
Children
Every morning of the Festival at 9.30am (BST) the Baillie Gifford Children's Programme offers a 10 minute Drawalong activity for younger audiences on the Book Festival's Facebook page (@edbookfest). Rob Biddulph shows off his new picture book and Oliver Jeffers drops in from his home in New York to inspire budding illustrators of all ages. Julia Donaldson brings some of her favourite characters to life in two events and Children's Laureate Cressida Cowell introduces the latest in her Wizards of Once series with special guest Eoin Colfer. Rashmi Sirdeshpande launches Dosh: How to Earn It, Save It, Spend It, Grow It, Give It, Science communicator Emily Grossman is in conversation with Konnie Huq about her Brain Fizzing Facts, Helen Skelton, Lily Dyu, Eilidh Muldoon and Lari Don all explore stories of fantastic female adventurers and comedian and actor Samantha Baines introduces Harriet, whose hearing aid helps her understand aliens.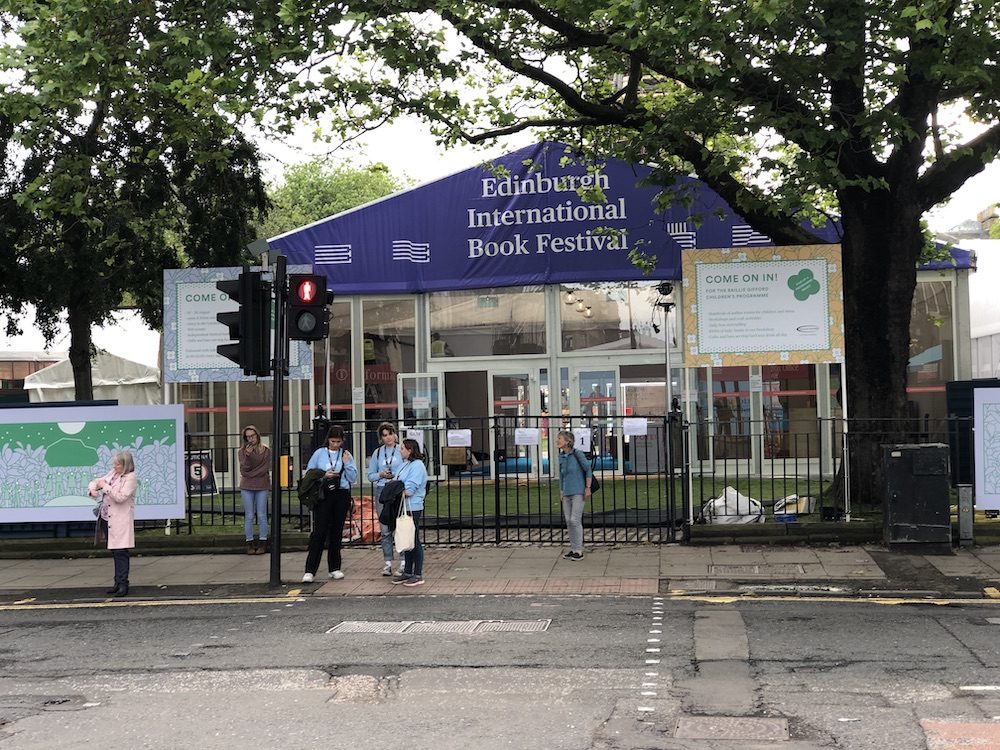 Full details of the 2020 Online Edinburgh International Book Festival can be found at edbookfest.co.uk and all events are free to watch through the Book Festival website. A number of events across the programme will be BSL interpreted, and further events will be live captioned. Audiences can mingle with each other before and during events by entering a live chatroom, and many events offer a Q&A session with the authors. Anyone can post questions to authors and vote for their favourites from other audience members.
The Book Festival has created a new online bookshop which will feature titles from all authors in the 2020 programme in addition to showcasing a range of books from Scottish publishers. Across the Festival, there are a selection of live online book signings where audience members are able to chat to the author face-to-face and get their book signed after the event. A maximum of 50 people can book into each signing once they've purchased a copy of the relevant book from the Festival's online bookshop.