Today is the final day for all parties to campaign for votes in this General Election. We caught up with the SNP candidate for Edinburgh South, Catriona MacDonald who was being supported by the SNP leader.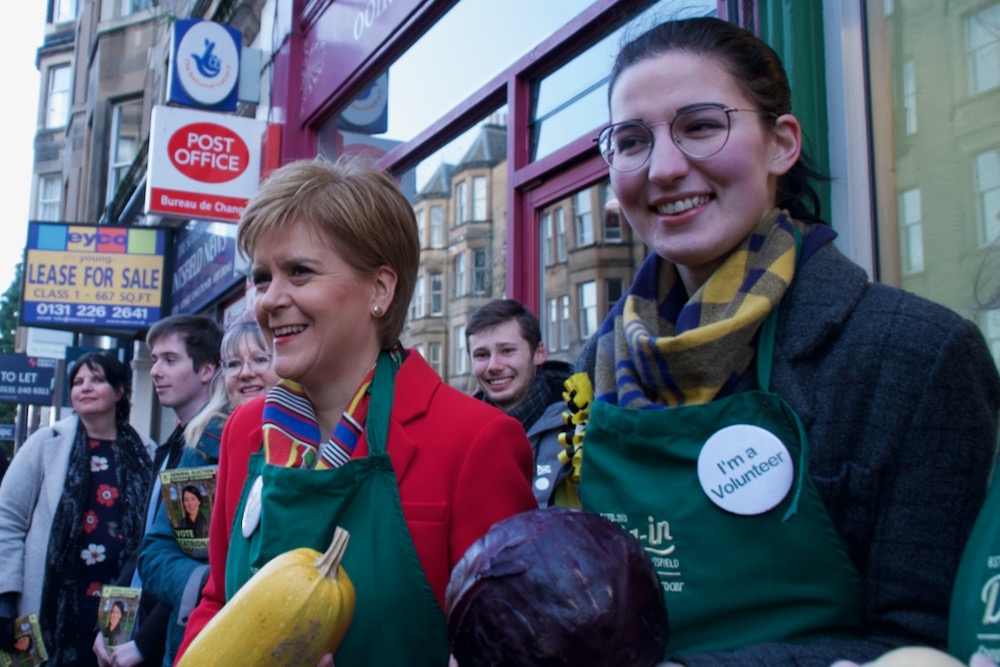 Speaking this morning at the Dig-in greengrocer shop in Bruntsfield First Minister and SNP Leader Nicola Sturgeon had the diametrically opposite message to the one from the Tories. She said : "In Scotland the SNP is the only party strong enough to stop Boris Johnson.
"With polls tightening we have a real chance to lock him out of Number 10.
"This election is Scotland's chance to stop 5 years of a Boris Johnson government and all the damage that will do. It's now or never.
"Boris Johnson has been well and truly found out during the campaign and it is clear that he is totally unfit to be given the keys to 10 Downing St for 5 years.
"The SNP is the main challenger in every Tory seat in Scotland, and by voting SNP we can make Scotland Tory-free on Friday and do our bit to lock Boris Johnson out of office. And, as the chances of a hung parliament start to rise, no wonder the Tories are starting to panic.
"SNP MPs will stand up for the people of Scotland – protecting our NHS from a Tory-Trump trade deal, demanding £4 billion extra investment in our health service and stopping Boris Johnson from imposing his extreme Brexit on Scotland against our will.
"And we'll always defend the right of people in Scotland to decide whether or not to become an independent country free from Tory governments who do us harm.
"So my message to voters is this – if you don't want to wake up on Friday 13th to 5 years of Boris Johnson, don't leave it to other people to stop him.

"Vote SNP, to lock the Tories out of Downing Street, escape Brexit and put Scotland's future in Scotland's hands."
After fielding questions from all parties at First Minister's Questions Ms Sturgeon then joined the SNP campaign bus to tour Tory, Lib Dem and Labour marginal seats across Scotland on the final day of campaigning meeting up with Alyn Smith MEP who is standing in Stirling for election to Westminster.