I love a Festival night out as much as the next person. Yes there's something to be said for catching a show after a glass of wine in a plastic cup and an artisan burger with nowhere to sit and eat it. Yes, yes I know, it's all good fun but it sure ain't cheap.
So I've decided to take what you might call a traditional approach to the Festival: go and see shows but also use the opportunity to further support businesses that are here all year round.
I thought a trip to The Bonham might be a way to ease the lovie intolerant Silver Fox into the cultural delights of the Fringe. Although not an official show, the Bonham are hosting Bluezy Snoozy evenings every Thursday during the Festival where they offer their three course Market Menu with half a bottle of wine for £25. And there's acoustic music from Paul Tulloch and Andy Challen. Yes, for £25. In possibly one of the most beautiful dining rooms in Edinburgh. It sounds too good to be true.
The SF doesn't mind slumming it once in awhile but he really is a man used to a well upholstered chaise and the finer things in life: why he's courting me, of course. The Bonham impresses him too: "What a dining room! This is comfy. Look at that view, it's nicer than Kensington." Praise be.
He's right, the dining room is stunning, with views to the gardens and the West End towards Dean Village at the back, it's an elegant, luxurious and well designed space. Airy for the summer but a cosy place to snuggle in the colder months too. "Look at that fitted seating there!" SF exclaims, "The music is fantastic." He's right again, the music is spot on, the musicians supremely talented and the tone and set just right for relaxing music to dine to.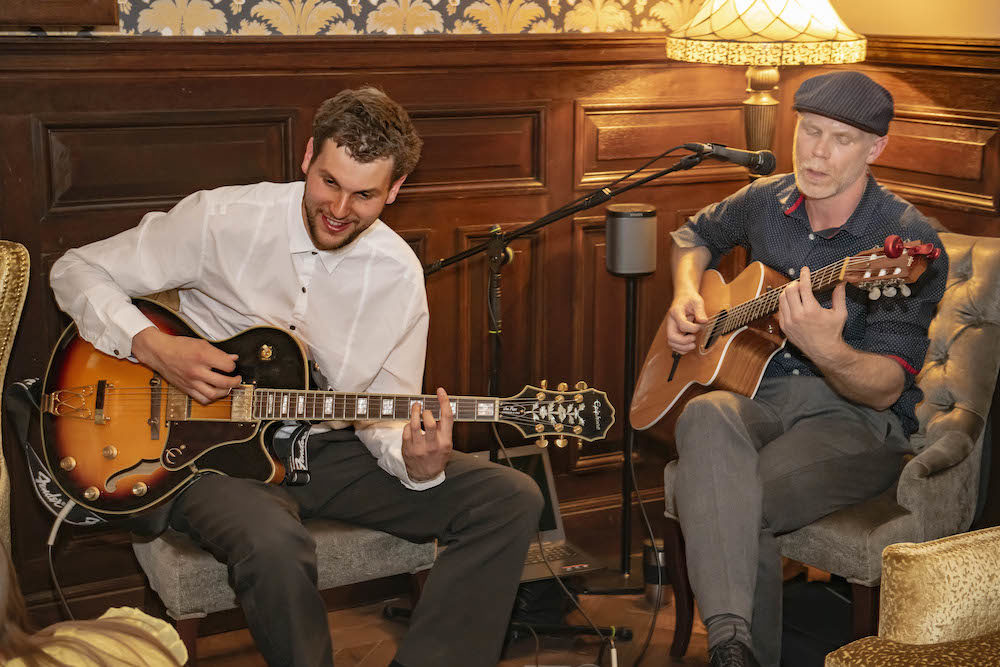 Now some might say the Summer Market Menu is limited with two choices for starters, three for mains and one and a cheese board for afters. However, I completely agree with this approach, as the economics of such a great quality offering demands a tight menu and it's more than acceptable when the food is this good.
The waitresses are friendly and efficient and they tell us we're welcome to have a half bottle of red, white or rose each. We opt for one of red and white and as house wine, served in carafes they're both very pleasant. The charming server offers to let us 'taste the wine' before she pours and I can only think how many unsophisticated idiots put these poor women through that rigmarole: there's a special place in hell for people who taste house wine, or most others for that matter.
But we don't bother with that. Oh no, we're far too happy enjoying the lovely music. The SF laments a less than standard golfing performance whilst stroking my knee, so we have indeed reached peak relaxation.
The food is tremendous. We begin with a Courgette and Basil Soup with Parmesan Croutons and a Slow Cooked Duck Egg with British Asparagus, Cured Ham and Grained Mustard Dressing. Goodness knows what alchemy they execute in making possibly the most bland vegetable a taste sensation. The egg, asparagus and ham is also delicious in its well cooked simplicity.
Onto the mains and my Slow Cooked Lamb Shoulder with Black Truffle Espuma, Roasted Artickokes and Purple Sprouting Broccoli was once again a fine dish, all flavours and textures in harmony but the star of the show was most definitely the Beer Battered Cod and Chips. SF declares it the best fish and chips he's ever tasted 'outside of Aberdeen'. Seriously? If Aberdeen can make better fish and chips than this the tourist board should out it on all their ads. The beer batter is the crispiest ever and the cod falling into perfect meaty flakes. Chips are usually the disappointment but here they are chunky and super crisp. An utter triumph.
We finish with a Vanilla Creme Brulee and Shortbread and a Duo Of Scottish Cheeses. Both simple but the Creme Brulee is perfect. My only suggestion would be the dessert menu could do with something like a chocolate ice cream as a third choice, as cheese isn't to everyone's taste.
You can of course enjoy the music and choose other food on the a la carte menu but if you're looking to try somewhere new and not break the bank I challenge you to find better value for money than this.
Bluesy Snoozy evenings are on every Thursday during the Festival and the first Thursday of every month thereafter. The same menu with a half bottle of wine for £25 is also available Wednesday to Sunday lunchtime.
The Bonham Hotel
35 Drumsheugh Gardens
EH3 7RN
0131 226 6050
thebonham.com