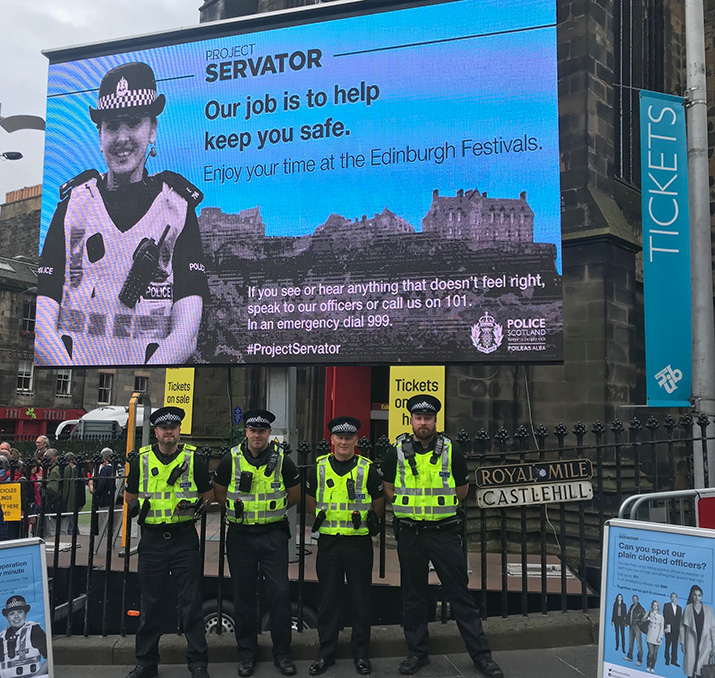 Police Scotland has been working with staff across all of the Edinburgh Festivals, to encourage them to be extra eyes and ears and help keep the event safe and secure.
This is part of Project Servator, which aims to disrupt a range of criminal activity, including terrorism, and will be operating across the event. Police carry out highly visible and unpredictable deployments that can turn up anywhere at any time before and throughout the event. They involve uniformed and plain clothed officers specially-trained to spot the tell-tale signs that someone is planning or preparing to commit an act of crime. In the run-up to the Festivals, officers have been engaging with businesses and partners to develop a network of vigilance and encourage reporting of anything that doesn't feel right.
Project Servator officers have worked with partners at the Edinburgh Festivals for the past few years, but this year they are raising the awareness of how important it is for people to report it if they see something that they don't think feels right.
Last month, officers took the opportunity to engage with visitors to the Royal Highland Show and are now looking forward to doing the same during the Edinburgh Festivals.
A large digital screen at The Hub, Castlehill, Edinburgh, will host an advert highlighting that Project Servator deployments are taking place in support of the dedicated policing team which will also be out on patrol in the run-up to and throughout the event.
Officers will be supported by a range of police assets, including police dogs, mounted branch, as well as private security staff and CCTV operators.
Officers also want to enlist the help of the community. They will be handing out leaflets to people in the area, encouraging them to report anything that doesn't look or feel right. Inspector Derek Callan, Police Scotland National CT Planning Unit, said: "As part of Project Servator, we have been working closely with staff to raise awareness of hostile reconnaissance – the information gathering a criminal does when planning to commit a criminal act, including terrorist attacks. They are trained in how to spot the signs that this might be happening and what to do. There is nothing to suggest that there is a threat to the Festival, but security staff are also taking part in joint patrols with the officers to ensure the event is safe and secure.
"We all have a vital role to play in disrupting crime and I'd like everyone to have the confidence to tell us of anything that seems out place, unusual or doesn't seem to fit in with day-to-day life. Reporting won't ruin lives, but it could save them.
"If you see us in and around the Festivals, there is nothing to worry about, come and say hello and talk to the officers to find out more."
If you see or hear something that doesn't feel right, please speak to one of our officers, or call us on 101. In an emergency always dial 999.