Grease, the film that we all know and love, the one with John Travolta's hips and Olivia Newton John's Bad Sandy trousers, came out in June 1978. It made stars of the lead actors, and made those of us doomed to grow up in dreary British suburbia jealous. Just how cool must high school be in America?
The film was based on a 1971 stage version by Jim Jacobs and Warren Casey and named after a 1950/60s youth subculture; greasers. The US equivalent of Teddy Boys, the greasers were mainly Hispanic, Italian and Polish-Americans with Vaseline in their hair, leather jackets on their backs and attitude in abundance. The play is set in 1959, the year in which Hawaii joined the Union, Fidel Castro took over in Cuba, and Barbie made her first appearance. Of course none of that stuff features in the play, a totally un-PC romp through young love, young angst, and lots and lots of dancing.
This August, New Zealand's Nelson Youth Theatre Company brings Grease; the musical to the StageTriplex. Olivia Newton-John was 29 years old when she played Sandy (John Travolta was 23), but in this new production we finally see real teenagers take the parts of the lovelorn, hormone-hot, students of Rydell High School.
The story, in the unlikely event that anyone doesn't know it, revolves around the arrival at Rydell of Sandy, a sheltered, demure girl who is taken up by the Pink Ladies. Frenchy, Marty, Jan and Rizzo (the latter excellently played by Mackenzie Gardner, who has completely nailed Rizzo's tough-tart-with-a-heart persona) are more unlaced than straight-laced; their slumber party is quite an eye-opener for Sandy, who has spent an innocent summer at the beach with Danny, the boy of her dreams – who now turns out to be a member of the T-Birds, a group of greasers. In this new environment Danny is torn between his street-wise gang and his sweet, unsullied girl, while Sandy can't understand why Danny seems to have changed.
Peer pressure is one of the main themes of the play, and it's not only Danny who has trouble with it. Sandy doesn't really fit in with the girls, Frenchy is too embarrassed to tell everyone when she's been kicked out of beauty school, Rizzo is determined not to look weak….in fact it's all just like it was when you were in sixth year, but this is fiction, so expect better results, and also better frocks.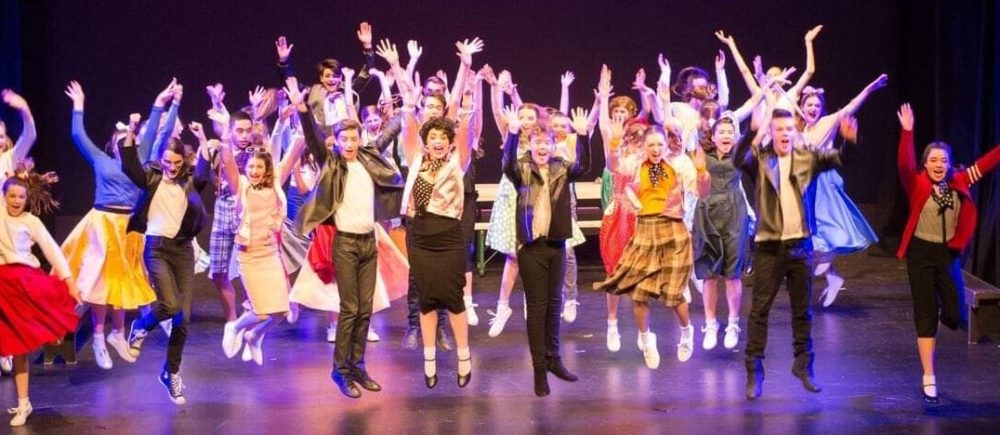 As Miss Lynch, the school head, Caitlin Brennan is impressive, with excellent voice projection and just the right air of bossiness. Preceding her entry with a whistle is a great way to signal her authority. Patti, school cheerleader and skilled self-promotor, is played by Hannah Betts, another good actress; I really enjoyed both her saccherin expression and her excellent dancing. A few of the other cast members do seem to drift off a bit when not centre-stage, but Betts and Brennan are totally engaged throughout, the mark of the true professional.
Matthew Edgar (Roger) also acts well – just a few of his lines could be a little bit clearer; Brooklyn Saunders is a nuanced Frenchy, sensitively conveying the character's naïve enthusiasm, and her aspirations that will never be fulfilled. Another theme of the original play is the marginalisation of working class youth, economically excluded from America's booming post-war consumerism. And as her straight-talking angel tells her, Frenchy will indeed end up in 'the steno pool.'
The enthusiasm of this young cast makes up for the occasional patchiness of the singing. Danny (Adam Stewart) stands out as a powerful singer who can hold a note right to the end; Stewart also manages to bring a touching vulnerability to the role – Danny may be Mr Cool but he's still only 18. Joel Sangster (Kenickie) does well as the singer for the Hand Jive contest, but positioning him on the steps between the audience did unfortunately mean that some of us couldn't see his face. Of the songs, Beauty School Dropout is particularly well staged, with Teen Angel herself (Holly Arnold) gliding in on wheels, a clever way to imply celestial powers. Dancing is well choreographed throughout, though again the back row occasionally needs to remember that it can still be seen.
The transformation of Sandy in the last scene is always a bit of a problem for me, but in a 1950s' context it is perhaps less controversial; another benefit of using a young cast is that Yasmina Coe's Sandy is still very much a schoolgirl even when she's wearing leather and lycra; Olivia Newton-John's makeover clearly signalled what was now on offer, whereas Coe still looks almost as pure as she did on day one.
This is an entertaining production of an ever-popular musical, performed by a young and talented company. It will go down a storm with families looking for some all-age entertainment (minimum recommended age 8), and with people like me who still wish they'd been in America for all those Summer Nights.
Grease is at theSpaceTriplex, Hill Street, at 4.30pm every day till Saturday 10 August. Tickets from the Fringe Box Office (180 High Street) in person, by calling 0131 226 000 or online here.