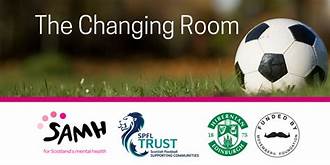 The Changing Room are now welcoming men looking to sign up for their next 12-week course, run from Easter Road Stadium.
Participants have the chance to step down from the stands into the heart of the club, with access to parts of the stadium you don't normally have the chance to see.
More importantly they will be able to connect with other guys about mental health in an environment that supports you.
The Changing Room is a space where men can be open about mental health and won't be judged for it.
This popular course is a great opportunity for men who want to look after themselves and improve their social connections and overall wellbeing.
Be part of a team that encourages better mental health.
Football is central to all that goes on within The Changing Room, with activities including the A Question of Football quiz, walking football, a motivational speaker from the club, pitch-side walks and lots more.
Every session is designed to be enjoyable for participants to ensure the programme has a lasting, positive impact on those who participate.
The course is completely free and sessions normally run from 6pm-7.30pm.
For more information, please visit The Changing Room's website.
Alternatively, contact thechangingroom@samh.org.uk to sign up or receive further information.