PETTYCUR BAY HOLIDAY PARK IS HOLDING ITS 29TH ANNUAL CARAVAN SHOW THIS WEEKEND, WITH LATEST MODELS FROM A VARIETY OF MANUFACTURERS ON SHOW
Show coincides with Bay Hotel receiving its official 4 star rating from VisitScotland
As the popularity of holiday home ownership shows no sign of abating, Pettycur Bay Holiday Park & The Bay Hotel and Leisure Complex at Kinghorn is to hold its annual Holiday Home Showcase, this Saturday and Sunday 25 – 26 May. 
It's the 29th year in a row that the popular show, featuring a range of holiday homes for sale, coupled with entertainment for all the family, has been held.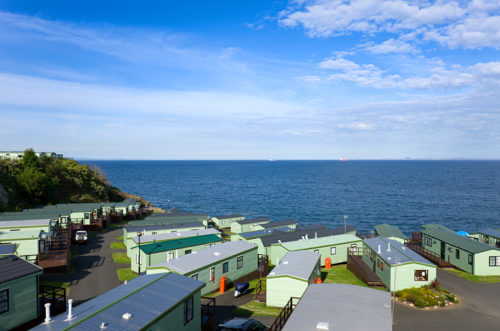 This year, the calendar event is coinciding with the news that the Bay Hotel, a feature on the Holiday Park since 2008, has achieved its 4 star rating from VisitScotland. The 28 bedroom hotel, which features a pool, gym, soft play area and snooker room along with panoramic wedding and conference suites overlooking the Firth of Forth, has certainly added to the Centre's overall appeal, over the years, as one of Fife's premier holiday and short break destinations.  
Commenting on the caravan show, Tommy Wallace, one of the trio of business owners at Pettycur Bay said: "We take great pride in holding this event every year, and showcasing what we believe to be the finest holiday home range."
"It's a day for the community as well – we attract lots of local families who are year round customers on the holiday park. They are very welcome to come along and enjoy a BBQ, and entertainment for their children," he added.
Luxury Holiday Homes from leading manufacturers, including Atlas, Willerby, Victory, and Carnaby, will be on display at the annual show. These superb holiday homes are equipped with features such as high vaulted asymmetric ceilings and atrium style floor to ceiling windows, to provide a wonderful sense of space and light.
The kitchens are complete with integrated high level oven and grill, separate hob, fridge freezer and breakfast bar with stools. They also offer en suite bath or shower rooms off the master bedroom, and are complete with wall mounted TVs and fireplaces in the lounge. On purchase, the luxury holiday homes are supplied fully furnished with three piece suites.
On The Bay Hotel achieving its 4 star rating, Mr Wallace said: "It's really good news about the rating, we are all delighted. It's testament to the hard work of all our team at The Bay Hotel, presenting a fantastic Hotel which now hosts around sixty weddings a year, along with numerous conferences and events. The quality of the accommodation on offer, coupled with excellent on-site amenities, firmly puts it on the map to rival the finest City Centre hotels."
For further details please check out www.pettycur.co.uk.