I could smell the manure before I saw Daniel Lie's remarkable work at Jupiter Artland. As I followed the scent up the sculpture park's drive I finally saw the small mountain of horse droppings. It was built up against one of the gallery's exterior brick wall with haystacks either side of the pile maintaining its shape.
The haystacks also acted as shelves for clay pots which on closer inspection had waxed fabric lids, protecting rice and sugar within. It's part of a bio-decomposing heat system for the installation, Quing, situated inside the gallery. There, the walls are painted with turmeric paint, and heat generated from the manure outside travels around the room through a set of copper pipes. More of the clay pots can be seen hanging from elaborate macramé style ropes, as are plastic sacks stuffed with straw cultivating fungi. I spot a pink oyster mushroom sprouting from a cut in this plastic; a small act of violence releasing some organic beauty.
It's hard not to catch your breath in one of Lie's installations, literally, as the decomposing materials rely so strongly on the air around them. The Negative Years is Lie's first solo UK exhibition and it feels seamlessly at home in Jupiter's abundant grounds. Lie has sourced many of the materials for the exhibition from the park's surroundings like sheep's wool, clay, and flowers. Lie describes the development of this exhibition as a 'collaboration with non-human beings' and correspondingly no material ever feels exploited. The installation To Mourn the Living is a charcoal painted room with bundles of flowers placed around the space. The black walls emit a sense of death and this decay removes all sense of floristry. These flowers are respected for the organic matter they are. Some of this flora extends into a line leaving the room by the window and travelling down to the outdoor grass below.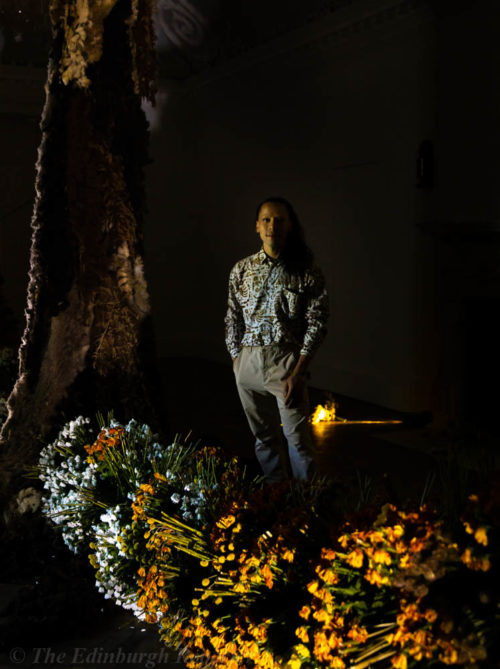 Following these flowers led me to Unable to Destroy, a rope hanging across a path from two wooden poles reminiscent of the pyres once used to burn supposed witches. This is one of the many historical connections Lie has found from researching the local land. This piece could act as an entrance to the exhibition, but with no clear order forced upon the viewer, Lie allows visitors to navigate the art themselves.
They could be led by smell, feelings, lights, or humidity, forming their own 'geography of emotions.' This multi-sensory aspect of work appears again in the ballroom with The Other's Privacy. There, 10,000 cut flowers have been used to create a 3-metre column, that hangs from the ceiling and slowly twists as audiences move around it and listen to intimate sound installation accompanying it.
Viewers need not be wary of the dense blocks of text often found in galleries, as Lie has transformed their vast amounts of research, into art which can be enjoyed through the immediate senses. This research was completed over two years with archaeologists, mycologists, students from Design for Change at Edinburgh College of Art, and of course the Jupiter Artland Foundation. The resulting experience is a scientifically designed route into the ancient and mythical.
The exhibition's naming is a response to the Western world's view of history, where years are only counted from the moment Christ is born, meaning all history before this exists in 'The Negative Years'. Influenced by their own Brazilian and Indonesian background, Lie's title points towards their further research into Asian and African religion, often ignored by Christian policed history. Universal moments in time and culture are also placed within the work.
The terracotta clay pots for one, being a technological creation which nearly all societies developed concurrently but independently. The title could also describe our own politically uncertain age and possible apocalyptic future. An important possibility to contemplate when the exhibition is asking us to reconsider how we use or abuse the earth and its offerings. All natural materials used in the exhibition will be returned to the earth. Being Alone, Together offers a meditative quality to those in need during these worrying times.
Located in Jupiter's Dovecot, the piece involves tens of clay pots containing cooked rice, molasses, cinnamon, and cloves, carefully placed around the lower part of the tower. I only experienced this place days after it had been installed but I look forward to visiting this space again and seeing how the smell has altered the room. At its centre was a bell hanging from a natural fibre rope, tempting those who find peace there, to ring it out for others to hear.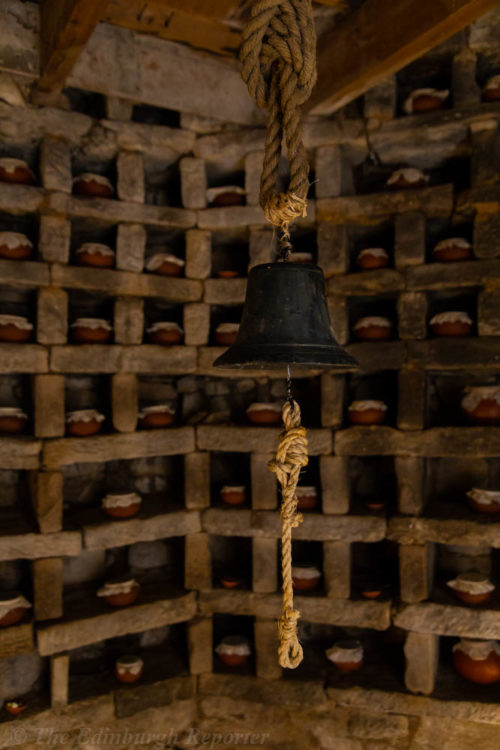 The circle of life, its start and its end can be seen throughout the exhibition, the beginning in sprouting mushrooms, and the end in decaying biomatter. Lie states 'all these living things are bound by time' and encourages guests to revisit the exhibition and see how these creations change upon each viewing. I advise all those looking for some peace and time, and maybe a chance to reconsider our place on earth, to visit Jupiter this summer, and experience The Negative Years for themselves.
Jupiter is open seven days a week until September 27 and tickets can be bought online or in person. More information about this exhibition can be found on the Jupiter Artland website.
There you will also find information about their new electrifying summer festival, Jupiter Rising, featuring art and music from Jim Lambie, SQIFF, The Vaselines, The Comet is Rising, and many more.