It's beginning to sound like a stuck record. 'We need to be winning these games'; 'It's done now, and we move on to the next game'; 'It's frustrating but we need to deal with it'
If their players and manager performed as well as they speak after games, Hearts would be challenging Celtic for the Ladbrokes Premiership title. Instead, after yet another poor performance resulted in a defeat from Hamilton Academical – fighting for Premiership survival – Hearts are in fifth place looking over their shoulders at city rivals Hibernian galloping towards them.
Saturday's defeat at the ironically named Hope CBD Stadium in Hamilton – hope is patently in short supply in Gorgie these days – was the latest in a series of dismal displays from Hearts. From losing at home to Dundee, to failing to overcome St Mirren at Tynecastle to needing a replay to overcome Championship strugglers Partick Thistle – and only a favourable refereeing decision prevented the Tynecastle replay from going to extra-time – Hearts have been painful to watch thus far in 2019.
True, there have been injuries to key personnel. The enforced absence of talisman Steven Naismith and Mr Dependable Michael Smith haven't helped. But are Hearts so reliant on these two players that their absence results in performances which make such uncomfortable viewing?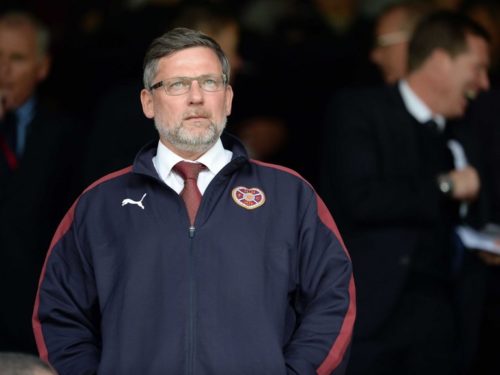 Manager Craig Levein is taking a fair amount of flak from disgruntled supporters and it's easy to see why. Inconsistency in team selection doesn't help. Yes, Hearts have had more than their fair share of injuries this season and this has undoubtedly made an impact. But even when he has most of his squad fit and available for selection, Levein seems to make changes merely for changes sake.
Hearts scraped past Partick Thistle – presently second bottom of the Championship – in a Tynecastle replay in the William Hill Scottish Cup. Strikers Uche Ikpeazu and Craig Wighton – given a rare run out in the first team – showed some resemblance of decent form. Ikpeazu scored his first goal since returning from long-term injury and would have had a second had he not sclaffed his penalty kick. Wighton looked like his confidence had been given a huge boost by starting a first team game and he looked the part. But what happened for Hearts next game? Ikpeazu and Wighton are both dropped to the substitute's bench. Although both were brought on in the second half, by that time the damage had been done and Hearts were chasing the game.
Levein seems to pay too much attention to the opposition line-up rather than concentrating on his own team. Alarmingly, he doesn't appear to know what his strongest team is. This lack of clarity is reflected not only in Hearts results but performances which have been substandard for several weeks now. Hearts don't seem to know what they are meant to be doing in the final third of the pitch. Crosses regularly go astray. Without Naismith there's a distinct lack of a goalscoring threat. All too often the tactic seems to be launch yet another long ball towards Ikpeazu in the hope – rather than the expectation – the big striker will get on the end of it.
The football on display is, quite frankly, awful at times. The sparkling start to the season back in the late summer is now very much a distant memory. Many Hearts supporters go to watch their team now hoping for a win and a decent performance rather than expecting one. The club have launched their campaign for season tickets for 2019/2020 – far earlier than I can recall happening before. If the plan was to target sales as a result of Hearts getting a favourable Scottish Cup draw – thus potentially making it to the final – then this has backfired somewhat. Yes, Hearts are indeed in the semi-finals, but few would write off their opponents Inverness Caledonian Thistle – managed by Hearts legend John Robertson, a man who knows little fear and has already proved himself a winner. Unlike the present incumbent in the Hearts manager's seat.
Indeed, there are some Hearts supporters calling for history to repeat itself. When Craig Levein left Hearts in 2004 to become manager of Leicester City, the club appointed John Robertson as his successor. Some are even calling for this to happen before the semi-final.
Of course, Levein is presently the club's Director of Football and it's hardly likely there'll be a scenario akin to turkeys voting for Christmas. That said, as the club's owner, Ann Budge will realise things cannot continue as they are. Levein has full responsibility for signing the players, picking the team and the tactics deployed. Few would argue all of these have been found wanting this season. If she needs advice on taking difficult decisions, Mrs Budge need only give Leeann Dempster at Easter Road a call…
Hearts now face a crucial month ahead. After the international break, they face Aberdeen and Hibernian at Tynecastle. Sandwiched in-between is a trip to face Rangers at Ibrox (and the reaction by many on social media today to the announcement that tickets for this game are now on sale tells its own story – 'you're joking' seems to be the general consensus) Given Hearts current form it's difficult to see them getting anything from these league games – even if two of them are at Tynecastle. These games are closely followed by the Scottish Cup semi-final against Inverness Caledonian Thistle at Hampden.
Defeat from John Robertson's Championship side will see season ticket sales struggle to match last year's number. If the fans are angry now one can only imagine what the mood will be like if they drop behind Hibs in the league table and exit the Scottish Cup at the penultimate stage.
No one doubts Craig Levein's total commitment to Hearts and I suspect he has maroon blood flowing through his veins. Hearts fans also recognise the tremendous amount of work he does for the club and the long hours he puts in. However, if the next four results go against Hearts then it may well be time for that difficult decision to be made…