I tried to do some mental arithmetic a while back: how many people do we know who've been to Disneyland? A lot, it turns out. Do I feel a shred of guilt that I haven't treated my seven year old daughter Anoushka to such delights. Maybe a smidgen. So to make up for not spoiling my darling child enough, I took her to Kinghorn.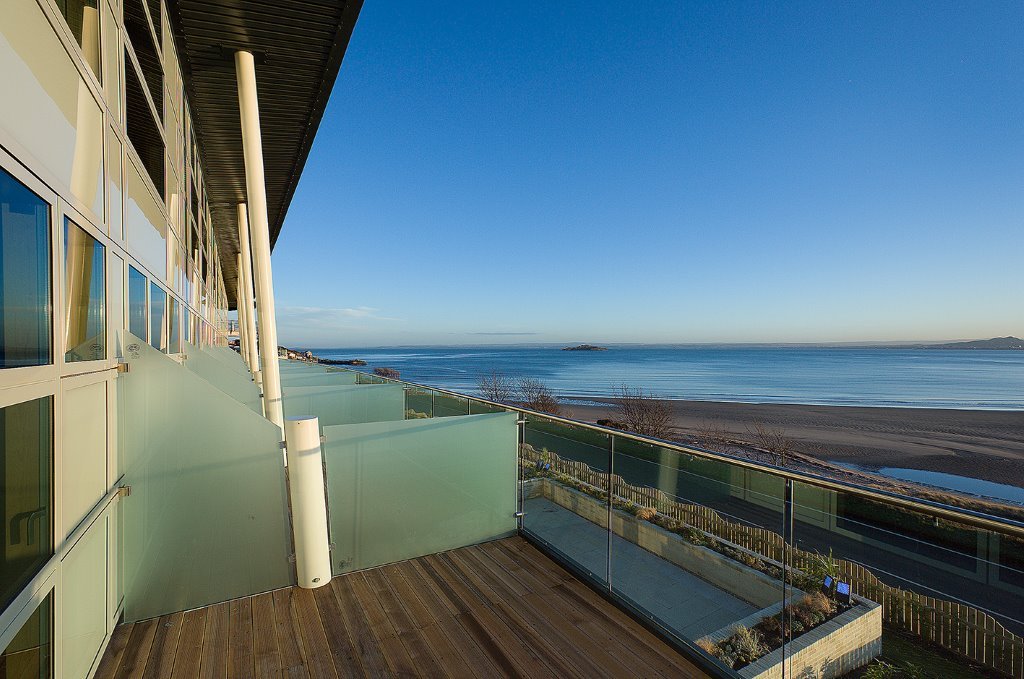 The Bay Hotel is situated on a stunning stretch of the Fife coast, looking over the Forth to Edinburgh. On arrival we remark that there are quite a few static caravans here, however upon driving into the car park it becomes apparent that there are caravans everywhere. In fact there appears to be no nook, cranny or precipice a static green caravan has not been attached to. I imagine it's buzzing in the summer: bbqs lit and children playing outside. We are visiting in December though, so the thought of the indoors and a glass of vino are far more welcome.

We are warmly greeted and shown to our stunning duplex room. The sitting area with balcony is downstairs and on the upper level a super comfy double bed with a stunning view, or it would be if it wasn't foggy. A stuff I could not give.
The cosy upper space also has a telly, so I put on Sky News to watch my current crush Adam Boulton. I could quite happily order room service and not move for two days but my child wants to explore the facilities.

The leisure complex attached to the hotel features a gym, pool, with Jacuzzi, sauna and steam room snooker room, soft play and a games arcade. I lie to my child and tell her the pool is about to close, goodness knows we shall make the most of it tomorrow!

The bar and restaurant is a cosy, comfortable area featuring, at this time of year, some generously hung festive decorations. Being in the midst of the bleak midwinter, the bar is not busy but both function spaces at the hotel are hosting Christmas dos.
I am informed that during high season the entertainment is in full swing and one can often look forward to a tribute act. I think this is rather awesome because I love tribute acts. Put it this way, if Madonna were to be singing outside my house I'd close the windows. But at a hotel or entertainment complex I'd be extremely fascinated to see a Madonna tribute act.

However the bar entertainment is here in the form of the 'comedy regulars', who appear to have some well practised banter. Very humorous they are too.

Dinner here is delightful, with the friendliest service you could imagine. I enjoy a ridiculously large fillet steak, cooked to blue perfection, with a mountain of onion rings, chips, mushrooms and a lovely pepper sauce. Should you dine at the Bay Hotel, a chippy on the way home you won't be needing.

We retire to our room full and happy, looking forward to an early night and a Sunday of activity.

Sunday morning: if I had a pound for every time my daughter asked if her friend has arrived yet: £114. Breakfast at the Bay Hotel is such a well oiled machine a vat of WD40 couldn't make it run any smoother. How I love a hotel breakfast! The ingredients here are served in abundance and the quality equals the quantity. Two bowls of grapefruit for me!

At long last our friends arrive and we hit the swimming pool. Two and a half hours later the girls have finally had enough of H2O but the fun is only just beginning. We mums enjoy a glass of vino whist the girls go crazy in soft play and then the bit I'm most looking forward to: the games arcade!
The children have a whale of a time and I sample a rally car driving game which ought to be named 'impossible to die'.

Being within spitting distance of Burntisland and Aberdour There's plenty of lovely beach walks near this location as well as golf and a castle to visit. If you ever want to have an astounding selection of gift shops, Aberdour is your place to go. It's a mystery how they all survive. There must be some law that everyone in Aberdour has to own several reed diffusers.

We wake up on our final morning to a glorious clear day. The sun is streaming over the Forth and the view from our bedroom is glorious. Our last breakfast is a solemn affair as we could both easily stay longer.

As we drive off and say a cheery-oh to a zillion green caravans, I'm sad to leave but determined that the child and I will enjoy more mini breaks together. I really fancy returning here in the summer and renting one of the highest caravans. And if there's an Elvis tribute act on, I may have to return every year.
For January offers and packages click here