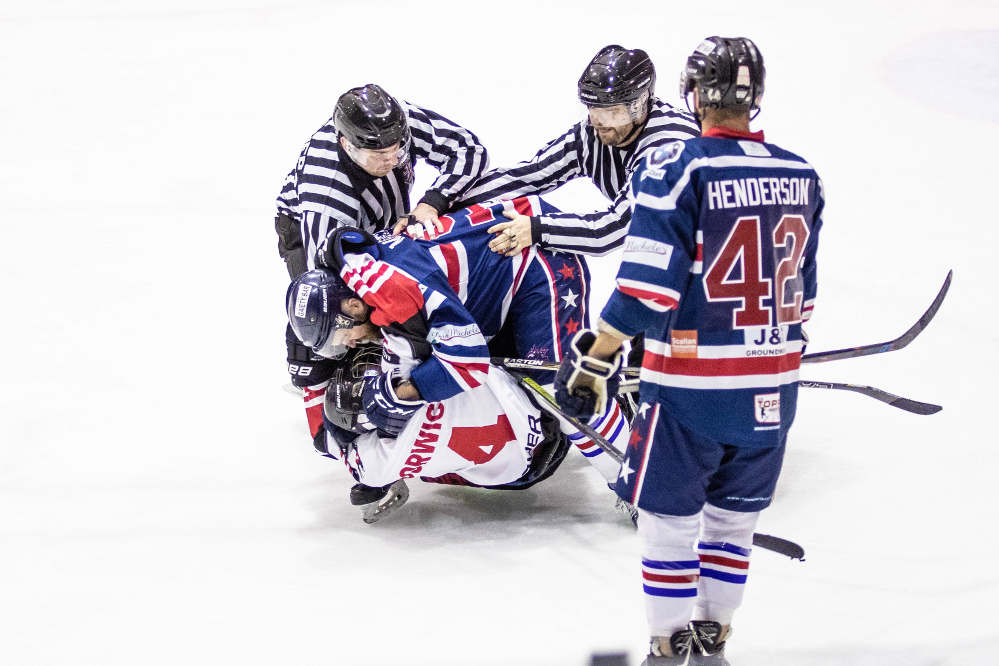 Fixtures: Saturday: National Ice Hockey League, North Cup: Murrayfield Racers v Hull Pirates (6pm). Elite League: Dundee Stars v Coventry Blaze (7pm); Fife Flyers v Cardiff Devils (7.15pm).
Murrayfield Racers aim to break their duck in the National Ice Hockey League, Northm Cup, on Saturday (6pm) when they entertain Hull Pirates and they are boosted by the inclusion of new signing Sean Donaldson.
Elsewhere, two Scottish teams are scrapping for vital points at opposite ends of the Elite League table.
Top four side Fife Flyers aim to halt their alarming slide by snapping a five-game losing streak when they entertain play-off and league champions, Cardiff Devils, at The Fife Ice Arena (7.15pm face-off).
And second-bottom Dundee Stars want to keep their two-game winning run in the league going and to erase the memory of their midweek 8-0 mauling by in-form Belfast Giants in the Challenge Cup, quarter-final, first-leg on Tayside.
Recently, Fife moved to the top of the 11-strong league but have now slipped to fourth.
They have 28 points from 22 games while Cardiff are two points ahead in third position but have played two fewer games.
Devils emerged triumphant with a 7-2 win on October 21 but Fife earned revenge with a 5-4 overtime win at the same venue in early November but they lost 3-2 in Cardiff on November 21.
The experienced Canadian is, however, still smarting from back-to-back defeats (3-0 at Dundee and 4-3 at Fife after a shootout) to lowly Dundee last weekend.
And Dutiaume wants to see an improved work-rate and consistency from his hand-picked squad.
Former Devils star Paul Crowder could be key along with Brett Bulmer and Carlo Finucci.
They have collected a total of 77 points between them so far this term with Crowder leading the individual points charts with 30 points from 12 goals and 18 assists in 21 appearances.
Bulmer has 26 points (ten goals and 16 assists) and Finucci 21 points from five goals and 16 assists.
Charles Linglet with 24 points (eight goals and 16 assists from 19 games) jointly leads Cardiff's points charts.
Joey Martin also has 24 points with an identical record with defenceman Gleason Fournier (cor) third best with 20 points from seven goals and 13 assists.
So Fife have the firepower but do they have what it takes to snap out of their recent depressing run?
And fans who jeered their favourites after last Sunday's marathon shootout defeat against Dundee expect better from the squad.
Dundee have the advantage of going the home clash (7pm) with mid-table Coventry fresh.
Blaze played at Glasgow Clan last night (FRI) and Stars' coach Omar Pacha expects a reaction after Wednesday's 8-0 home hammering by Giants.
He says he still believes in his squad and will expect top marksman Lukas Lundvald Nielsen to deliver.
He has 16 points from eight goals and eight assists in 18 starts with Matt Marquardt next best with 14 points from six goals and eight assists.
Contrast that with Blaze who have four men with over 20 points so far. Alex Nikiforuk tops their charts with eight goals and 16 assists, Tim Crowder has 23 points (ten goals and 13 assists) with Ben Lake and Jake Hansen both on 21 points, Lake having netted nine goals and Hansen five.
Stars' No 1 netminder Pontus Sjogren is expected to return after missing the midweek defeat and that's a boost for Pacha who could not hide is disappointment on Wednesday after the Belfast nightmare.