Pentlands Book Festival
All events on pentlandsbookfestival.org
2 Nov 2018 7.30pm at St Joseph's Balerno  Still in Her Prime – Miss Jean Brodie: Balerno Village Screen (film)
6 Nov 2018 7pm at Currie High School A Conversation with Jackie Kay,Scotland's Poet of the People
13 Nov 2018 10am at Craiglockhart Campus The War Poets Collection. Call Geoff Akers on 0131 453 4560 to book
7.30pm at Al Borgo Juniper Green Alan Walker From Maxwell to Higgs: How Physics Explains the Real World: call Cliff Beevers on 0131 453 4517 to book
14 Nov 2018 6.30pm at Currie Library From Model to Makar: Ron Butlin
16 Nov 2018 at 7.30pm at Tanners Juniper Green Grand Literary Quiz
17 Nov 2018 at 2pm at Colinton Library Meet local Authors, Amanda Berriman, Norma-Ann Coleman, Geoff Akers: no tickets necessary – just turn up
18 Nov 2018 2pm at Colinton Library  Jacquetta Megarry : Rucksack-friendly Guidebooks for Walkers: How I Stumbled into Publishing.
19 Nov 2018 6.30pm at Currie Library Murray Armstrong : The Rebel that Scotland Forgot
20 Nov 2018 10 am Can you Crush a Radical: call Liz Beevers on 0131 453 4517 to book
20 Nov 2018 7.30pm at Juniper Green Bowling Club Reflections on the Water of Life: with Blair Bowman
21 Nov 2018 7.30pm at Dreghorn Loan Hall Iain MacDonald, the Gannet: tickets available on the door
22 Nov 2018 at 6.30pm at Colinton Library Plants on Paper: Flower Painting or Botanical Illustration?:
23 Nov 2018 7.30pm at Porteous Juniper Green A Life of Mystery: Josephine Tey.
24 Nov 2018 1pm at Currie High Gym Hall Poetry Competition Prize-giving Ceremony: no tickets necessary – just turn up
29 Nov 2018 7.30pm at Juniper Green Church Killing People for Fun and Profit: an evening with the Queen of Crime:
30 Nov 2018 at 3.30pm at Currie Library So you think you're funny? A Creative Writing Workshop for Children.
At The Queen's Hall
The scaffolding is now down at The Queen's Hall on Clerk Street and they are ready to get started with celebrating their fortieth anniversary as Edinburgh's music venue. The building itself will be 200 years-old in 2023, but in a previous life it was the Church of Newington and St Leonard's. The Queen's Hall was officially opened by HM Queen Elizabeth II on 6 July 1979.
The bar is now upgraded with a new look and a better selection of drinks on offer.
And you will see the hall's new branding on their banners outside the Georgian frontage.
There are some great shows at The Queen's Hall and a perusal of their brochure is always worthwhile. In November this is what you have to look forward to :
Thu 1 Nov, 7.30pm
Scottish Chamber Orchestra
Fri 2 Nov, 7.30pm
The Big Tune Up Fundraiser
with Todd Gordon, Christine Bovill, Dean Owens
Sat 3 Nov, 8pm
Hello Again Neil Diamond
Sun 4 Nov, doors 7.30pm
New Purple Celebration
Wed 7 Nov, 7.30pm
Bruce Cockburn
Canadian singer/songwriter and "virtuoso on guitar" (The New York Times)
Thu 8 Nov, 7.30pm
Scottish Chamber Orchestra
Fri 9 Nov, doors 7pm
Ladies Night Out of a Lifetime: The Hits of Beyoncé & Destiny's Child
Sat 10 Nov, 7.30pm
Horse: God's Home Movie 25 Tour
Sun 11 Nov, doors 7pm
Rat Boy
Mon 12 Nov, 7.30pm
Vesselin Stanev
Wed 14 Nov, 7.30pm
Woman to Woman
A unique and timeless collaboration between three celebrated singer/songwriters Judie Tzuke, Beverley Craven & Julia Fordham
Thu 15 Nov, 7.30pm
Mr McFall's Chamber: Music from Poland
Fri 16 Nov, 7.30pm
Soundhouse Benefit Gig
Featuring Playtime, Moishe's Bagel, Soundhouse Choir, Savourna Stevenson, Steve Kettley & DJ Dolphin Boy
Sat 17 Nov, doors 7pm
James Grant & The Hallelujah String Quartet
Sun 18 Nov, 3pm
SCO Chamber Sunday
Mon 19 Nov, doors 7pm
Wardruna 
Thu 22 Nov, 7.30pm
Elis James & John Robins: The Holy Vible Book Tour
Comedians and stars of Radio X, with live readings from their debut book
Fri 23 Nov, 8pm
Breabach
Showcasing their new album "Frenzy of the Meeting"
Sat 24 Nov, 8pm
Martin Taylor & Martin Simpson
An unmissable evening with two legends working in harmony
Sun 25 Nov, doors 7pm
An Evening with David Rudolf from Netflix's The Staircase 
Mon 26 Nov, 8pm
Federico Albanese: By The Deep Sea
Be swept away on waves of meditative sounds by genre-infusing Italian composer and pianist
Thu 29 Nov, 7.30pm
Scottish Chamber Orchestra
Fri 30 Nov, doors 7pm
John Cooper Clarke
All details and tickets available from http://www.thequeenshall.net/ or tel 0131 668 2019
 At the Patrick Geddes Centre
The evening sessions at The Patrick Geddes Centre offer guests a unique insight into the work of guest artists and academics. The interactive, intimate sessions will bring life to the subject matter through energetic performances, talks and discussions.
Dr Katja Robinson, researcher, art & architecture librarian and tutor at Edinburgh College of Art, will explore the Celtic Revival movement through the active circle of artists and makers who would have known or had contact with Patrick Geddes and his cultural activities.
In this unique interactive session, acclaimed author and performer Gerda Stevenson will give life to 67 remarkable women from across Scotland's history. Taken from her extensively researched and exquisitely crafted new collection, 'Quines', the speaking and performance of the rich Scots and English language will bring life to their tales.
ELSEWHERE IN THE CITY
1-15 Nov At St Giles Cathedral Alison Kinnaird will show her installation 'Unknown' to mark Remembrance Week.  The work was completed over a three year period made up of uniquely engraved soldiers arranged in rank. Each is an individual, and there are some civilian figures included. The work is made of glass which Kinnaird thought was the ideal medium to comment on the fragility of human life in war.
3 Nov Diwali, a free festival of live music and dancing will take place at the Ross Bandstand in West Princes Street Gardens. The dazzling set will include seven bands and seven groups of dancers, culminating in a 20-minute display of fireworks, with thousands of sparklers for people who attend and 300 handcrafted lanterns lighting up the night sky.
At the National Museum of Scotland, Chambers Street EH1 1JF Open 10:00–17:00 daily
Hidden Gems: Scotland's Agates
Until 6 Jan 2019
Exhibition Gallery 3, Level 1
Free
The deceptively simple exteriors of agates conceal an enormous spectrum of colour and texture. Discover how and why these beautiful semi-precious Scottish gems have captivated collectors past and present.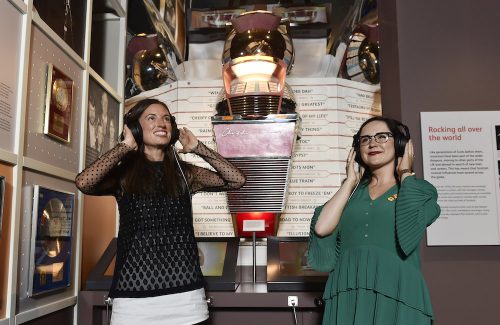 Rip It Up: The Story of Scottish Pop
Until 25 Nov 2018
Exhibition Gallery 1, Level 3
Adult £10, Concession £8, Child (12 – 15) £7, Under 12's free, National Museums Scotland Members free, National Art Pass holders 50% discount
Discover the story of Scottish pop music at the National Museum of Scotland as we take you on a musical journey from the 1950s to the present day. This summer, join us for the first major exhibition dedicated to Scottish pop music, exploring the musical culture of the nation over more than half a century, from influential indie pioneers to global superstars through music, film and a host of objects, many loaned directly from the artists themselves. From the days of the dancehalls to the emergence of pop in an explosion of colour in the 60s, through the 70s and New Wave, Rip It Up features global stars and independent local heroes from pop's early days right up to today's outstanding newcomers.
New to the National Collection
Until 24 Feb 2019
Exhibition Gallery 4, Level 1
Free
National Museums Scotland holds a large and diverse collection built over more than 200 years. See new acquisitions from across the museum's collections, from the skull of a killer whale to cutting-edge ceramic design and beautiful 19th and 20th century Japanese ceramics.
Embroidered Stories: Scottish Samplers
Until 21 Apr 2019
Exhibition Gallery 2, Level 3
Free
Embroidered Stories: Scottish Samplers showcases an extraordinary collection of Scottish needlework from the 18th and 19th centuries. The 70 samplers in the exhibition are on loan from American collector Leslie B Durst. Made by girls and occasionally boys as part of their education, samplers are small pieces of needlework containing a wealth of information about education, family, religion and contemporary events.
Edinburgh Gaelic Festival: Gary Innes and ERA Band
4 Nov 2018
11:30–12:00 and 13:05–13:45
Grand Gallery
Free, drop-in
Gary Innes, Craig Irving and Ewen Henderson – all members of Scottish rock-folk band Mànran – perform a lively mix of self-penned, contemporary and traditional Scots/Gaelic songs and instrumental sets as they take inspiration from our Rip it Up exhibition.
27-30 December The MagicFest Christmas Show
At the Traverse Theatre
This year they present a Christmas collaboration between Scottish magician-scientist hybrid Kevin Quantum and Swedish high-tech wizard Charlie Caper. In 'The Miracle of Christmas Future' – magic, robots and humans come together to create a glimpse of the not so distant future, fusing age-old sleight-of-hand with the state-of-the-art tech and phenomenal illusions with futuristic science.
Tickets £22 T : 0131 226 0006
At Leith Theatre
28-30 Ferry Road, Edinburgh EH6 4AE
Dates/Time: Saturday 10 Preview 7.30pm
10 – 16 Nov (not 12th) 7.30pm The Last Days of Mankind Featuring the Tiger Lillies . An anti war satire written by Karl Kraus in the cafés of Vienna during World War One.
Box Office: 08004118881
23-25 Nov at 11.00am EH6 Festival Acts will include Jake Bugg  and Gerry Cinnamon.
Tickets from www.eh6music.com
2 Dec Tommy Smith Youth Jazz Orchestra at 4.00pm.
15 Nov 7.30pm SPOKES MEETING – Cycling for All – Diversity Rules!!
Augustine United Church 41 George IV Bridge EH1 1EL
Doors open 6.45 for coffee, stall, chat.