The Royal Edinburgh Military Tattoo is off to Australia next year complete with a full size replica of Edinburgh Castle.
The four night run will be staged at the ANZ Stadium in October 2019. The Olympic Park will host performances from the Massed Pipes and Drums along with some of the Tattoo's own performers, the Australian Defence Force and a host of international acts
The Tattoo wants to double its turnover to £20 million by 2025 and this is one of the ways it will achieve that. In Australia they expect to sell 166,000 tickets for the four nights.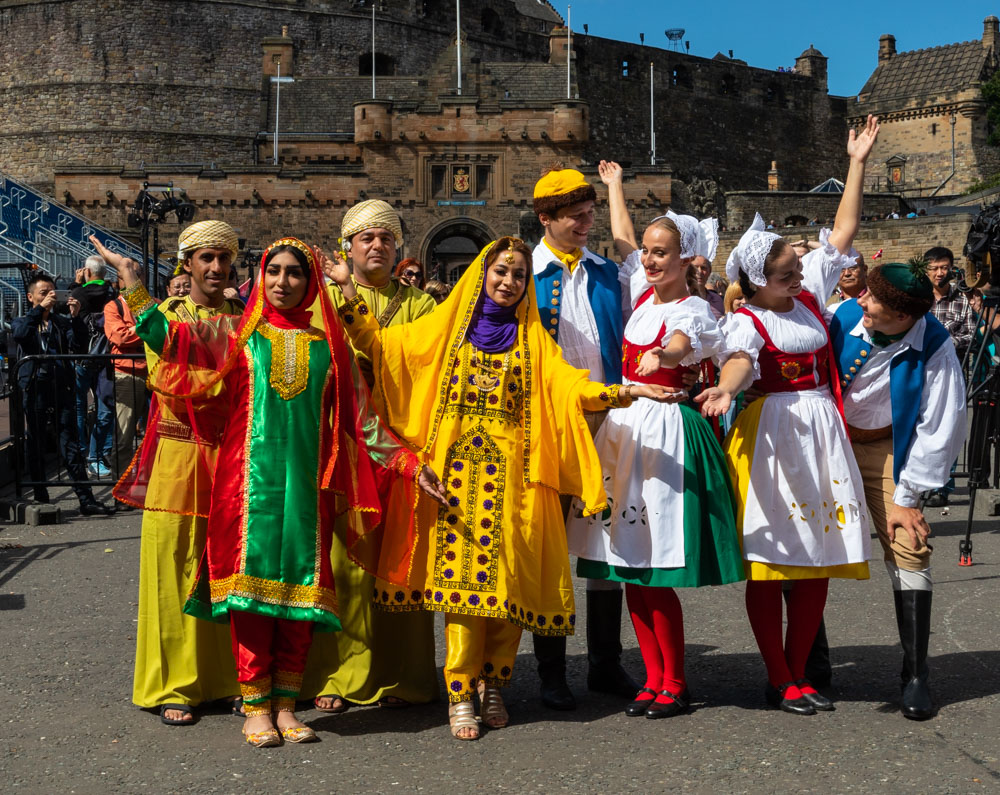 Announcing details of the tour from outside the Sydney Opera House today with the New South Wales (NSW) Minister for Tourism and Major Events (Hon. Adam Marshall); Minister for Veterans' Affairs (Hon. David Elliot) and Australian Producer (Michael Cassel), Brigadier David Allfrey, Chief Executive at The Royal Edinburgh Military Tattoo, said:
"The relationship between The Royal Edinburgh Military Tattoo and Australia runs broad and deep. We are linked institutionally through the Commonwealth, the Scottish Diaspora, military bonds, shared history and experiences and so many individual friendships and family connections. It is a huge privilege for us to be invited to stage a Tattoo that stands to be bigger and more extraordinary than ever before.
"Edinburgh remains our guiding light and our heartland. But, to enable the business to thrive commercially – benefiting audiences at home and abroad – we are strengthening our operation and building creative partnerships that will help us share our brand, values and standards with new audiences across the world. Delivering on this ambition, we are now working with some phenomenal organisations in the Southern Hemisphere who will support our journey as we begin what feels like the next big step in our journey.
"In 2020, we will have been running for 70 years and having sold out for the last 20 seasons consecutively, there is a sense that ever more people want to connect with us.  We are all about bringing people together and never has this been more important.
"Our journey overseas opens so many doors and we are committed to delivering entertaining and inspiring shows, potential employment, investment and commercial returns for both ourselves and partners who join us from Scotland, the UK and internationally.  This new project offers a huge opportunity for both the UK and Australia and the prospect of reinforcing links across the worlds while inspiring international travel in both directions, promoting trade and building an interest in – and an understanding of – different cultures and heritage.
"At our core, we are a charitable organisation and securing the Australia show means we can further strengthen our business model, and, most importantly, can continue to deliver on charitable and social commitments which at present are set at £1 million each year going forward."
Minister for Tourism and Major Events, Mr Marshall, said: "The Royal Edinburgh Military Tattoo has a proud history of delivering world-class, public military event which entertain and inspire people all over the world.  I am delighted the NSW Government has secured this event which is expected to attract more than 59,000 overnight visitors to Sydney and deliver an estimated $37 million in visitor expenditure."
As part of the expansion programme, the Tattoo has also signposted overseas tours to Canada and China by 2021 and work is already underway with the business in regular conversations with the UK, Scottish and International Governments, local promoters and support networks.
The Tattoo generates £77 million annually for the UK economy with a further £30 million value added in full-time employment. Following 2016 performances in Australia and New Zealand, the Tattoo delivered a combined estimate of £50 million gross economic impacts to the cities of Melbourne and Wellington.