Music fans are in for a pre-Christmas treat this year when multi award winning Scottish singer Emily Smith return to Edinburgh's Queen's Hall with her hugely popular Christmas show 'Songs For Christmas'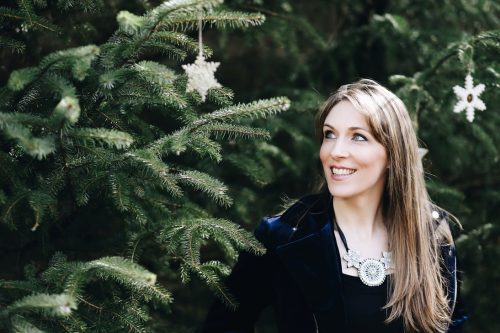 Joining her on stage will be husband Jamie McClennan along with Anna Massie on guitars, fiddles and vocals, with Ross Hamilton on bass and vocals.
Special guest Kathleen MacInnes will also be joining them for the Edinburgh show only.
Audiences are invited to sing along with traditional carols, tap their toes to upbeat instrumentals or simply close their eyes and let Emily's evocative voice help them dwell on the joy and peace that Christmas can bring.
Now in its eighth year the show is selling out venues across the UK bringing seasonal cheer to castles, churches and theatres across the land.
Now a mother of two young children as well as a professional musician, Emily spoke with me about the show and her plans for next year.
She said: "We are all looking forward to the Christmas tour which started eight years ago in a wee farm shop café and has grown in popularity ever since. This is a unique Christmas evening with traditional carols, Scottish songs and new material and we also play games.  There is no super formal structure to the show, it's just great fun.
"There are too many songs to pick a favourite but I love, 'Heard From Heaven Today' whilst 'Oh Beautiful Star' is so uplifting and of course 'Merry Christmas To All And Goodnight.'
"The audience ages range from primary school children to grannies and many join in the songs in preparation for the festive season.
"I am delighted that Kathleen (MacInnes) will be joining us on stage for the Edinburgh show. She has a beautiful voice and I am looking forward to singing with her for the first time.
"This will be the third year we have been at the Queen's Hall and we always say that we should go to the Christmas Market but we have never managed it, so hopefully this year.
"Christmas is such a magical time of the year."
Emily and husband Jamie released album 'Unplugged' earlier this year and are currently working on a new album as a duo called 'Smith and McLennan' which is due to be released in 2019. In addition to performing at a number of festivals in the UK, the couple will also be heading to New Zealand for a spring tour.
20 Dec – Queen's Hall Edinburgh.
Show starts 7.30pm. Tickets £18. Telephone 0131 668 2019.