ZIGGY THE COYOTE TAKES CENTRE STAGE AGAIN AT POPULAR BAR & GRILL AS HE REVEALS HIS INCREDIBLE EUROPEAN TOUR!
Cuddly mascot was mysteriously stolen by footballers and golfers, and then returned to St Andrews just recently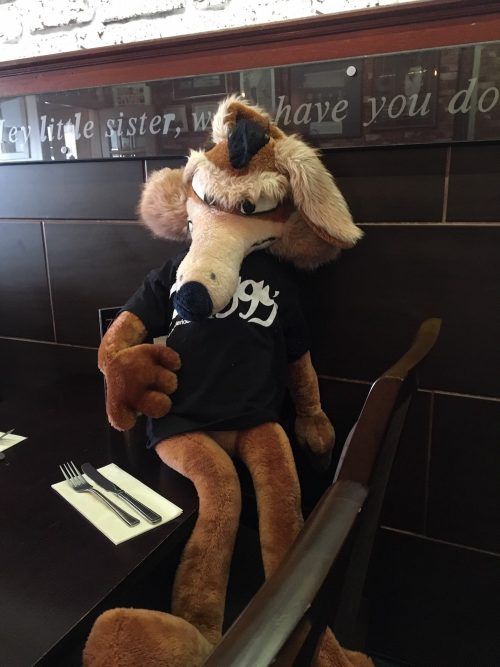 He's a Ryder Cup stalwart, central to the action at the weekend in Paris as Europe took on the USA.  A St Andrews restaurant has just revealed that golfer Ian Poulter had a leading role in an incredible story involving its cuddly toy mascot.
Ziggy's Bar & Grill in St Andrews had Ziggy the coyote as a cuddly mascot in the business for many years, until he mysteriously went missing in 2004.
Owner Phil Wishart did not know it at the time, but Ziggy had been taken by the then Arsenal footballers, Ian Wright and Lee Dickson, who were in "cahoots" with the "kidnap" by golfer Poulter.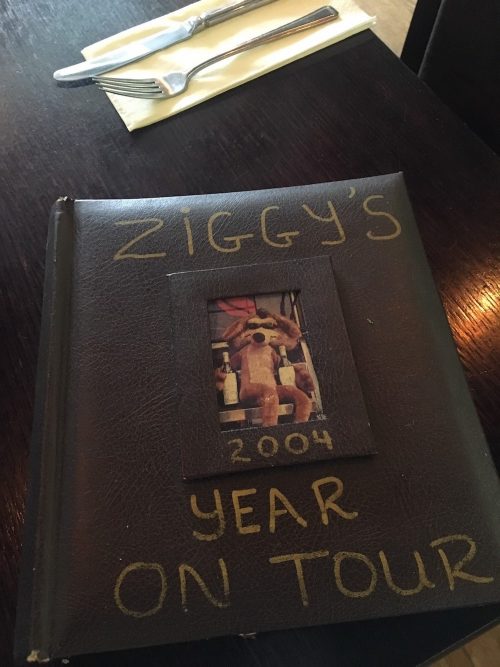 Ziggy then enjoyed an incredible year long trip, during which time he attended tournaments and events all over Europe with his picture being taken of him on his travels by the "kidnappers." He stayed in top hotels and was pictured with numerous trophies, with other leading golfers and sportsmen keen to be photographed with him!
And then, when a special photo album commemorating his trip was full to burst with signed images, saying where Ziggy had been, and who he was with, he was returned to St Andrews to take up his residence in Ziggy's once again!
But for the last few years he was hidden away in a cupboard, alongside his very special photo album. He has now however made a triumphant return to public life.
"It is an incredible story right enough," said Phil Wishart. "If I didn't know it to be true, I would hardly believe it myself! We really didn't know what had happened to Ziggy – one day he was here and the next he was gone!
"We assumed he had been stolen, but we weren't sure why anyone would want to take him, unless for a joke. We now know it was just high jinks by Ian, Lee and Ian – they had been in the restaurant a number of times, and had seen Ziggy. They wanted us to have a wonderful album of memories to show our customers here at the home of golf."
As Phil explained, the "wee photo album we now have is treasured by us, and is something really unique for a golf memorabilia collector we suppose, although music memorabilia has always been our thing."
"We're going to show it off more now, and explain to our many golf loving visitors how it came to be," he added.
As for Ziggy himself, he has been re- stuffed, with Phil saying he was getting a bit "worse for wear."
"It's little wonder as he is now very well travelled. We thanked our famous friends for bringing him back in one piece. If he could talk he would have some story to tell, that is for sure. He has mingled with the true golfing elite in some amazing locations!"
"We can't believe we are soon going to be celebrating an incredible thirty five years in business," said Phil, who runs Ziggys with his wife Annie, and son Phillip, "so with some sort of celebration event in mind for the Autumn, we decided Ziggy the coyote had to come back out on display to join in the fun. Just after the Ryder Cup, with Ian "The Postman" being such a legend in this event, seemed like a good time!"
"Ziggy is a celebrity too, and his story is one which, if further proof where needed, demonstrates that St Andrews is a very special place indeed, " said Phil.