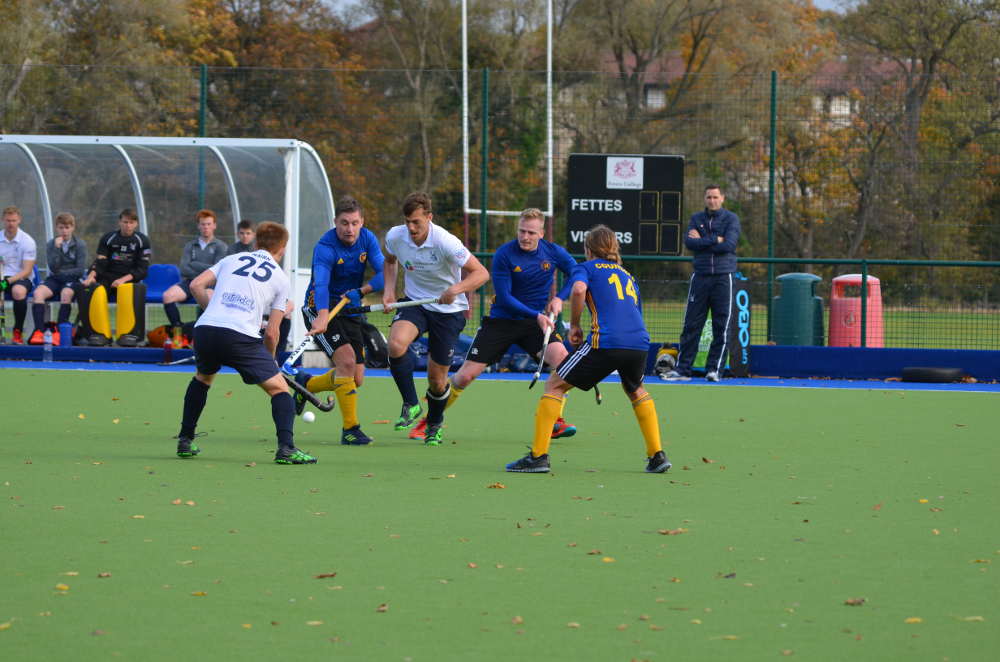 Division One (men): Grange 3, Uddingston 3; Western Wildcats 1, Edinburgh University 2; Watsonians 4, Aberdeen Standard Gordonians 1; Clydesdale 0, Grove Menzieshill 4; Kelburne 4, Hillhead 2
Craig Wallace's flying right-handed save from a rocket shot from Scottish international Duncan Riddell earned Uddingston a point in a 3-3 draw at champions Grange.
And the vocal 27-year-old goalkeeper picked himself up of the floor before the whistle sounded to end of the game and screamed to his team-mates: "That is a big point."
The last time the sides met Uddingston were hammered 8-2 and Motherwell-based Wallace remembers that day but not with affection.
Aussie midfielder Jacky Tran, now in his fifth season at Uddingston, had minutes earlier claimed the game-tying goal after the visitors had been 2-0 down after 11 minutes following goals from Dylan Bean and Jacob Tweedie.
Uddingston dug in and would not go away and Grange helped their cause by repeatedly giving the ball away.
Bustling Brad Hughes pulled one back a minute later before John McCluskey netted No 3 for Grange three minutes from the break.
John-Jo Lavin stunned Grange with a second, mishitting the ball past the Grange goaltender and cheekily smiling as he headed back to centre-spot, in the final minute of the half to give Uddingston a lifeline and the hard-working Lanarkshire side capitalised.
Wallace said: "They (Grange) have one of the best attacking forward lines in country and have left us going home with a bloody nose in the past.
"The result is really good considering they are just back from the EuroHockey League.
"It was fantastic for us to get a point and this was a big point and it was one of our best performances as a team."
Grange coach David Knipe said: "They (Uddingston) did the simple things better than us."
Elsewhere, Edinburgh University slipped into second spot after coming from behind to edge Western Wildcats 2-1 at Auchenhowie.
Fraser Moran fired the home side ahead near the interval but strikes by David Mawhinney and Ian Moodie secured the points for the students.
Watsonians gained their first victory with a comfortable 4-1 success win pointless Aberdeen Standard Gordonians with a double from Tomas Gonzales and other strikes from Fraser Heigh and Fraser McCurdy.
In Glasgow, Cameron Golden, who starred for Great Britain under-21s in Malaysia, scored a hat-trick in Grove Menzieshill`s 4-0 win over Clydesdale.
Albert Rowling added the other goal which propelled the Taysider to the top of the division.
And Kelburne claimed a 4-2 victory over Hillhead with Johnny Christie scored twice.