"Hold onto your drinks, it's going to be a bumpy night…"
As seductively drawled by Bette Davis in All About Eve, it's not juts
a great line but in her hand she had a fabulous drink. A Gibson, dry
gin martini with a cocktail onion, has always been my cocktail of
choice. I like a drink that could lead to regretful behaviour.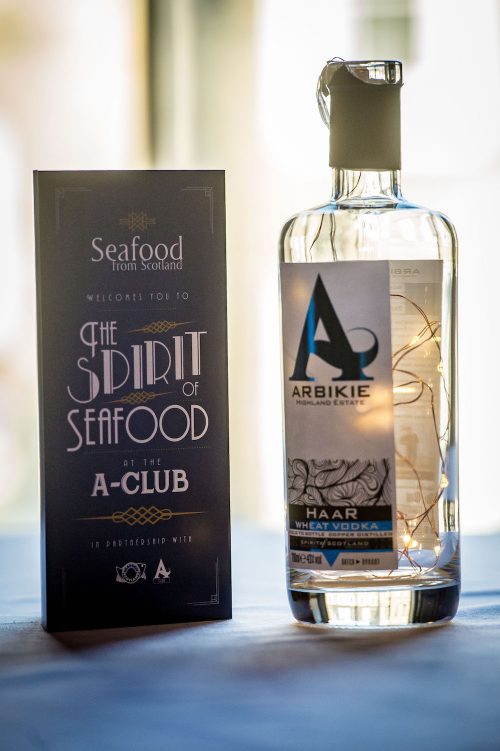 I was invited to attend a celebration of Scottish seafood at the Merchant's
Hall in late August and was introduced to the most genius food and drink
pairing: a fish supper with a Gibson. A fish supper without sauce is
unfortunate but without a picked onion, sacrilege! Arbikie excelled
themselves in the fabulous cocktails on offer and although I'm not the
biggest vodka fan, their chilli vodka made an almost mind-blowing
accompaniment to a sublime Lobster Bisque.
I was sat next to Justin Maule, chef extraordinaire and CEO of Wild
Fig catering, I was eager to hear the gossip from one of his latest
gigs: catering for the upcoming Netflix movie Outlaw King. Apparently
Netflix are extremely strict about their cutlery and plastic is pretty
much banned. So no sea turtles were harmed in the making of this film.
And what about Chris Pine, Justin? How does he have his chips, is he a
salt and sauce kind of guy? Does he eat his lunch in his pants?
Justin's lips are sealed. Don't you hate it when a chef won't spill
the beans. What happened with Robert the Bruce stays with Robert the
Bruce it seems…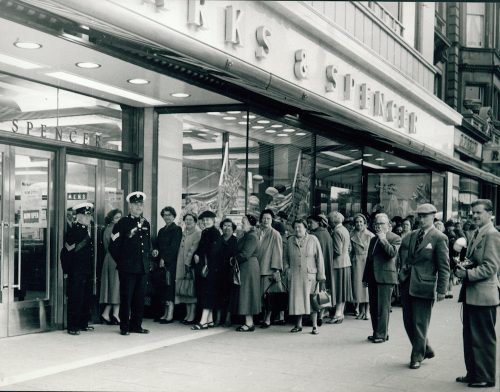 No Ordinary Centenary, an M&S Centenary
100 years ago something exciting happened in Dundee. What could that
possibly be, I hear you ask! Marks and Spencer opened their first
Scottish store in 1918. Now there are almost 100 M&S stores in
Scotland with the latest one opening in Oban this year. To celebrant
their Scottish Suppliers M&S held a dinner party at the Edinburgh
Cookery School, featuring a trio of Smoked Salmon, their best selling
Scottish produce, and beef from Scotbeef, who can trace your beef back
to the cow it came from. The only thing that would make me happier
about that is if I could eat the one that tried to kill me in Dumfries
five years ago.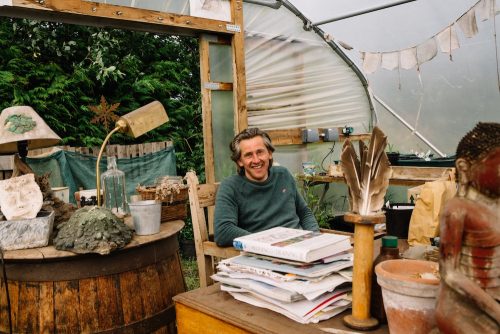 Herbologist Hamish Martin was in attendance to showcase his Rose and
Lavender colour changing gins. Hamish tends to over 600 naturally
grown herbs and flowers in his Secret Herb Garden located on the
outskirts of Edinburgh near Hillend. Hamish tells me he has five
children, so no wonder he needs to make his own gin. I was lucky
enough to be given a bottle of his Lavender infusion to take away and
entertained some guests the following weekend with a quick but
delightful summer trifle:
Strawberry, Lavender and Mascarpone Trifle (serves 4)
1 punnet strawberries, hulled and quarted
50 ml Lavender Dry Gin, availible at M&S
2 tbs castor sugar
1 small tub mascarpone cheese
1 tablespoon M&S scottish heather honey
100ml double cream
4 M&S scottish caramel shortbread petticoat tails
Add the sugar and gin to the strawberries and leave to macerate for at
least a couple of hours. Mix the mascarpone, honey and cream. Divide
the strawberries with some of their juices into four glasses, top with
the cream mixture and finish off with a triangle of shortbread.
Hamish's Secret Herb Garden is open to the public and has a lovely
coffee shop. You can also get married there! I'll need more than a
bottle of gin to even contemplate that…
Christmas Comes Early
I never miss an opportunity to visit the lovely Caledonian Hotel, or
the Waldorf, as it's known these days. There may have been some
rebranding in recent years but the old girl retains her sumptuous
Edinburgh charm. I love a grand hotel, especially at Christmas, so
imagine my delight at being asked to sample some of the Caledonian's
festive menus. Expect to find such delights as Jasmine Confit Salmon
with Clementine and Endive and Roast Haunch of Borders Roe Deer with
Celeriac and Red Currants at the Pompadour and Highland Game Terrine
or Roast Scrabster Cod with Shellfish Risotto at the Galvin Brasserie.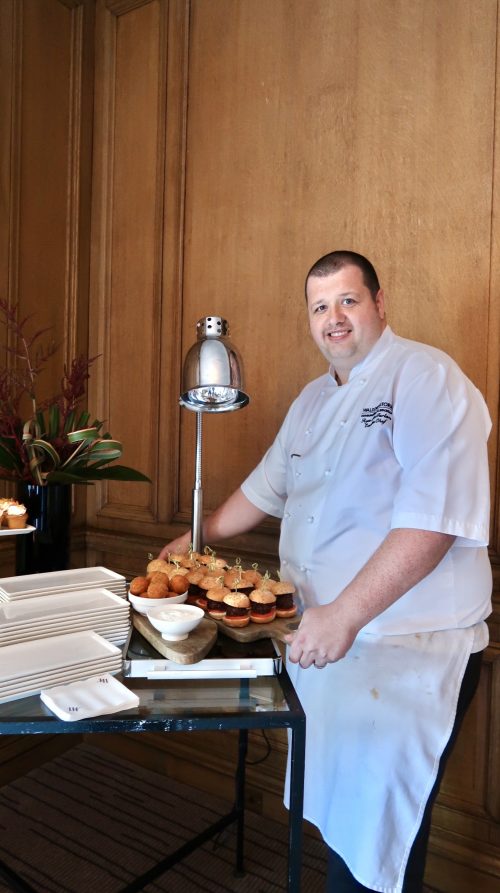 At £35 per head for three courses I'd say dinner at the Brasserie is
pretty good value but will most definitely be tempted to upgrade to
the luxurious splendour of the Pompadour for £49 or £75 with wine
pairings. I'm getting far to lazy to order wine these days, I just
want someone to bring it! As usual I try to find the most fun guest in
the room and end up chewing the venison burger with a couple of ladies
from a nearby Solicitor's office. The last thing I remember is being
invited to apply for something called 'Tuesday Club'. I recall some
mention of 'hazing'. I'm as game as most of the canapés I've eaten,
yet I have a suspicion what happens at Tuesday Club stays in Tuesday
Club…