FIFE'S FIRST INDIAN "STREATERY" & COCKTAIL BAR IS TO OPEN IN DUNFERMLINE
Unique concept is latest business venture of renowned restauranteur D Prasad who has launched fifty two restaurants in Scotland and worldwide & launched innovative Handi in Glenrothes just a year ago
In what is his fifty third restaurant opening in a twenty eight year career, Dhaneshwar Prasad, known as D Prasad, has chosen Dunfermline as the venue for his latest culinary venture, a unique Indian "streatery" and cocktail bar, the first of its type in Fife.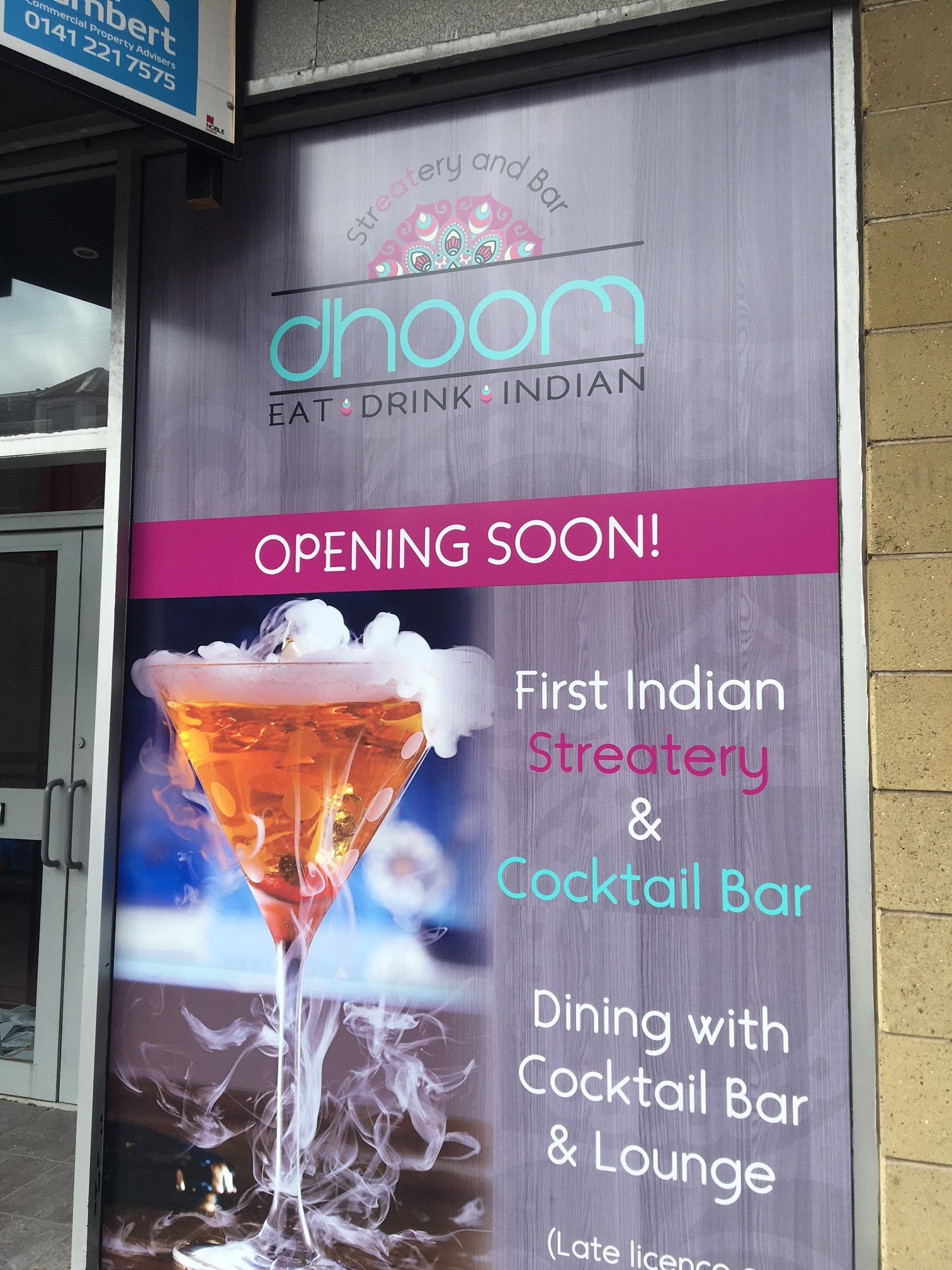 Dhoom, to open in September, occupying an outlet in the New Row formerly taken by the Eastern Buffet Asian restaurant, will offer a 100 cover restaurant serving authentic tapas style street food from all regions of India.
Employing approximately twenty local people, Dhoom will also be notable for its cocktail bar – the first using Indian herbs in the UK – which will serve a wide range of innovative and well priced cocktails, with a late licence in place at the weekend. Featuring herbs and spices such as turmeric, basil, ginger, coriander, and star anise, and given a dramatic presentation through dry ice, the cocktails will have fun gummie bear garnishes in another novel twist.
Another feature of Dhoom, which is currently subject to an extensive fit out as its new look emerges, is its 4 seater "tuk tuk" to be used for private dining hire.
Customers can also take out or have food delivered, with Dhoom introducing the first Indian Railway canteen taster thali. Presented in a recyclable and reusable box, it will contain a choice of starters, mains, dips, breads and desserts.
Commenting on the forthcoming launch of Dhoom, D Prasad said: "This is a completely new concept for me, and for the UK, representing my considerable experience in the industry where I have always striven to give customers what they are looking for – superb authentic Indian food to enjoy together."
"I am putting everything into this new business, and hope the Dunfermline populus will get behind me by coming along to give Dhoom a try," he added. "The location is very central for the whole of the town centre and could not be better known. Street food of all types is a massive concept at the moment, and Indian tapas of the quality and authenticity I am going to be presenting at Dhoom will create a very sociable eating experience, enhanced by my innovative spicy cocktails."
"Our late licence at weekends is another bonus for customers."
D Prasad explained that following his launch of Handi last year in Glenrothes- an Indian fine dining restaurant in Woodside Road – the launch of Dhoom was his second major launch under his own name, following his long career in the industry, where he has opened restaurants all over the world.
"We are expanding at Handi in just a year. It's been very successful for us there – we are able to employ more local people," said D Prasad. "It's well known that it can take a while in the restaurant trade to be in a position to expand so it's very good news indeed."
"The countdown is on for Dhoom opening now," he finished, "We're going to put the town on the culinary map – Dhoom will be part of a vibrant eating out scene in the town centre."
Dhoom will launch with a ten course taster menu in September, with the full a la carte menu launching the following month.