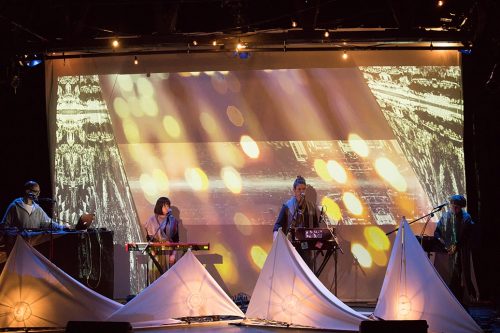 Northern Flyway September 2018 Album Release Tour is coming to the Pleasance Theatre next month.
The project is the brainchild of Jenny Sturgeon (Salt House, Jenny Sturgeon Trio) and Inge Thomson (Karine Polwart Trio, Da Fishing Hands). In 2017 they wrote and created Northern Flyway – an audio-visual production exploring the ecology, folklore, symbolism and mythology of birds and birdsong.
Alongside Jenny and Inge, Northern Flyway also features singer/multi-instrumentalist Sarah Hayes (Admiral Fallow, Rachel Newton Band) and vocal sculptor/beatboxer Jason Singh (Follow the Fleet, Tweet Music). Jason improvises on all the songs creating different soundscapes during each show.
The live show combines vocal and instrumental composition, interviews Jenny and Inge conducted with the public, well over 50 different bird songs, instrumental bird mimicry, sonic experimentation and lush visual footage of landscapes, flocks and murmurations. The imagery is stunning, with high quality footage from Scotland: The Big Picture and Shetland videographer Richard Shucksmith. The show is popular because it contains so many different elements – sonically (music, bird song, interviews, soundscapes) and visually (projections, set design, musician stage wear designed by NielaNell).
Humans have always looked to the birds. In mythology, they are carriers of souls, messengers to the gods, our familiars. In ecology, they are our measure, our meter, they mark the seasons…  
A Flyway is a migration route used by birds travelling from their breeding to wintering grounds and back each year. Northern – as the project is focusing on birds from the Northern Hemisphere, specifically those in Northern Europe.
Themes of human and avian migration, the seasons' cycle and humanity's relationship with nature resonate through this multi-dimensional work.
The music draws on the extensive field recordings of birdsong expert Magnus Robb, Sturgeon's background working as a bird biologist and Thomson's home turf of Fair Isle, Shetland.
Northern Flyway premiered to a sold-out audience at The Barn (Banchory) in January 2018 and a CD of the songs was recorded at Mareel, Shetland, over four days in early February 2018.
Northern Flyway features many birds including – Whooper swan, Rosefinch, Swift, Siskin, Gannet, Curlew, Snipe, Lapwing, Linnet, Crested Tit, Osprey, Gold Crest, Black Grouse, Dotterel, Golden Plover, Red Grouse, Snow Bunting, Ptarmigan, Golden Eagle, White Fronted Goose, Waxwing, Redwing, Ural Owl, Tawny Owl, Goldeneye, Raven.
This project was made possible through support from Creative Scotland, PRS Foundation, The Scottish Ornithologists Club, The Barn, Northlink Ferries and Logan Air. 
During this tour Northern Flyway will perform across the UK. 
2018 Tour dates:
17th September – Pleasance Theatre, Edinburgh
19th September – Cecil Sharp House, London
20th September – St George's, Bristol
21st September – Cornerstone, Didcot
22nd September – Royal Welsh College of Music and Drama, Cardiff
23rd September – The Stables, Wavendon
25th September – Beacon Arts Centre, Greenock
26th September – The Tolbooth, Stirling
27th September – Lemon Tree, Aberdeen
29th September – Lyth Arts Centre, Caithness
30th September – Findhorn Bay Arts Festival, Findhorn
For more information and the latest news, please visit www.facebook.com/northernflyway