The battle is on – the villagers of Little Middleton are fighting to preserve their historic community and keep it safe from progress.
A Beginner's Guide to Populism is a darkly comic play following the fortunes of the political opportunists, zealots and spin doctors who jump on the bandwagon when the small community decides to fight plans for it to become part of a garden city.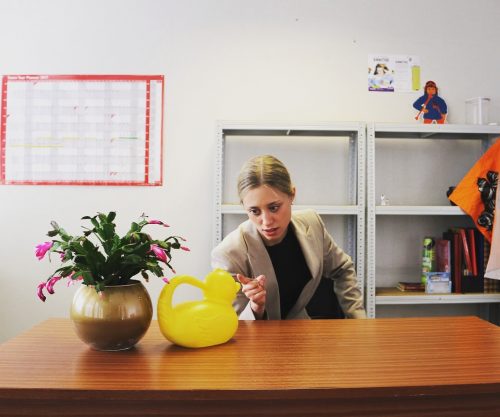 They strike fear into the hearts of "concerned citizens" alerting them to threats to village life they never knew existed, but unleash a new tide of horror when the public start to believe them.
Written by Edinburgh-based Andy Moseley, who previously worked as a policy analyst for the Ministry of Justice, there is an uncomfortable realism to the characters and their machinations.
The play offers lots of laughter, often at the expense of Antonia Morgan, the would-be MP who is persuaded that her lust for power is best served by an unprincipled change of sides. But the humour is underpinned with an exploration of something more worrying than unscrupulous ambition – the consequences of using xenophobia and nationalistic populism for political gain.
Moseley says: "As a civil servant I used to brief MPs on subjects like immigration and asylum. Even then, I was worried by the direction that political discourse was heading in. Since I left, it has only got worse. What started with newspapers using scare tactics to boost their circulation has spread to politicians the world over doing the same to win votes.
"I wanted to find a way of showing what the rise of populism could lead to if it's allowed to go unchecked and when I read about opposition to plans for a new generation of garden cities, I knew it was the perfect vehicle for what I wanted to say."
A Beginner's Guide to Populism is coming to the Edinburgh Fringe after sell-out shows at The Cockpit in London, where it premiered in the 2017 Voila! Europe Festival, and Underground Venues at the Buxton Fringe.
The play is directed by David Wood and presented by NoLogoProductions, whose past works have included After We Danced.
The cast includes Isabel Palmstierna as Antonia Morgan alongside Will Underwood, Beag Horn and Chris Townsend.
·       Venue: TheSpace Triplex (Venue 38)
·       Times and dates:
August 13-18, 12:35
August 20-25, 17:35
·       Duration: 50 mins
·       Ticket prices: £9 (£7 concessions)
·       Box office: https://tickets.edfringe.com