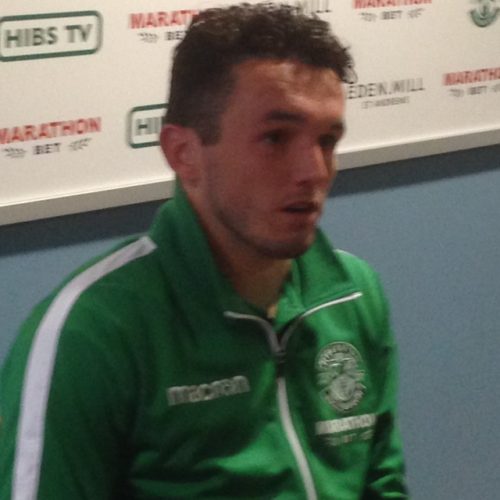 Despite continually being linked with moves away from Easter Road, John McGinn says he is concentrating on putting in maximum effort ahead of Hibs' European campaign.
The midfielder has, along with team mate Lewis Stevenson, been given extra time off due to his international trip to South America where he featured in both games against Peru and Mexico.
Although many questioned the wisdom of a summer tour, McGinn believes that the games will prove beneficial for new manager Alex Mcleish in the long term as he will have identified new players who can be relied on.
He also took time out to praise the Tartan Army for their support.
McGinn told Hibernia Media: "I really enjoyed the experience of playing for Scotland away in Peru and Mexico, everyone who was on the trip felt the same way.
"Training and playing in a different environment and experiencing playing in front of a different culture of supporters was great and it was a good challenge playing against two sides going to the World Cup.
"The stadium in Lima impressed us all with the atmosphere and the Azteca was a brilliant place to play too, even though it was more difficult because of the altitude and the heat. I'm glad that I got to experience playing there as it is such an iconic venue.
"The fans that travelled out to Lima and Mexico City also deserve a lot of praise and show why they are known worldwide for the backing they give us.
"Obviously as players we always want to go out and do our best for the country, but we weren't able to get a positive result in either game which was our only disappointment.
"Despite that, all the boys in the squad were proud to pull on the jersey and represent Scotland
"The squad were inexperienced overall at international level – I think I was one of the players with the most caps as there were so many debutants in the first game. It was certainly different for me to be the old experienced head instead of Lewis (Stevenson)
"I think the players who made their debuts, guys like Lewis, Dylan, Stephen O'Donnell and Graeme Shinnie to name just a few were all very good and assured when they played.
"This trip was a win-win for both the players involved and the manager. I think now the gaffer knows that he can maybe depend on the boys who made their debuts and were on the trip over there.
"For me, I hope I impressed him enough to continue to be a part of the squad, especially with the Nations League starting up at the beginning of the new season.
"I already had a short break to Dubai before the games, so now it is important for me to get a bit of rest in ahead of the new season starting, maybe get a few hours of Fortnite under my belt again too.
"Fortunately, the gaffer is giving me and Lewis a little extra time off, so we won't report in for a few days until after the team all come back.
"When I'm back in, I'll be putting in maximum effort as always to make sure I'm ready for the Europa League qualifiers next month."