COLE PORTER'S KISS ME KATE
Wednesday 4 to Saturday 7 July 2018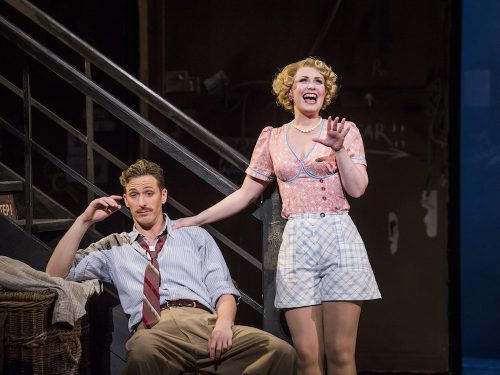 Though Shakespeare's original conceit might be sailing perilously close to the buffeting winds of politically incorrectness and cocking a snook, so to speak, at gender equality, that is no excuse for not jiggling the plot a bit (a lot!) and throwing in some iconic songs like Brush Up Your Shakespeare – stop sniggering at the back there! Just look how influential this was on the makers of the teen college rom-com, Ten Things I Hate About You (1999).
Cole Porter's riotously inventive homage to the sparkling wit of Shakespeare, Kiss Me, Kate is an irresistible celebration of the joy and madness of working in theatre.
On the opening night of a musical version of The Taming of the Shrew in 1940s Baltimore, the tempestuous love lives of actor-manager Fred Graham and his leading lady (and ex-wife) Lilli Vanessi are set to collide. Throw in Fred's current paramour Lois Lane and her gambler boyfriend Bill – plus a couple of gun-toting gangsters who somehow get caught up in the show – and the stage is set for a funny and farcical battle of the sexes!
Richard Mantle, General Director, Opera North comments:
"Kiss Me, Kate is a real treat of a show, boasting what is probably Cole Porter's richest, most accomplished theatrical score. It's serious fun, and Opera North's landmark production approaches it with the respect it demands, benefiting from David Charles Abell's critical edition of the score and recognizing the huge range of musical and dramatic skills that it calls for.
 "It's with this in mind that we have brought together a formidably gifted cast from the worlds of opera and musical theatre, to join the internationally-acclaimed forces of the Orchestra and Chorus of Opera North. We're thrilled to be bringing this stunning production back to the stage in 2018, and to perform for audiences in Leeds, Ravenna, London and Edinburgh."
http://capitaltheatres.com/kissmekate