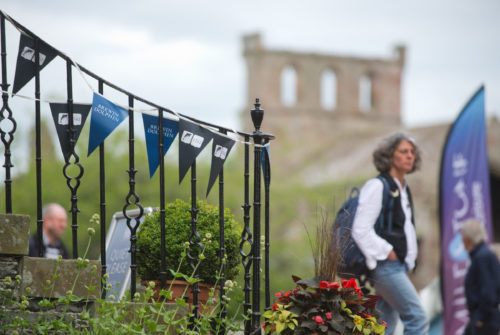 This year's Baillie Gifford Borders Book Festival in the Scottish Borders will take place in Melrose from Thursday 14 to Sunday 17 June.
Now considered one of the premier festivals in Britain, the event offers its largest programme to date with more than 110 events crammed into Harmony Garden over four hectic days.
The venue is a short taxi ride or leisurely stroll from Tweedbank Railway Station and regular trains will run to and from Edinburgh throughout the event.
Other highlights include top TV chefs The Hairy Bikers, explorer Sir Chris Bonington, King of Crime Ian Rankin, Great British Bake Off judge Prue Leith, Scottish football legend Archie McPherson and bestselling author of The God Delusion, Richard Dawkins.
In addition, the Book Festival welcomes back to the Borders one of Scotland's favourite authors, Alexander McCall Smith to celebrate 20 years of his bestselling No.1 Ladies' Detective Agency series, award winning military historian Antony Beevor; Scotland's leading archaeologist and conservationist Neil Oliver; from politics William Hague and Gordon Brown; journalists Stacey Dooley and Misha Glenny; James Naughtie and Simon Jenkins on Brexit; Alan Taylor and Ian Rankin on Muriel Spark; Earl Charles Spencer on Charles II; bestselling novelist Kate Mosse and sporting heroes including ex-international rugby star Doddie Wier and record-breaking cyclist and adventurer Mark Beaumont. To end on a lighter note, comedian and ventriloquist Nina Conti will bring the four days of festivities to a side-splitting close.
The winner of this year's prestigious £25,000 Walter Scott Prize for Historical Fiction will be awarded by previous winner Sebastian Barry on Saturday 16th June, from a shortlist including books by Rachel Malik, Benjamin Myers, Paul Lynch and Jane Harris.
Debi Gliori, Ross Collins, Vivian French and David Solomons are just some of the names from the world of children's books, who will entertain and energise the younger crowd in the popular Family Book Festival, sponsored for the first time by Nairn's Oatcakes. Taking place throughout the weekend of Saturday 16th and Sunday 17th June, the Nairn's Family Book Festival also includes kids craft activities, storytelling and creative workshops. Adults get to go free to any Nairn's Family Book Festival event so long as they are accompanied by at least one child!
In addition, throughout the four days there will be live music, The Orchard tented food village and plenty of free, fun activities making the book festival a great day out for all the family to enjoy.
Alistair Moffat, Festival Director, said: 'The sheer quality of the sessions, from the smallest to the largest marquees, is unparalleled as national and international names converge on Melrose this summer.  All tastes are catered for, all demographics will find something to fascinate them, from the children's sessions in the Nairn's Family Book Festival to those who want to hear Richard Holloway musing on mortality in his Waiting for the Last Bus. This really is the best ever Baillie Gifford Borders Book Festival.''
Tickets for this year's Baillie Gifford Borders Book Festival are available from Hub Tickets, at www.bordersbookfestival.org or at 0131 473 2000.